'It's not really home anymore': Fort Myers area struggles to rebuild after Ian as new hurricane season begins
June 1 marks the start of hurricane season but Fort Myers Beach is still reeling from last year's season. Memories, insurance litigation and new regulations make rebuilding tough and slow even for the resilient.
FORT MYERS BEACH, Fla. – The story of Fort Myers Beach rebuilding after the tremendous lives and property lost to Hurricane Ian last year is one of resilience. Now, 246 days later, the city faces a new hurricane season while still cleaning up from the last one.
FOX Weather spent the first day of the 2023 Atlantic hurricane season Thursday with survivors of the ferocious storm who told tales of strength and the restoration of a community as well as the hard lessons learned from the storm that changed the southwest coast of Florida and its people forever.
Most buildings on the island were destroyed
The Category 4 hurricane slammed into Southwest Florida on Sept. 28 with 150 mph winds. The barrier island lined with resorts, restaurants and homes was just "a three-quarter mile wide speed bump" for the storm, according to Florida's Director of Emergency Management. About 97% of its structures were damaged or destroyed.
TOP 5 COSTLIEST HURRICANES IN US HISTORY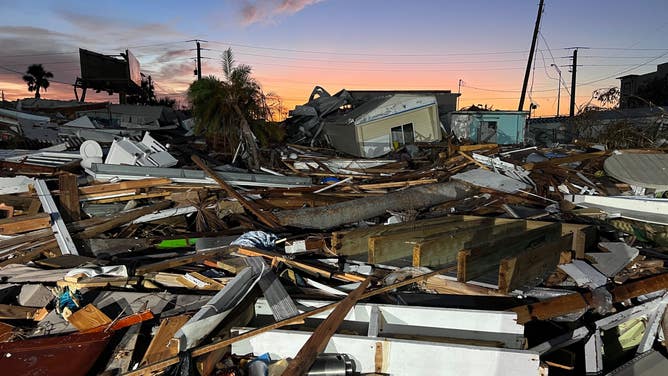 Ian caused $110 billion in damage, making it the costliest hurricane in Florida history and the third costliest in the U.S. behind hurricanes Katrina and Harvey. The storm damage ranked as the second-largest insurance loss in world history behind Katrina, according to new analysis.
Ian wiped The Beach Bar off the shore with a 15-foot storm surge. Owners and managers got to work quickly after the storm, pulling in a trailer and tents to show residents that the bar wasn't going anywhere. The temporary digs are still in use eight months later, giving the community a sense of normalcy to be able to enjoy a beverage on the beach with loud music, general manager Matt Faller told FOX Weather.
"So we're doing what we can with what we have," Faller said. "We actually dropped this trailer and the portable at the site here about January 3rd. So, we're proud to say we only lost 97 days of business after losing our entire building."
Rebuilding battles with new codes, insurance
The Salty Crab Bar and Grill, a short walk away, was not as lucky. Two-thirds of the building washed away. Julia Cassino, director of marketing, watched a live feed of the water creeping up to 5 feet deep in the restaurant before the salt water zapped the security cameras. The restaurant is still closed.
300 DUMP TRUCKS TRAVERSE FLORIDA NEIGHBORHOOD EACH DAY TO RESTORE DUNES DECIMATED BY HURRICANE IAN
"The biggest challenge for us is, because we are essentially rebuilding from the ground up, there are new guidelines, and obviously one that the city has put forth has been parking spaces are a requirement for any new building for us," Cassino said. "So, that has been the real challenge for us – is coming up with parking in a space that we essentially don't have the ability to do."
Others worry that the new regulations will change the character of the beach community.
"I think we're going through a difficult time to create the original old Florida that we all love, the character of it," said Joe Orlandini, a resident and contractor. "The requirements today for a building are definitely tougher, and that will reflect in the buildings rebuilt. That will definitely take out some of that character."
Others are finding it tough to rebuild emotionally.
"I have property here, but it's not really home anymore," homeowner Paul Edwards told FOX Weather's Robert Ray.
HURRICANE IAN BY THE NUMBERS: THE SCOPE OF THE CATASTROPHIC DAMAGE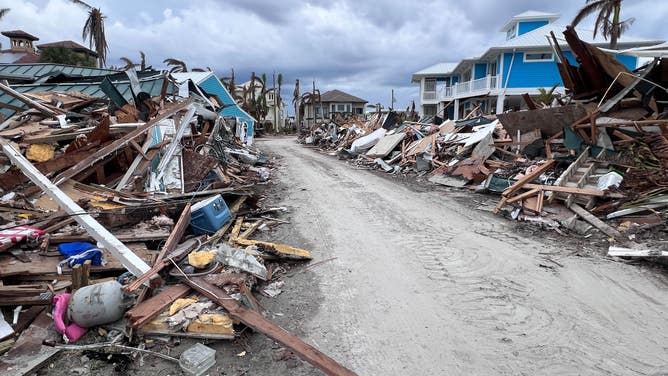 Fort Myers Beach Mayor Dan Allers said that the community has come a long way but still has a ways to go. So many businesses are still closed, and many will never reopen. 
"It's hard to really put a timetable on," Allers said. "I mean, we are a fully functional island now. We have people that are enjoying the beach. People are going out to the restaurants and having a good time. It's hard to say exactly when it will be, whether it's three years, four years, five years. It'll depend a lot on, obviously, permitting. Getting people that want and need to get back in their houses is our number one priority."
Residents, though, are still battling with insurance companies. FOX Weather has previously reported on a family that had to swim from the second floor of their home with their 3-month-old baby. They had to move twice while their damaged home sits vacant as litigation runs a lengthy course.
THOUSANDS OF HURRICANE IAN SURVIVORS MAY BE PRICED OUT OF REBUILDING IS ZONING LAWS CHANGE
"Every time we do go back to that house, I get very anxious, and I don't like thinking about it," said Callie Brown, whose baby is turning 1 next month. "So, for me, moving forward is just right now not thinking about it and hoping that it'll be easier once it's settled when we can never have to look back at it again."
Frustrated Katherine Butler lives in a trailer while she waits for a settlement to repair her home.
"I paid three insurances for 27 years, and only one of the three has paid," Butler said. "The one that did pay, I sent to my mortgage company because they told me they would apply it towards my loan. But unfortunately, they're holding it hostage in an escrow account, and since I still have a mortgage balance, they've refused to apply that money towards my mortgage. So, I have this hefty monthly mortgage payment on a house I no longer own."
Tough lessons learned
Ian was the deadliest storm to hit the Sunshine State in 80 years. It killed 150 across the Southeast.
The tragic loss of life forced the county and the state to look into what went wrong, and a common theme came out – messaging. The messaging could have and should have been stronger, according to officials.
WATER FROM HURRICANES, TROPICAL STORMS KILLS MORE IN US THAN WIND
Kevin Guthrie, director of the Florida Division of Emergency Management, said Floridians, meteorologists, emergency managers and the media focus too much on the cone of uncertainty instead of watches and warnings.
"The one thing that we're going to really make a conscious effort on this next year is making sure that we communicate all the watches and warnings," Guthrie said. "We had significant storm surge watches and warnings out three days in advance of the hurricane last year. A lot of those watches and warnings were not heeded, and people did not leave."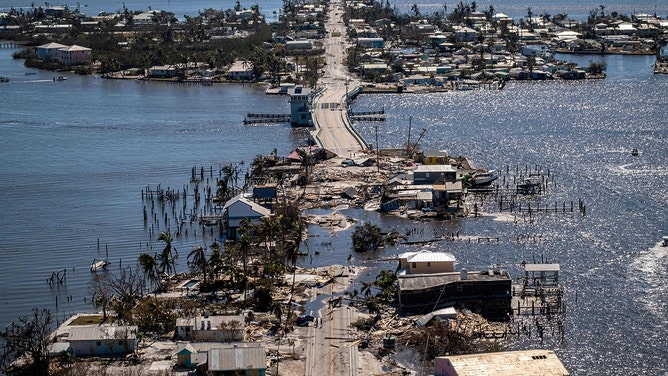 HURRICANE SEASON 2022: TAKE A LOOK AT THE SCARS LEFT BEHIND
"It's important to get the information out to people – you can't get complacent, and every storm is different," Allers said. "And how they react or how you react to it should not be different. You should react to every storm the same."
He was one of the many that did not evacuate. Floodwaters chased him to the second floor. Nearby friends also sheltering at home didn't make it because the water knocked their house off its stilts.
County officials said they are adding communications bureaus to get the word out as well as revamping emergency processes and emergency communications processes.
"Prepare and plan, so you don't have to panic. Understand that the most predictable thing about the hurricane is that it is unpredictable," said Fort Myers Mayor Kevin Anderson. "So if we're in the cone, if we're being threatened, react like we're going to take a major hit, and know that you can well, you can hide from the wind. You've got to run from the water."
The Red Cross is still aiding the community through its long-term recovery. The group is awarding grants and funding to organizations and neighborhoods, according to the Red Cross' Jill Palmer.
FEMA has already awarded $5 billion in federal grants, disaster loans and flood insurance payments to the state and its survivors.