Aerial video shows serious flooding in Kissimmee from Ian; dozens rescued from floodwaters
After former Hurricane Ian made landfall in Southwest Florida, the storm swept across the Florida Peninsula and dumped more than a foot of rain in some areas prompting massive urban flooding. Rescues were underway Thursday in Kissimmee, Orlando and throughout Central Florida.
Visit the FOX Weather Wire for live updates on Ian. Click here for the latest forecast, power outages and more.
OSCEOLA COUNTY, Fla. – Aerial video in Kissimmee, Florida, shows extensive flooding in the wake of former Hurricane Ian which steamrolled Central Florida overnight into Thursday, dumping more than a foot of rain in some areas.
Hurricane Ian made landfall near Cayo Costa, in Southwest Florida, on Wednesday afternoon as a catastrophic Category 4 storm. The historic storm had maximum sustained winds of 150 mph as it battered the region. As a tropical storm, it continued to bring life-threatening flooding, storm surge and high winds to parts of Central Florida on Thursday before its impacts spread toward Georgia and the Carolinas.
Florida Fish and Wildlife Conservation Commission, Osceola County fire department crews and sheriff's deputies were out Thursday using airboats and other water vessels to rescue stranded residents from floodwaters.
IAN LEAVES 2 MILLION IN DARK AS FLORIDA SLAMMED WITH 150 MPH WINDS, MASSIVE STORM SURGE
The video above by the city of Kissimmee shows submerged roads, a partial parking garage and some city buildings inundated with water.
FOX Weather multimedia journalist Brandy Campbell spoke to several residents who described losing everything to flooding after waters invaded their homes.
About 120 people were taken to area shelters due to flooding. Nearly 50 people were rescued from a Kissimmee apartment building after the first level flooded.
According to the Osceola County Sheriff's Office, several areas in the county continue to be inundated by floodwaters Thursday afternoon.
WHERE IS IAN HEADED NEXT? DANGEROUS STORM'S IMPACTS WILL BE WIDESPREAD
The FOX Forecast Center has confirmed rain totals throughout Central Florida since Tuesday, including some areas seeing over a foot of rain in 24 hours.
At an outlet mall in Kissimmee, between 2 to 3 feet of floodwaters made Orange Blossom Trail impassable, according to the National Weather Service in Melbourne, Florida.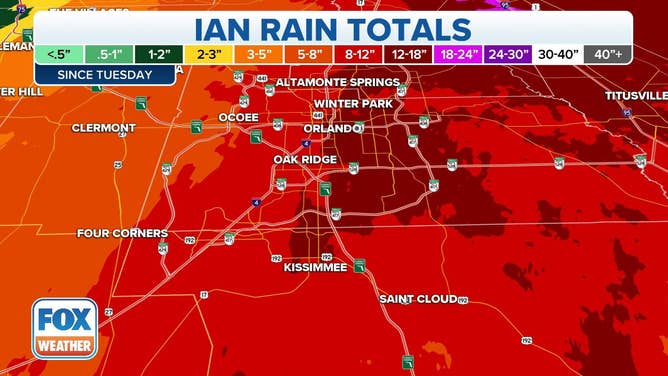 Water rescues were also underway in neighboring Orlando and Orange County, where a nursing home had to be evacuated because of flooding.
Orlando International Airport recorded nearly 13 inches of rain in just over 24 hours, a 200-year flood event.

Kissimmee and Osceola County first responders are asking people to avoid driving in any of the flooded areas.
Flood Warnings remain in effect for a portion of east-central Florida through Thursday night, including Brevard, Indian River, Lake, Orange, Osceola, Seminole and Volusia counties.