Video shows hundreds of dead fish scattered along Florida beach
The deaths may be related to red tide, harmful algae blooms that turn the water red and produce a toxin that affects the central nervous system of fish.
BONITA SPRINGS, Fla. – New video shows hundreds of dead fish washed onto a beach in Barefoot Beach Preserve.
The video was shot on Tuesday by Tom McReynolds as he walked along the beach preserve in southwest Florida.
All along the sand are hundreds of dead fish, ranging from small to more than 1 foot long.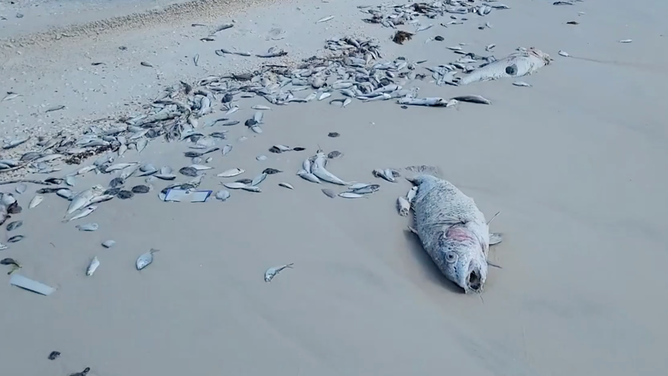 The fish deaths may be related to red tide. Red tide, or harmful algae blooms (HAB), is a phenomenon that occurs when colonies of algae grow out of control, according to NOAA.
This uncontrolled growth of algae can not only turn the water red – as the name "red tide" suggests – but also produce a harmful toxin that affects the central nervous system of fish.
Called brevitoxin, the toxin can cause fish to die, with many of them washing ashore, as they did at Barefoot Beach Preserve in Collier County.
The fish kills are not only a gruesome sight for Florida residents and visitors, but they may also come with a pungent smell.
Health risks from red tide
Floridian Lorraine Andrews saw the fish kill at Barefoot Beach and reported a "very bad stench" emanating throughout the area. She noted that the smell was so bad that it caused coughing.
MASSIVE BLOB OF SMELLY SEAWEED COULD MEAN TROUBLE FOR FLORIDA BEACH VACATIONS
In addition to fish, humans may also be affected by red tide. Swimming in red tide may cause skin irritation and burning eyes, according to the Florida Department of Health. Outside the water, breathing red tide toxins may result in coughing, sneezing and teary eyes.

Fish kills – such as the one filmed by McReynolds – that may have been caused by red tide have been reported in other parts of southwest Florida, according to the Florida Fish and Wildlife Conservation Commission.
The economic impact of red tides
Red tides have become more frequent in recent years and may become a chronic problem for many Florida communities, NOAA said. Specifically, the tides have affected the Florida tourism industry, which adds $111.7 billion to the state's economy every year.
In one study involving the "2018 red tide" that occurred from October 2017 to January 2019, researchers found that the presence of red tide conditions led to a decline in the number of reservation days made in Airbnb properties.
According to NOAA, during the 2018 red tide event, researchers found that Florida lost $70 million in the Airbnb market. That figure corresponded to a decline of $184 million in out-of-state tourism dollars.