Massive blob of smelly seaweed could mean trouble for Florida beach vacations
Scientists tracking the giant seaweed blob in the sea feared a record haul on Florida beaches this spring and summer. February showed a 'glimmer of hope' but '2023 will still be a major Sargassum year.' Decomposing seaweed emits a noxious odor and becomes toxic to fish.
Scientists have been warning beachgoers of the possibility of a record amount of seaweed taking over Florida beaches this spring and summer. The Sargassum seaweed rots on the sand, emitting a noxious odor that can make eyes tear, trigger coughing and even kill fish.
But they saw a "glimmer of hope" after February. Researchers track the tentacled blob each month in the central Atlantic Ocean and found the amount actually decreased in February, something they have only seen one other year since tracking the Sargassum blooms with satellite started in 2011.
"The decrease in Sargassum quantity from January to February is uncommon, and presents a glimmer of hope that the overall 2023 bloom may not be as large as previously feared, although 2023 will still be a major Sargassum year," wrote authors o the University of South Florida Optical Oceanography Lab's Sargassum Outlook.
THIS COULD BE KEY TO SAVING NORTH AMERICA'S ONLY BARRIER REEF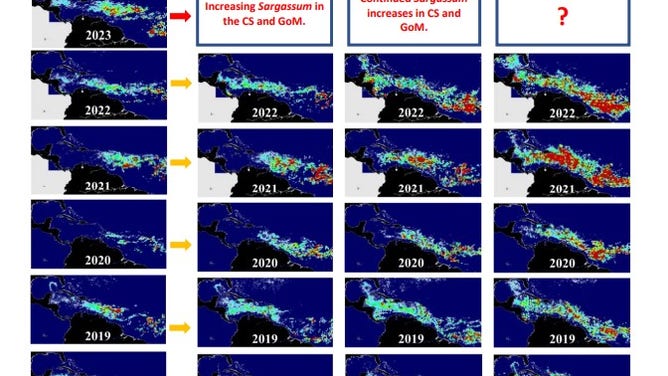 Record year expected
The blob doubled in size in December and again in January, prompting fears. And while the amount decreased in the Atlantic, 6.1 million tons still float in the ocean headed for beaches, the Caribbean Sea and the Gulf of Mexico. 
That is the second-largest amount recorded in the month of February. It could fill 3,000 Olympic-sized pools, according to University of Miami Engineers working to find a use for the brown-marine microalgae.
The Caribbean Sea saw the amount nearly double over February, though. 
"Notable quantities of Sargassum reached the Yucatán Peninsula near mid-February, with small amounts also observed in the Gulf of Mexico at the end of the month," said the Outlook.
HOW TO WATCH FOX WEATHER ON TV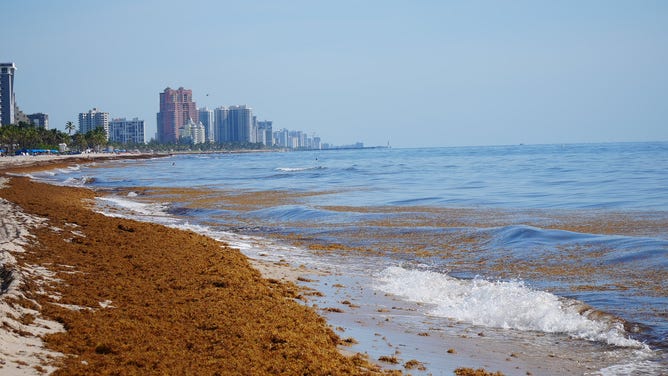 "The large quantities already in the Caribbean Sea (and to the east) will continue to accumulate and migrate westward, creating beaching hazards along the way," the authors continued. 
Winds, currents and tides all affect when and where the blanket of brown will make landfall, explained one of the researchers. 
Spring and Summer: Sargassum season
"In the past, major Sargassum beaching events in Florida usually occurred in Spring and Summer," said Yuyuan Xie. "This year the Florida Keys may start to see some small amounts in March."
SATELLITES EXPLAINED: HOW NASA, NOAA MAKE FORECASTING POSSIBLE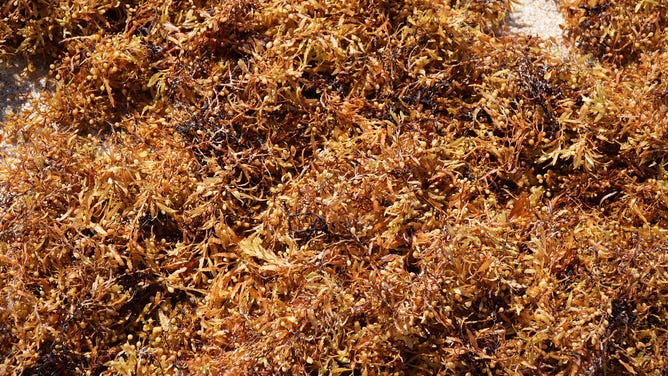 At sea, the seaweed is essential for creatures like crabs, eels, shrimp and fish.
"They all like it when Sargassum is floating on the ocean surface. So Sargassum is a moving habitat for them," said Yuyuan.
The problem starts when the blob is beached.
"After a couple of days of onshore, Sargassum starts to decompose and release notorious and stinking gases such as ammonia and hydrogen sulfide, both of which are pollutants to air and water," said Yuyuan. "Once those pollutants are accumulated in the aquatic environment and reach the concentrations above thresholds, they are poisonous to most fish."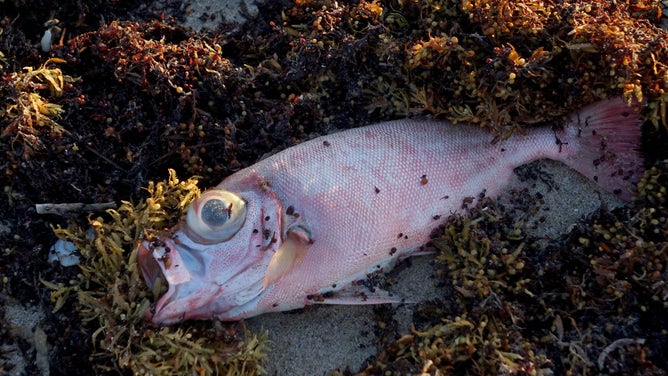 The gasses cause respiratory problems for beachgoers, along with rashes and blisters. Yuyuan said that a study shows that hospitalization rates increase during Sargassum season. 
How do you get rid of noxious seaweed?
He says the brown seaweed rarely gets washed back to sea once on the beach. Humans have to remove it, costing millions.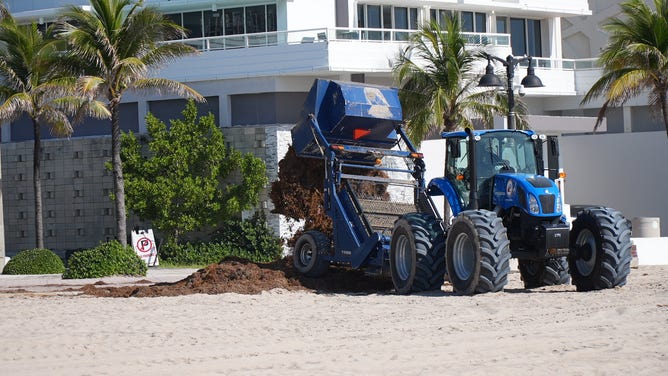 Fort Lauderdale spent $250,000 a year to haul seaweed from their 4 miles of beach to a landfill. Now, the city composts it and uses the nutrient-rich soil for plantings in parks and along boulevards.
FROM SEAWEED TO SOIL: SOUTH FLORIDA BEACH TOWN FINDS A SOLUTION TO A STINKY PROBLEM
Since 2011, large amounts of Sargassum have shown up in the Caribbean every summer, except for 2013. A University of South Florida professor told FOX Weather that amounts hit a record high in the Atlantic last June and continued growing through July.
While we are just below that amount, researchers expect it to grow again in March, especially in the Gulf of Mexico and the Caribbean.
USF updates the 2023 Outlook at the end of every month.