How La Niña fueled Friday night's tornado outbreak in the mid-South
La Niña has a profound effect on global weather patterns by altering the positions of jet streams
La Niña is in charge and expected to remain so through the winter for the second consecutive year, and the resulting weather pattern over the U.S. likely played a role in Friday night's catastrophic tornado outbreak in the mid-South.
According to an updated outlook issued Thursday by NOAA's Climate Prediction Center, La Niña is largely evident by the cooler-than-average sea-surface temperatures currently extending across the central and eastern equatorial Pacific Ocean.
Researchers have found this cooling of ocean temperatures caused by La Niña has a cascading effect on weather conditions across the tropics in the Pacific Ocean, which, in turn, has a profound effect on global weather patterns by altering the positions of jet streams.
In the U.S., La Niña causes the jet stream to shift northward. In turn, warm and humid air from the Gulf of Mexico is able to flow farther north than usual.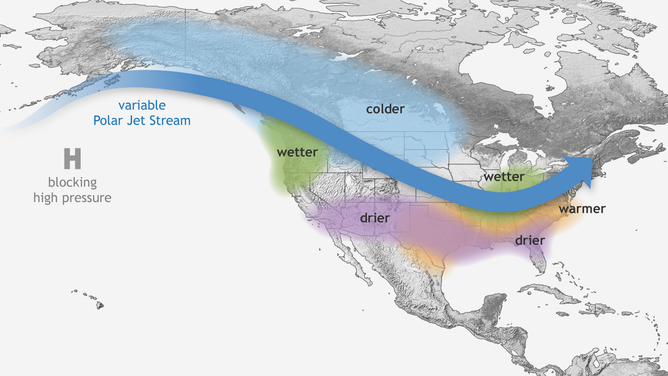 Warm, humid air makes the environment more favorable for thunderstorm formation, and if other necessary atmospheric ingredients are in place, it could be a recipe for disaster as we saw Friday night in the mid-South.
During the winter, the jet stream is strongest because of the clash of cold air to the north and warm air to the south. This strong jet stream can act as a trigger for severe storms because it provides a key ingredient, wind shear – the change in wind speed and direction with height – that is necessary for rotating thunderstorms capable of spawning tornadoes.
On Friday night, a dip in the jet stream swung through the mid-South, where a warm and very humid air mass from the Gulf of Mexico was in place. Dew points in the 60s and lower 70s were widespread across the region. The combination of these ingredients, which can be tied back to the ongoing La Niña conditions in the Pacific Ocean, caused Friday night's catastrophic tornado outbreak to come together.
DOZENS FEARED DEAD AS POWERFUL TORNADOES SWEEP THROUGH 6 STATES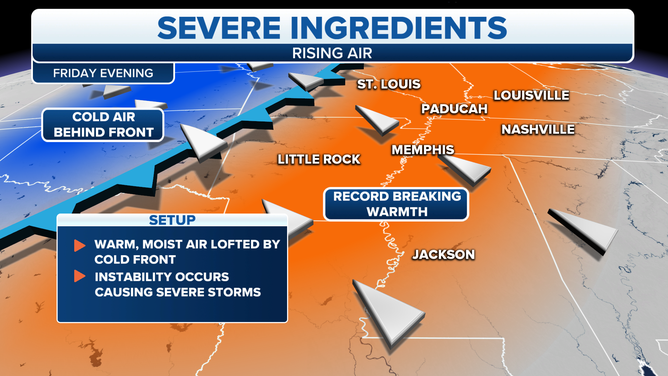 The most recent forecasts on the El Niño/La Niña cycle indicate there is now a 95% chance that La Niña conditions will dominate during the three-month climatological winter from December 2021 through February 2022. That's a slight increase from the previous outlook last month that predicted a 92% chance of La Niña this winter.
This means it's essentially a slam dunk that we're going through a second straight winter with La Niña remaining in charge.
Forecasters at the CPC have issued a "La Niña Advisory," which means La Niña conditions have been observed and are expected to continue before transitioning to the neutral phase, neither La Niña nor El Niño, during the spring. The CPC places the odds of neutral conditions at 60% over the three-month period of April through June.