'Leave now': Emergency managers plead with some California residents before next storm hits
The next Pineapple Express-fueled storm in the parade since Christmas closes in on the coast. Officials order evacuations in an area while almost half the county doesn't have power.
WILTON, Calif. – "Leave now," emergency managers warn Wilton, California residents. The next rainmaker is closing in on the state. It's just the latest in the parade of storms fueled by the atmospheric river known as the Pineapple Express. As of Sunday, the parade has knocked out power to nearly half a million California homes and businesses.
Wilton, bordered by the Cosumnes River, is in danger of becoming an island as inches more rain are expected to fall and runoff into the already swollen river. 
"Rising water may spill over onto the nearest roadways and cut off access to leave the area," Sacramento County's Office of Emergency Services posted. "Flooding in Wilton is imminent."
CALIFORNIA BRACES FOR SIGNIFICANT FLOODING, 'DIRECT THREAT TO LIFE AND PROPERTY' FROM NEST ATMOSPHERIC RIVER
Wilton residents are all too accustomed to fleeing high water. Just last week officials forced many to seek higher ground after a levee failed on the Cosumnes River. 
"It was the first of two levees in southern Sacramento County to breach from all that heavy rain, all due to the atmospheric rivers. A stretch of Highway 99 was closed for more than 24 hours during that time," said FOX Weather meteorologist Michael Estime. "The river is also known as a wild river. What that means is that it has no dam to actually control that flooding."
FLOOD ALERTS IN EFFECT ACROSS CALIFORNIA AS ANOTHER POWERFUL ATMOSPHERIC RIVER STORM AIMS FOR THE GOLDEN STATE
The entire county is still battling back from the previous storms. Almost half of Sacramento County, home to the state capital, is still without power along with neighboring Yolo County. In all, almost half a million customers are still in the dark statewide.
DEADLY BOMB CYCLONE WASHES AWAY POPULAR CALIFORNIA BEACH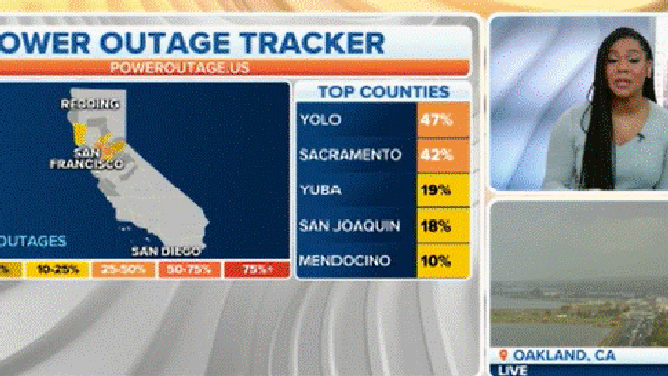 The rain from previous storms saturated the ground and softened the earth giving trees little to anchor themselves with. Gusts of 60 to 70 mph knocked trees and branches onto homes and power lines.
In the Bay Area, utility company Public Gas and Electric says they have a crew of 3,000 working around the clock to restore power as well as trim and clear more trees that could fall on lines with the next storm. That includes crews from 8 neighboring states.
Residents and families dependent on power for life are nervous for another lengthy power outage similar to the one the experienced over New Year's.
"My mom is on 24/7 oxygen," daughter Shikha Hamilton in Foster City told FOX 2 KTVU. "When I heard about the big storm coming, I ordered to fresh tanks because we depleted the ones we had from the power outages before."
Breathing machines require power and the family does not have a backup generator.
The wind and saturated ground combination already proved deadly Saturday evening. The Sacramento Fire Department tried to save a woman after a tree fell on her while she was on a levee. Officials later reported that she succumbed to her traumatic injuries.
Winds also blew trees onto roads. One Amazon truck driving towards the Sacramento International Airport overturned, blocking lanes for hours.
HOW TO WATCH FOX WEATHER ON TV
"A direct threat to life and property is expected in California Monday as an extremely impactful and dangerous Atmospheric River lashes the state," said the FOX Forecast Center. "This storm will have an extreme amount of moisture to work with, and it is likely that flooding from this event will be far more serious than previous events. Given the saturated soils, streams and creeks will be quick to flood, and already rising main rivers will go into major flood stage."
Counties already started pre-positioning high water rescue crews in areas likely to flood. These are the scenes that they expect to replay with the next round of rain. Consumnes Fire responded to 259 calls between December 31 and January 1, twice the amount of an average 48-hour period.
The FOX Forecast Center warns that even tornadoes could be a threat with the early week storm.
"The list of expected impacts from this upcoming atmospheric river continues to grow. Widespread major flooding, mudslides, rockslides, rapid rises of area rivers and creeks, avalanches, power outages, closed and blocked roads, damaging winds, downed trees, and dangerous marine conditions are just a few," said a meteorologist with the FOX Forecast Center. "There is a direct threat to life and property with these storms."