Severe storms wreak havoc in Texas damaging apartment building, car dealership
An apartment complex in Irving sustained heavy damage when a severe thunderstorm blew through that might have contained a tornado. A nearby car dealership also took heavy wind damage and lost part of its roof. The NWS confirms at least one tornado in town of at least EF-1 intensity.
IRVING, Texas – Early season severe thunderstorms rolled through the Dallas area Thursday, bringing large hail, damaging wind gusts and even a couple of tornadoes.
An apartment complex in Irving, Texas, sustained heavy damage when a severe thunderstorm blew through that was likely the result of a tornado.
Luis Diaz said he was watching the news when severe weather alerts were issued for Irving.
"I went outside, and I watched the sky and I saw the tornado," Diaz told FOX Weather's Brandy Campbell. "And I ran to my shelter and I heard a lot of noises and I saw the roof blow and everything, and I was scared. I was like 'what am I going to do?'"
When the storm passed, Diaz emerged to find extensive damage.

"My apartment as flooded," he said. "On second floor we don't have roof, we don't have a ceiling, we don't have nothing."
Diaz said he wasn't hurt and insurance is working to get an estimate of the damage not only his apartment, but his truck which also was damaged in the storm. He's been given a hotel room in the meantime.
SECRETS OF THE SPC: HOW DAILY CONVECTIVE OUTLOOK GRAPHICS ARE MADE
"This is my first time in 20 years since I've lived in Irving that I've seen a tornado," he said. "I don't know what I'm going to do."
National Weather Service storm survey teams say they have confirmed at least three tornadoes with the strongest impacting Irving, a community between Fort Worth and Dallas. The twister was given a preliminary rating of EF-1 and is estimated to have had peak wind speeds of 105-110 mph.
Meteorologists also confirmed an EF-1 tornado struck Navarro County, which is about an hour drive south of the metro. The NWS said damage was consistent with an EF-1 tornado with peak winds around 95 mph.
'A lot of people screamed'
The Autos of Dallas car dealership in Irving was also working to clean up storm damage Friday morning after strong winds destroyed part of its roof, possibly from a tornado's wrath.
"We were standing on the porch and filming clouds, and we saw rotation, and we thought, 'we've got to get inside,'"David Mullens, general manager of Autos of Dallas, told FOX Weather. "The minute we walked inside the facade blew over, and the wind was blowing and … it was terrible. I don't know how fast (the wind) was blowing, but it was sideways."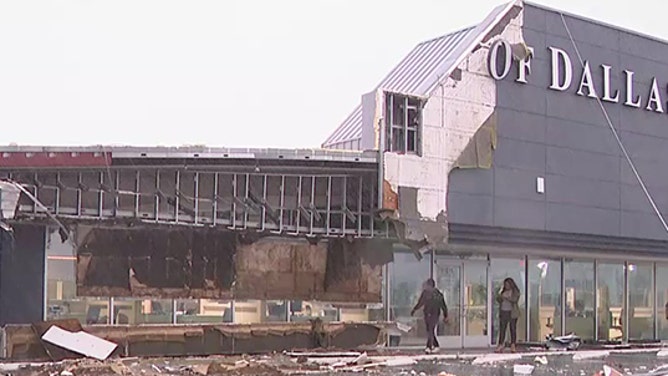 He said the windows were bowing back and forth "like in a vacuum or something."
"It was scary, a lot of people screamed," he said. Mullens added large, nearly egg-sized hail blistered the building during the storm. 
ADVICE FOR DEALING WITH STORM ANXIETY WHEN SEVERE WEATHER THREATENS
Luckily there were no reports of injuries.
There were no official reports of tornadoes as of Thursday night, but a half-dozen Tornado Warnings were issued for the area, including the Dallas-Fort Worth Metroplex. The National Weather Service will decide if the damage was caused by a tornado or just strong winds from thunderstorms.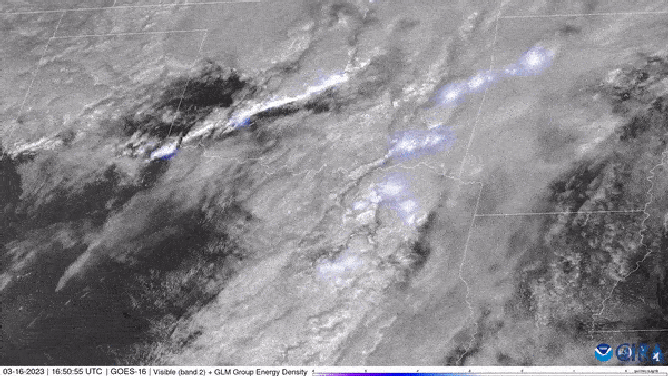 Large hail plasters Texas too…
While tornado reports were limited, the NWS received nearly 50 reports of large hail around Texas and Oklahoma, some stones as large as 2 to 3 inches in diameter.
This photo of a hailstone measuring 3 inches across was taken just outside the Dallas area in Bellaire.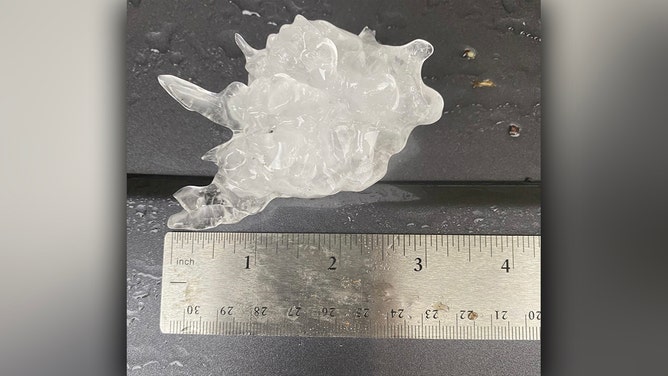 Meanwhile, tennis ball-sized hail (about 2.5 inches across) was reported damaging cars near Mineral Wells, Texas, while cars and homes suffered broken windows at the hands of large hail in Cotulla, Texas, according to National Weather Service storm reports.
The Dallas area now far and away leads the nation with nearly 100 large hail reports since the start of the year.