Natural disasters require FEMA to think outside the box with emergency alert system
Antwane Johnson, with FEMA, oversees the integration of technology that alerts the public of incoming severe weather, missing children and lifesaving information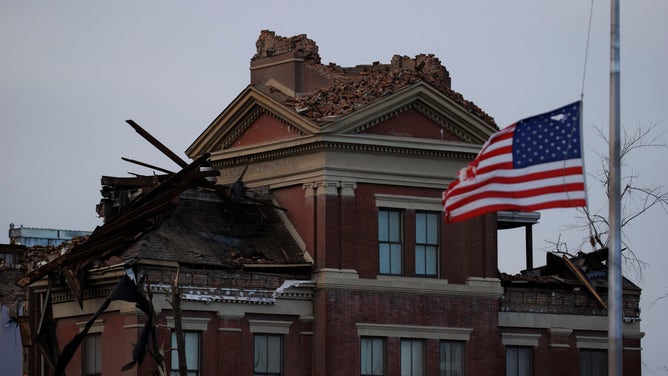 About 30 minutes before an outbreak of tornadoes barreled through more than 200 miles of Kentucky and the mid-South, residents began receiving emergency alerts on their cellphones.
"The typical advanced-warning period is about nine minutes before a tornado actually hits the ground," said Antwane Johnson, director of FEMA's Integrated Public Alert and Warning System (IPAWS). "In this case, with all of the predictive analysis in the models that the National Weather Service uses, they were able to provide an advance warning 30 minutes ahead of time."
The quick communication sent to thousands of mobile devices likely saved lives in what would become a deadly tornado outbreak. An EF-4 tornado caused 166-miles of destruction in western Kentucky two weeks before Christmas. The National Weather Service has since confirmed more than 60 tornadoes as part of the severe weather across America's Heartland.
GREATEST MINDS IN FORECASTING, NATURAL DISASTER RESPONSE CONVERGE IN FLORIDA
Johnson oversees the integration of technology that alerts the public of incoming severe weather, missing children and other lifesaving messaging to communities across the country. It's a massive effort involving multiple government agencies and working with local and tribal leaders and mobile wireless providers. He will be at the Natural Disaster Expo in Miami Beach, Florida, on Feb. 7 and 8, discussing how communities can develop a plan utilizing the FEMA toolkit to prepare and respond to emergencies.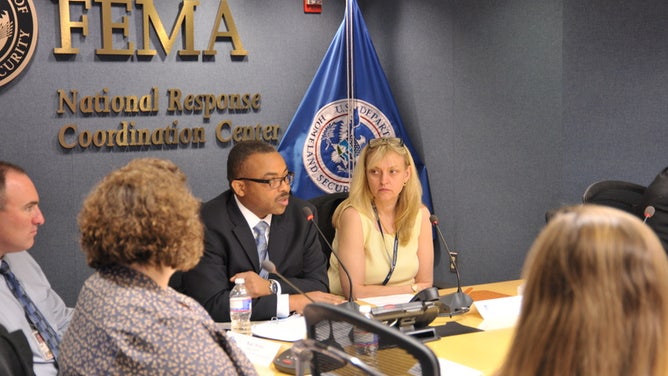 "Oftentimes, when an emergency comes knocking on the door at 4 in the morning, folks are scrambling to try and determine how they can get that information out," Johnson said. "Who's the approval authority? What is the message saying? And so this tool kit is intended to address all of those areas so that not only do they have the policies and the procedures and the protocols, but they also have the templates that can be used to rapidly communicate information to those who are affected by some of the disasters or other local emergencies in their communities."
Since 2012, as part of wireless emergency alerts, phones have automatically come configured to issue geo-targeted information to communities about potential threats. 
YOUNGEST KENTUCKY TORNADO VICTIMS DIDN'T GET 'OPPORTUNITY TO EXPERIENCE THIS LIFE' 
Johnson spoke to FOX Weather from the FEMA Technical Support Services Facility. Weather radio noises and blaring test alerts are a regular occurrence at the office in Maryland.
"We have various types of technology that would allow us to communicate that information to people, regardless of who they are, where they are, what they might be doing," Johnson said. 
Over the past 70 years, emergency warning techniques have significantly improved, especially in the last decade. Former President Harry Truman established the first in 1951 during the Cold War. In 1995, the Emergency Broadcast System, which we know today as the Emergency Alert System, was established. Each advancement allowed more information to be communicated over radio and TV.
However, Johnson said the Wireless Emergency Alert System was a game-changer. He estimated that across 46 wireless providers, nearly 400 million subscriptions across the U.S. receive alerts as part of the system.
"We know that people have these mobile devices in their possession that we're able to use that to communicate critical information to them in a very timely manner," he said.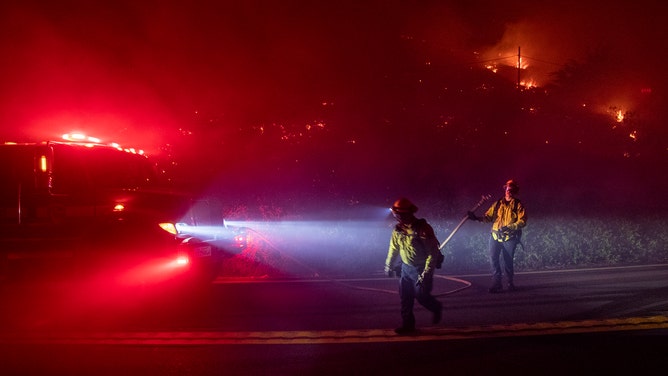 HOW PUBLIC SAFETY OFFICIALS NOTIFY YOU DURING SEVERE WEATHER EMERGENCIES
Fast-moving California wildfires in recent years have challenged state and federal officials to develop new practices to alert residents of evacuations and warnings quickly. 
"In response to a fast-moving fire, they have done things and developed best practices that have assisted all of the counties in California with being more effective at issuing these warnings to their communities," Johnson said.
He said FEMA has shared what it has learned from California's emergency warning system with other states as an example of what can be done in communities facing similar challenges. 
Still, there is more work to do to break down barriers in communication. 
Johnson said he's looking forward to trading ideas with technology providers at the Natural Disaster Expo to learn ways to serve people with functional and language needs better.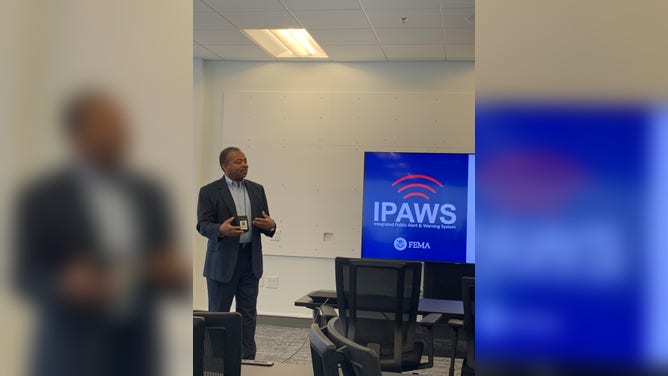 "There are a lot of languages that are spoken in this country, and so we have some challenges with that in terms of the emergency management and public safety community being comfortable with technology to do on the fly translations of messages … Because we know that technology, in some cases, doesn't do a very good job of that," he said.
Johnson said some advancements on the horizon would allow consumers to select language preferences for emergency alerts.
"We don't want to leave any stone unturned," he said. "I would challenge those who are in the technology arena to continue to look at their technology and how it can be adapted for other uses."