How families manage heartache when disasters strike loved ones far away
Clinical psychologist Joshua Klapow explains how families manage stress and heartache when extreme weather events, such as Hurricanes Maria and Fiona, strike their loved ones overseas.
Hurricanes, tornadoes and floods. These are just a few natural disasters that devastate communities around the world.
While the focus often remains on the people directly hit by those disasters, their family and friends from hundreds or even thousands of miles away are also affected.
HOW TO WATCH FOX WEATHER ON TV
Clinical psychologist Joshua Klapow joined FOX Weather on Thursday to explain how families manage stress and heartache when extreme weather events, such as Hurricane Fiona in Puerto Rico, strike loved ones overseas.
According to Klapow, the psychological impact can be thought of in terms of connectedness. People who have family members or friends at the site of the disaster have a psychological or emotional connection with them.
"So, you can feel what we call 'shock by proxy'," Klapow said. "You're feeling the nervousness, the anxiousness. You may be feeling of despair."
"A lot of times what you're feeling – and it's somewhat unique – is helplessness in a different way because you can't help your loved ones," he added. "That's a real difficult thing for people thousands of miles (away) to manage."
REPORTING WITH HEART: FOX'S GERALDO RIVERA AND NICOLE VALDES ON COVERING THE AFTERMATH OF MARIA
Disaster may even compel some loved ones to leave their homes. For example, Puerto Ricans who experienced two deadly hurricanes within five years have to choose between leaving and possibly joining family overseas, or staying in Puerto Rico.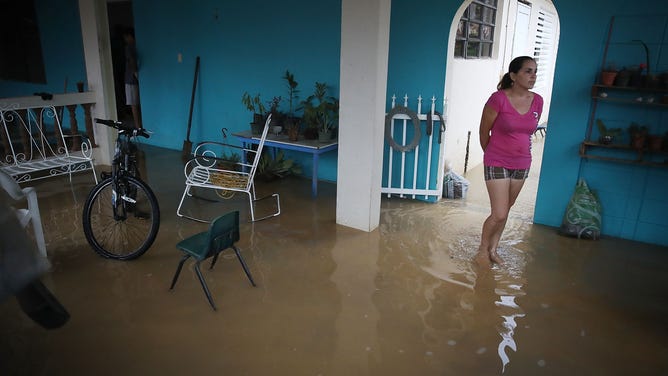 After Hurricane Maria struck the Caribbean nation in 2017, many Puerto Ricans decided to leave.
WATCH 'RUIN AND RESURRECTION: THE FURY OF HURRICANE MARIA'
However, whether it was after Maria or Fiona, other Puerto Ricans decided to stay. Klapow noted that their decision may be rooted in finances or logistics, but for others, they simply don't want to leave their home.