Miami, a fave among spring breakers, is already feeling the effects of rising seas
From water quality issues to "sunny day" flooding, climate change is already taking a toll on the coastal cities many people frequent during spring break.
As temperatures warm and winter fades, many Americans trade in their snow boots for sandals and head to the sunny, sandy coasts. However, as climate change causes sea levels to rise, some of those beaches that we love to frequent during spring break could look very different by 2100.
NOAA issued a report in 2022, saying U.S. coasts could see a century's worth of sea-level rise within the next 30 years. Scientists believe the coastline of the U.S. and its territories could see waters rise between 10 and 12 inches by 2050, leading to an increase in damaging flooding that happens outside of storms or heavy rain events.
One of the sunniest and sandiest places in the country is Miami. According to the Greater Miami Convention and Visitors Bureau, about 4.1 million people traveled to the South Florida city between March and April in 2019 and spent millions of dollars. Most of them head to the water.
"Eighty percent of visitors that come to Miami go in the water while they're here," said Rachel Silverstein, executive director of Miami Waterkeeper, a non-profit organization that advocates for clean water. "So it's a really critical part of our culture, our economy and why people want to live in Miami as well, and of course, to visit, especially for spring break."
As that water rises because of climate change, the Miami area and many other coastal destinations are trying to figure out ways to adapt and keep those beaches spring breakers love so much around for generations to come.
BIOSPHERE 2, ONCE USED TO PREPARE US FOR OTHER PLANETS, NOW RESEARCHES THE FUTURE OF OUR OWN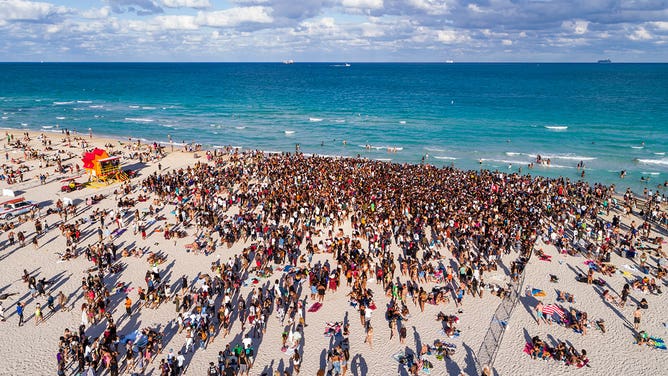 What future spring breakers can expect
William Sweet, an oceanographer at NOAA's Ocean Service, said the degree to which sea-level rise will affect coastal areas will vary from one place to the next. In general, though, future beach-bound spring breakers can expect to see water in places where water is absent now.
"We expect more water in the streets," Sweet said. "We expect, you know, more water occupying sandy beaches that, you know, it's very important to the spring break crowd. I can testify to that firsthand, having been through college and enjoyed the sand myself."
MAJORITY OF YOUNG PEOPLE HAVE 'CLIMATE ANXIETY,' SURVEY FINDS
Sweet said manmade beaches or shorelines with bulkheads will likely see the water moving closer to that shore, resulting in a squeeze on the beach.
"The steady creep of sea-level rise is definitely one of the main factors that is causing a lot of our beaches to constrict and narrow and disappear," Sweet said.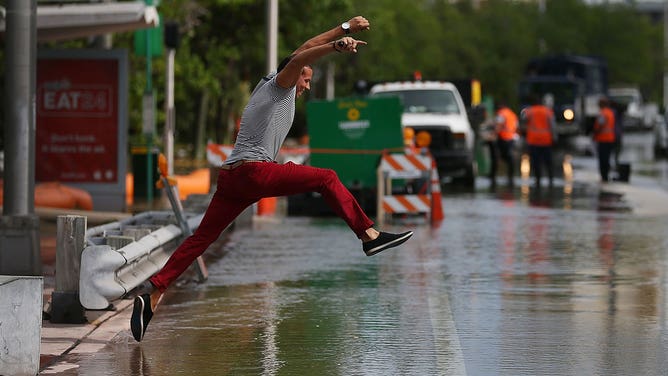 'Not really a 2100 issue anymore'
While the sea-level report from NOAA focused on how things will look by the end of the century, the reality is that things are already changing because of the rise that has already happened.
"Sea-level rise is not really a 2100 issue anymore, although that's when it's typically been referred to, you know, how much do we expect over the next century?" Sweet said. "Sea-level rise impacts are here and now."
Sweet said there is already an increased frequency of so-called "sunny-day flooding" in many coastal locales.
"It's that increased frequency of what we call at NOAA high-tide flooding," Sweet said. "Oftentimes, it's sunny outside, there's no storm in sight, and there's water on streets. There's water coming out of the storm-water systems, you know, spilling into streets, water going over old sea walls, covering beaches, for instance. It's the increased frequency of those kinds of events that really is sea-level rise."
CHARLESTON FOCUSING ON RESILIENCY AS REPORT WARNS OF FUTURE SEA-LEVEL RISE
Silverstein said that sunny-day flooding results in water quality issues in the Miami area. She said that those floodwaters travel backward up the stormwater system and into streets.
"It's picking up all of the nasty stuff that gathers in the street -- grease, oil, chemicals, pet waste -- and then when the tide goes out, it's flushing it back out into the waterways and bringing the pollution with it," Silverstein said.
Sewage being flushed into the water is also a problem, according to Silverstein. She said there are more than 120,000 septic tanks in Miami, and those systems depend on dry ground between the bottom of the tank and the start of the water table to properly function.
HOW TO WATCH FOX WEATHER ON YOUR TV
"Sea-level rise is raising the water tables and flooding the septic tanks," Silverstein said. That water then ends up back in the ocean, which can prompt officials to close beaches because of high bacteria levels.
Sweet said these are just some of the challenges that managers and governments in coastal communities are trying to address, and that is before the nearly foot of sea-level rise that's predicted in this century.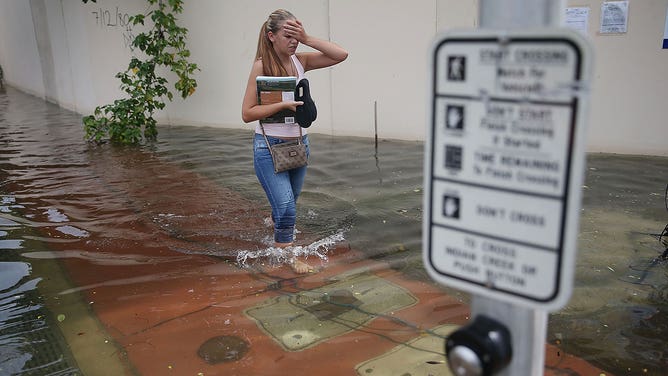 Saving the beaches
Sweet said there are several ways that coastal cities, which rely on the coast as a source of commerce and business, can adapt to the rising seas, but it starts by understanding a given location's risk.
"Using the maps and the data in the models that NOAA and our partner agencies put out, communities can get a sense of where their vulnerabilities are now and how those are likely to change in the future, so they can make the decisions that makes sense locally and adapt accordingly so that, you know, it continues being sort of a viable coastline now and in the future," he said.
Some places are already using beach replenishment programs, seawalls and levees as ways to keep the beaches enjoyable. Sweet said those efforts need to be backed up by the reduction of greenhouse gas emissions which are causing sea levels to rise in the first place.
WORLD URGED TO SPEED UP EFFORTS TO ADDRESS CLIMATE CHANGE IN LATEST UN REPORT
"Emissions really do matter," Sweet said. "Locations can be prepared and find and fund their solutions that they see best locally, but beyond that, it really is the collective 'we' … Greater emissions equal greater heating equal greater risk for larger sea-level rise at the end of the century and beyond."
All of those efforts are meant to help keep some of America's favorite spring break destinations, such as Miami, enjoyable for many years to come.
"Tourism is a really key pillar of the economy here in Miami, and we want tourists to keep coming, and we want them to come here and to be able to enjoy the environment, which is really why they're coming to Miami because we have beautiful water, beautiful beaches, coral reefs, mangrove forests," Silverstein said. "So I really encourage people to explore and to engage in the local environment wherever they travel, because there's a lot to learn and to enjoy."