Majority of young people have 'climate anxiety,' survey finds
But is it truly hopeless? One researcher says no.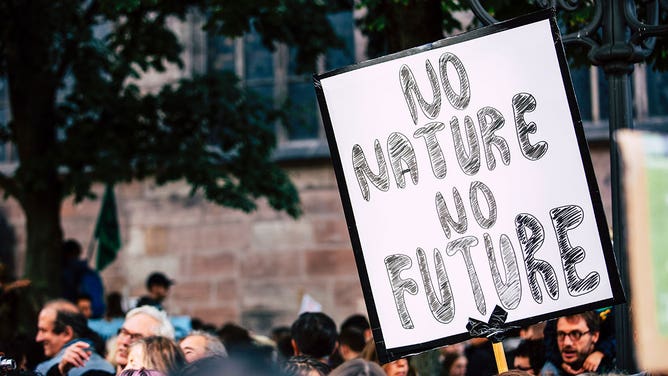 A majority of young people said they were anxious about climate change and some said their anxiety is affecting their ability to live their lives, according to a global survey.
Susan Clayton, a professor of psychology at the College of Wooster in Ohio and one of the authors of the paper accepted for publication in Lancet Planetary Health, said the survey focused on 10,000 people between the ages of 16 and 25 in ten countries: Australia, Brazil, Finland, France, India, Nigeria, Philippines, Portugal, the United Kingdom and the U.S.
Clayton said she became interested in the subject because she knows how stressful extreme weather events can be.
"When you think about how climate change can impact mental health, it's important to think about, 'Well, what does climate change actually involve?' Clayton said. "So we know that it's increasing the frequency of extreme weather events, and if anybody has ever been through such an event, they won't be surprised to hear they tend to have impacts on mental health."
Clayton said that most people are resilient and can cope with the stress caused by things like a damaging storm or wildfire. However, incidents of mental health issues usually increase after these types of events because they affect access to coping resources.
Defining climate anxiety
According to Clayton, the goal of the survey was to determine whether young people were worried about climate change and whether that worry was affecting their lives and their view of the future, Clayton said.
"More recently, we've been looking at what has been called 'climate anxiety,' or sometimes 'eco anxiety' or 'climate change anxiety,' and that is the effect on people who are simply worried about the existence of climate change," Clayton said. "This is important because you don't have to be directly affected for it to be a source of stress and impacts on your mental health."
Clayton stressed that anxiety about climate change is not necessarily a sign of a mental health problem. It's when that anxiety begins to affect one's ability to live their life that it becomes problematic.
Sad, anxious, afraid, hopeless
Clayton, who described the results of the survey as striking, said 84% of respondents said they were either moderately worried or extremely worried about climate change, and 45% said that it affected their ability to work, socialize or sleep.
"We also asked questions about their negative emotions and beliefs about climate change, and they reported really high levels of negative emotions such as sad, anxious, afraid, hopeless," Clayton said.
According to Clayton, many of those who were surveyed said they were worried about not having as many opportunities as their parents had because of climate change. She said some even said they were concerned about whether to have children.
"They endorsed statements that were really, again, striking and difficult to hear," Clayton said. "They said things like, 'Humanity is doomed.' 'The future is frightening.'"
Only a relatively small number of respondents reported feeling optimistic or indifferent about climate change, Clayton said.
A sense of betrayal and dread
Clayton said most respondents said they also felt as if governments were not doing enough to address climate change.
"Large majorities thought that governments were failing young people, betraying the young people and future generations and lying about the impact of their actions, and only minorities said, 'Governments are doing enough to prevent climate change.' 'Governments can be trusted.' 'Governments are acting according to science,' and, 'Governments are protecting me.'" Clayton said. "So there was a really high level of pessimism."
Clayton said the survey reveals a sense of dread among young people about climate change and their future.
The effects of 'climate anxiety'
Clayton said that while most people will not develop mental health problems because of this dread, some will.
"It's a source of stress, so it's an increased burden on mental health," Clayton said. "It's also the case that if you have young people, this pessimistic about the future it is presumably going to affect some of their decisions about how to plan for the future, how plan for a future career, whether to get involved in trying to make society a better place and so on."
Ending on a hopeful note
Is the plight of young people truly hopeless?
"Absolutely not," Clayton said. 
Clayton said there are many young people who are already involved in trying to create a positive change, and there are things that we can do to help address the issue.
She said the coronavirus pandemic has shown us that sometimes the world faces threats that require a response that will ultimately protect everyone.
"Some of the language we hear about climate change can be really apocalyptic," Clayton said. You know, 'The world is doomed.' 'We're all going to burn up,' I really don't think that's the case."