Heavy rain displaces 500,000 after flooding sweeps southern China
Bei Jiang River peaked at 118 feet causing flooding rescues across the region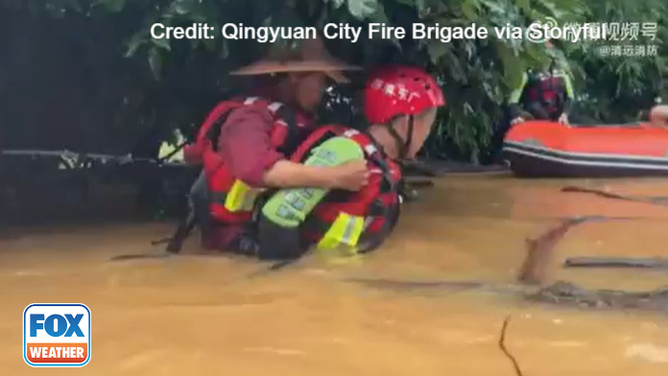 Heavy rains have caused massive flooding across the Guangdong Province in southern China prompting rescuers to set out by boat wearing wetsuits to save residents in city and rural areas. 
The Associated Press reports the flooding brought threats of landslides in the manufacturing hub of Guangdong and nearly 500,000 people were impacted by the flooding in the neighboring province of Jiangxi.
The cities of Shaoguan, Heyuan and Meizhou were also impacted by flooding prompted by heavy rainfall that has washed away roads and swept away cars and houses. 
HOW TO WATCH FOX WEATHER ON TV
In Shaoguan, nearly 11 inches of rain was recorded on June 19 with more recent rainfall totaling over 5 to 7 inches per day, according to the China Meteorological Administration.
Last summer, similar flooding in central China killed more than 300 people. 
Children, the elderly, men and women all were evacuated and ferried to safety on Tuesday when the banks of the Bei Jiang River overflowed. A government official posted on Chinese social media that the river peaked near 118 feet Wednesday.
Firefighters waded through chest-deep water through homes with terrified children on their shoulders in the middle of the night. Two children and their parents were loaded on rubber boats which officers pulled through the alleys in water.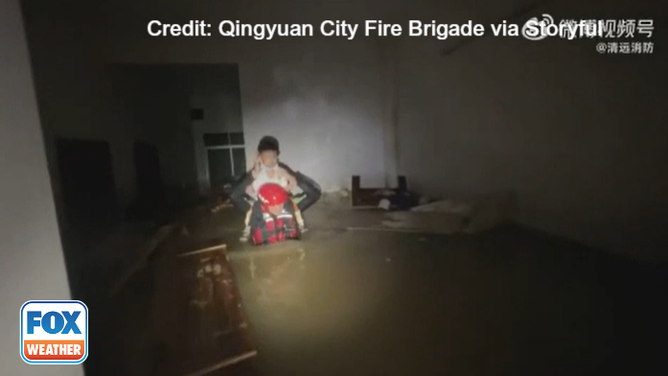 Inflatable boats motored through streets with evacuees on floodwaters up to the tops of doorways.
Other residents waited on rooftops for the rescue boats after water filled their homes. 

In Quingyuan City, 9-12 feet of water covered the first floor of businesses on Juanshe Road. Video shows the water level rising above street signs and debris floating down the road caught under the power lines just above the surface.
Local media reported that over 400,000 people were affected by the high water.
Severe rainstorm warnings and other severe weather advisories are in effect across parts of Southern China on Friday, according to the World Meteorological Organization.
HERE'S WHAT TO DO AFTER YOUR CAR IS FLOODED
Only elevated roadways escaped the flood in Yingde. Water submerged all but the treetops in the industrial area and the first floors of buildings were submerged.
CLICK HERE TO GET THE FOX WEATHER UPDATE PODCAST
The Associated Press reports flooding is a regular occurrence in China during the summer, but this year's flooding is the worst in decades. 
The National Meteorological Centre forecasts regional heavy rain through this weekend will batter Sichuan Basin, North China, Huanghuai Region and Northeast China.
Be sure to download the FOX Weather app to track any storms in your area and receive potentially life-saving weather alerts issued by the National Weather Service. The free FOX Weather livestream is also available 24/7 on the website and app and on your favorite streaming platform. The FOX Weather Update podcast also provides weather information for the entire country.