See New York cars encased in ice after lake spray freezes vehicles to ground
Tropical storm-force winds, Lake Erie waves and cold temperatures encased this car in ice.
HAMBURG, N.Y. – No, this is not a wooly mammoth, it's an SUV in a very unfortunate parking spot. The driver parked lakeside in Hamburg, New York, and came back to their car frozen from lake spray.
This car probably had a beautiful view of Lake Erie on St. Patrick's Day with temperatures above freezing. The temperature started dropping, and the wind picked up after that. On Saturday, winds gusted to 47 mph, which churned a healthy chop on the lake and a lot of sea spray. 
The ice accreted and even formed the mini-icicles that looked like fur.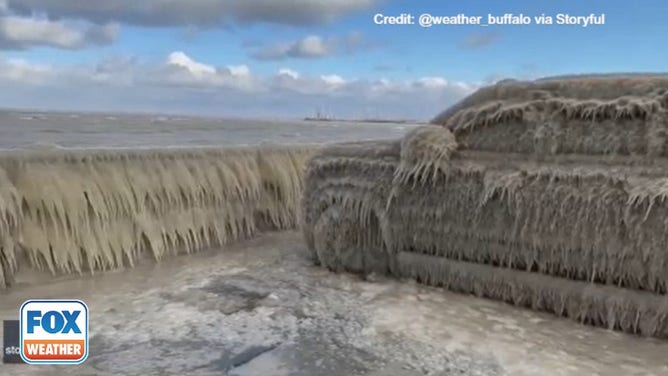 HOW DO ICICLES FORM? AND WHY DO THEY PERPLEX PHYSICISTS?
On top of the wind, lake-effect snow accumulated in inches, freezing the wheels to the ground too.
The unique mix of air temperature, water temperature and wind provided a similar viral video clip in Canada, just north of Buffalo, in December. An entire neighborhood was encased in ice. It looked more like a scene from the movie "Frozen."
LAKEFRONT NEIGHBORHOOD TRANSFORMS INTO SURREAL FROZEN WONDERLAND AFTER BLIZZARD'S ONSLAUGHT
While the pictures and video can be beautiful on land, the same scenes can be deadly at sea. The NWS and Environment Canada teamed up to better forecast freezing spray, calling it the Freezing Spray Project.
The agencies collected pictures and ship reports (including weather conditions) to avoid tragedies like the Lady of Grace. Ice accreted on the ship's mast, riggings, railing and every surface above deck. This raised the ship's center of gravity. The unstable boat capsized and killed all four people aboard, according to NOAA. The ship was in the waters off Nantucket in January.
According to the Cape Cod Times, the Lady of Grace was the second commercial fishing vessel to capsize because of ice in almost 100 years.
WATCH: DRONE CAPTURES ICY WONDERLAND AS TURBULENT LAKE SPRAY FREEZES ON MICHIGAN PIER

The NWS's Ocean Prediction Center stated that freezing spray is common in cold weather months in high latitudes. For example, in 2015, the NWS issued over 3,000 Freezing Spray Warnings.