Watch: Buffalo police bodycam footage reveals deadly reality of Christmas-week blizzard
Buffalo police released body camera video Thursday from some of their officers who ventured out into the raging December blizzard to illustrate the heroic efforts first responders gave to save as many lives as possible from the deadly storm.
BUFFALO, N.Y. – As a deadly blizzard raged in Buffalo, New York, for hours in the days before Christmas, battering the region with furious winds and blinding snow that left the visibility near zero and wind chills well below, Buffalo police officers fanned out into the city trying to rescue as many as possible trapped in the dire situation.
Buffalo police released bodycam video Thursday from some of their officers who ventured out into the raging storm to illustrate their heroic efforts amid the harshest of conditions.
The four-day storm would eventually bring 52 inches of snow to Buffalo, with some suburbs measuring snow totals over 6 feet.

The nightmare began the morning of Dec. 23 when snow bands from the blizzard-turned-bomb cyclone created whiteout conditions as workers were heading home after a night shift and last-minute shoppers attempted to complete their Christmas to-do lists. By afternoon, snow was blowing sideways amid 60-plus-mph wind gusts, and as night fell, visibility dropped to zero while temperatures dropped to single digits. Many people became nearly instantly snowed in on roads and in buildings.
The videos encompass officers' rescue efforts on the evenings of Dec. 23rd and 24th, during the peak of the 37-hour blizzard. 
THESE FACTORS COMBINED TO MAKE THE DEADLY HOLIDAY BLIZZARD IN BUFFALO A CATASTROPHE
In one video from the evening of Dec. 24, officers respond via an SUV and snowplow to a building where several had been trapped – first in their car for a day, then the building the next. The officer leads them out amid the blizzard to their waiting vehicles, but visibility remained so poor the officer had to walk in front of their rescue vehicles to lead the caravan to safety.
"I'm walking along Elk Street," the officer radioed dispatchers. "It's so bad out here they're following me with a flashlight, but it's so bad we're barely making it home."
The dispatcher seemed incredulous. "Are you walking?" he asked.
"I'm only walking along Elk Street," the officer responded. "I'll get in the car when we get to Bailey (Street). It's bad out here. They're behind me in vehicles as I'm walking towards Bailey because it's like zero visibility, but I can see better when I'm out of the vehicle. So, they're following me as I walk toward Bailey. We're good, we'll be there soon. I'm coming."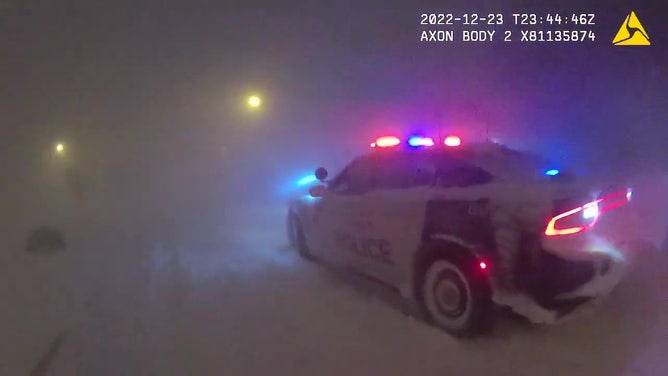 Once they reach Bailey Street, the officer rejoins his group and climbs in, using his flashlight out the passenger window as the wind blasted the SUV with snow to watch for stranded cars and snowbanks. He would help guide the two vehicles on the over one-mile journey back to the police station. "We ain't coming back out tonight," he told dispatchers among safely returning.
'A GUT PUNCH': BUFFALO RESIDENTS RECALL STORIES OF SURVIVAL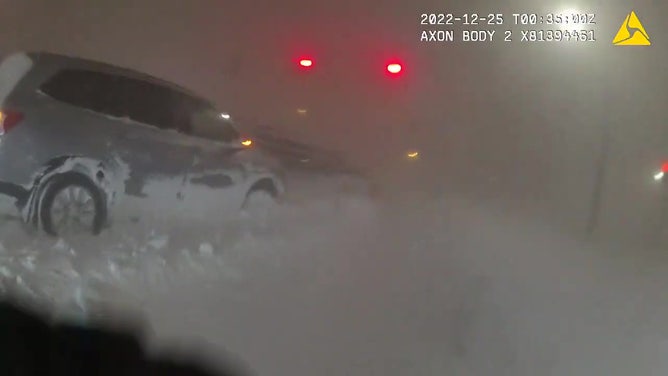 In a second video filmed on the evening of the 23rd, two Buffalo officers come upon a woman in medical distress trapped inside her car that became inoperable in the snow. The officers offer to either bring her to the station or to the hospital, but "it might take a minute because our cars aren't that good; we just got stuck in the lot for 45 minutes."
HOW TO WATCH FOX WEATHER ON TV 
One officer offers to attempt to get the woman's car off to the road. Unsuccessful, they retreated to their patrol car and headed to the hospital.
"My pants, everything is frozen," one officer said moments before they realize their patrol car is now also stuck in the snow. Officers eventually free the car, then struggle in the heavy snow on their journey to the hospital, getting stuck multiple times.  
'LIFE-AND-DEATH SITUATION': ABOUT 30 PEOPLE LEFT STRANDED AT TARGET STORE DURING BUFFALO BLIZZARD
Eventually, they end up hopelessly stuck. "We're going to be walking with this female the rest of the way to Buffalo General," the officer tells dispatchers. The officer then offers the woman his jacket as they walk the few blocks and safely arrive at the hospital.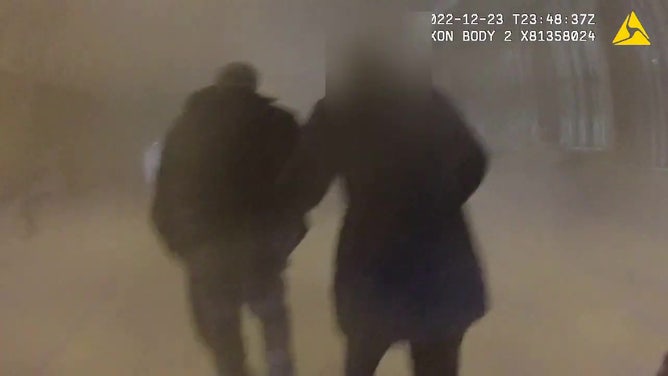 Other videos show an officer coming up on a woman caught out in the snow, pleading with him to take her home. He gets her to a safe, warm place. Another officer finds a stranded driver and their dog and brings both into his patrol car to warm up. In another, a family is brought from their stranded vehicle to safety.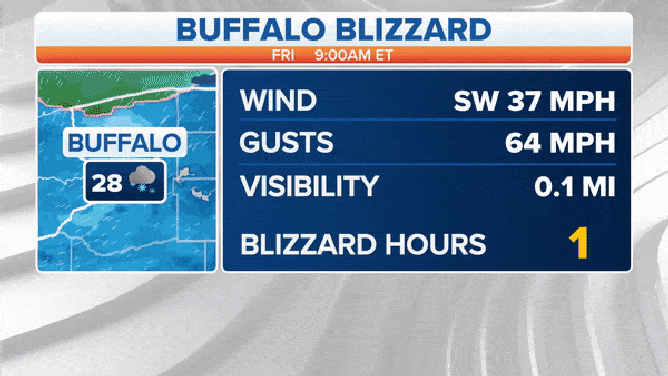 The storm eventually claimed the lives of 46 people, including 18 found trapped outside in the storm, and four others who froze in their cars, officials said. Seven more died due to delayed emergency medical response.
"It's a horrible storm with too many deaths, but we know without these first responders, more would have died," Erie County Executive Mark Poloncarz said.