Watch: Atlanta police, firefighter rescue trapped driver from floating car during significant flooding
The FOX Forecast Center says downtown Atlanta picked up 2 inches of rain in less than two hours on Thursday, which led to widespread flooding in the city.
ATLANTA - Bodycam video shows the dramatic rescue of a driver in Atlanta who became trapped in his vehicle when it was surrounded by water amid significant flooding due to torrential rainfall on Thursday.
According to Atlanta police, the city's 911 call center was inundated with weather-related emergency calls when the torrential rain fell across the region and water began to rise.
HOW MUCH FLOOD WATER DOES IT TAKE TO DAMAGE A CAR?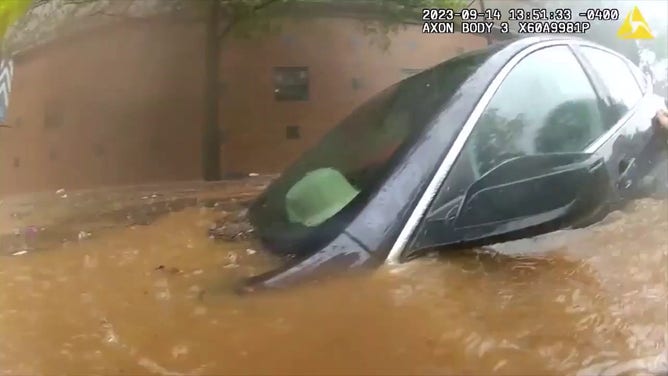 One police officer came upon major flooding on Peachtree Street near Atlanta's Public Safety Headquarters and saw a partially submerged sedan in the middle of the road. The officer is seen in the video rushing to the vehicle where an Atlanta Fire Rescue Department captain was already trying to rescue the driver stuck inside.
"So, initially, when I first saw the car, I was unaware that there was an occupant in there until I heard a person shouting," Atlanta police Officer Rayando Bryan said. "That's when I figured out there was somebody in the car."
The water was so deep that the vehicle had started to float, and the front end was underwater.
HERE'S WHAT TO DO AFTER YOUR CAR IS FLOODED
The first responders worked together and broke the driver's side window and were able to pull the unidentified driver from the vehicle and help him get to safety.
"Well, just moments after the window was smashed, I think the primary goal was to just get the citizen out of the vehicle," Atlanta Fire Rescue Capt. Terrance Simon said. "He had already been overwhelmed by water that was inside the vehicle, and he had been in there for well over 12 minutes. And that's a lot to deal with both physically and mentally."
Initially, the vehicle was floating in much deeper water, and the pair was unable to begin the rescue at first.
"The water was actually up to my chest, and we were able to get the car to an area where the water was lower," Simon said. "So that gave us the ability to actually get our footing. And so we were able to get a good grasp on the situation and mitigate it really fast."
"We are extremely proud of the actions of Atlanta Fire Rescue Captain Terrance Simon and Atlanta Police Officer Rayando Bryan," police said in a Facebook post. "Their response to this critical incident is yet another example of the commitment our city has made to ensure competent, well-prepared, well-trained first responders are available when needed."
The FOX Forecast Center says downtown Atlanta picked up 2 inches of rain in less than two hours on Thursday, leading to widespread city flooding.