Watch: Fishermen cling to cooler after boat capsizes off Australian coast
Three Australian fishermen grabbed anything still floating when their boat started taking on water off the coast of Australia. The men floated for hours, bobbing in the surf, hoping for rescue that eventually came.
ALBANY, Western Australia – Three men hoping for a rescue after their boat capsized Wednesday in the choppy Indian Ocean found an ice chest floating and clung to it to keep their heads above water and stay together.
The trio was fishing about 10 miles off the coast of Albany when their boat started taking on water. The men were forced to grab life jackets as the ship disappeared under the surface.
The swells were almost 7 feet high, according to SeaTemperature.info. The fully clothed fisherman were floating in 68-degree water for over 2 hours. While that might sound warm, water robs the body of heat 25 times faster than air, according to the CDC. Exhaustion or unconsciousness can set in within 2 to 7 hours.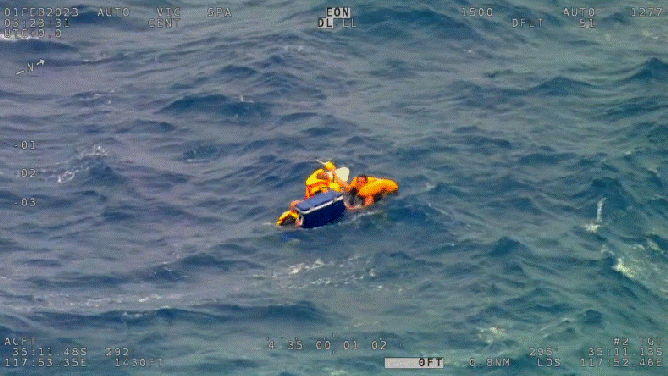 Thankfully the trio had an EPIRB (Emergency Position-Indicating Radio Beacon). The battery-powered device transmitted a continuous distress call which the Australia Maritime Safety Authority picked up around 1 p.m. 
The fishermen had no other communication with authorities or other boats, so they just waited and hoped someone would find them.
'OH GOD! YOU MADE IT!': WATCH THE EMOTIONAL REUNION AS FAMILY RESCUES MAN LOST AT SEA FOR HOURS
The video shows a rescue helicopter approach the men, who had huddled together for warmth and clung to the blue cooler. One fisherman is trying to flag down the aircraft while clutching the EPIRB. Ocean swells tower over their heads.
HOW TO WATCH FOX WEATHER ON TV
Officials rescued the three men and none suffered serious injuries. In a statement, the AMSA focused on the importance of boating with life jackets and a registered emergency beacon.
"In this case both may have meant the difference between life and death," AMSA wrote.