'Oh God! You made it!': Watch the emotional reunion as family rescues man lost at sea for hours
A family feared the worst when they went searching for a 22-year-old who disappeared for hours while free diving off Key West, Florida last week.
BOCA CHICA KEY, Fla. – Three men took a boat to go free diving off the coast of Key West, Florida last week, but only two returned. 
A friend called the cousin of missing the missing man, Dylan Gartenmayer, after two hours of searching for the 22-year-old with no luck.
Fearing the worst
"We were told that he went down for a dive and did not resurface. So we were thinking the worst," cousin Priscilla Gartenmayer told Storyful.
She got the call at 5:45 p.m. – just 18 minutes before sunset. She and her boyfriend frantically took out her grandparent's boat and set sail for the area that Dylan Gartenmayer's friends last saw him. 
There was still no sign of him in the failing light. 
Priscilla Gartenmayer, familiar with the area, said she knew her cousin would try to swim to a nearby reef if he saw it. But the reef was over 2 miles away.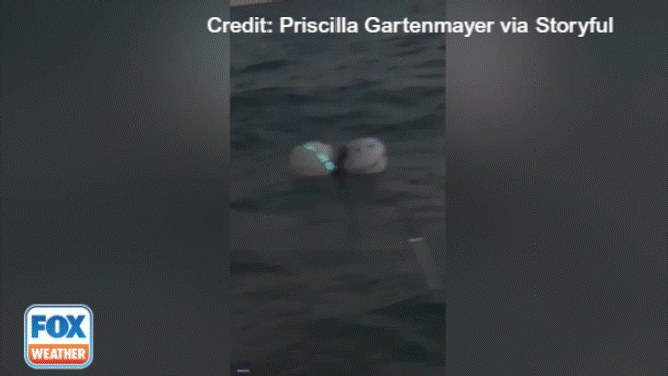 The water temperature was around 78 degrees, according to the National Oceanic Atmospheric Administration, and while that temperature sounds warm, hypothermia can set in. A swimmer can succumb to exhaustion and even unconsciousness in as little as three hours submerged, according to the Coast Guard Auxiliary. 
Cold water robs the body of heat much faster than air. The Coast Guard stated that when a person's core temperature drops to 95 degrees, their extremities are numbed to uselessness making swimming or clinging to a floating object nearly impossible. Some victims go into shock and panic and become totally disoriented. 
"Before we even completely stopped the boat to start looking, Joel Cruz spotted Dylan near the channel marker that marked that reef," she said of her boyfriend. "The joy we felt in that moment is indescribable."
Emotional rescue
His family and friends joyously shrieked when they discovered the man they feared wouldn't make it: "Oh Dylan! Oh my God, you made it! Oh God, Dylan!"
His cousin pulled him from the water and into a fierce embrace. The family sobbed tears of relief and joy.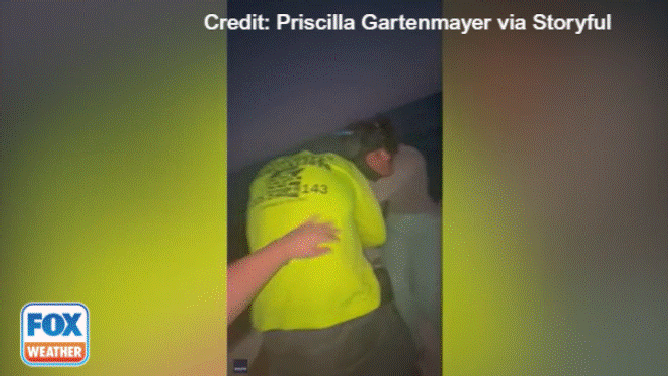 HOW TO WATCH FOX WEATHER ON TV
Dylan Gartenmayer was free diving, diving without oxygen, when the swift current carried him away underwater. When he surfaced, he couldn't locate his boat. His cousin was right, he swam 2 miles to the buoys marking the reef and clung for life.
The Coast Guard intercepted the rescue boat and tended to the man.
"His core temperature was slightly low, but besides that he was perfectly fine," Priscilla Gartenmayer said. "We later were able to pick up Dylan from the Coast Guard station and bring him home."