This IS rocket science: Kids get first-hand experience launching 20-foot rockets into Colorado skies
The United Launch Alliance (ULA) selected payloads designed by kindergarten through 12th-grade students to launch aboard three intern-built rockets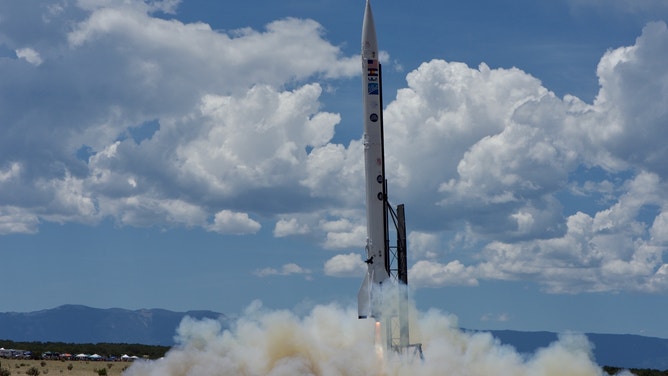 PUEBLO, Colo. – Kids as young as kindergartners helped design and build payloads that launched aboard a rocket from Colorado on Saturday.
The United Launch Alliance (ULA) selected payloads designed by kindergarten through 12th-grade students to launch aboard three intern-built rockets.
And while the hot temperatures prevented two of the rockets from launching, ULA says the event was successful.
"Launch day was amazing, although we had to wrap up earlier than expected because of concerns about the extreme heat," ULA Communications Specialist Phillip Lucas said. "Despite that, it was a great event, and we had lots of fun connecting with kids and families who came out to watch."
'Very impressed with level of creativity' 
The launch was part of ULA's Student Launch Program, where students could design, build, refurbish and launch sport rockets.
The Student Rocket Launch simulates a real launch campaign, so the interns can experience what the process looks like from start to finish.
The students not only get hands-on experience working to build rockets, but it also gives them a more profound education in STEM (science, technology, engineering and mathematics) fields.
ULA says that providing young students opportunities to get involved in STEM is crucial.
ULA LAUNCHES SPACE SURVEILLANCE MISSION FOR SPACE FORCE
"It is critical that we continue educating and inspiring students to pursue STEM careers and opportunities," said Tory Bruno, ULA president and CEO. "Today's students are future leaders; we cannot harness the potential of space without the scientists, engineers and explorers of tomorrow. The advanced technical knowledge illustrated in this year's proposals has not gone unnoticed. Our team is very impressed with the level of creativity shown in the work submitted thus far."
The program aims to inspire the next generation of scientists, engineers and space entrepreneurs through an enriching introduction to the world of STEM and rocketry.

"We hope the Student Rocket Launch program helps participants imagine futures for themselves in STEM and aerospace. The skills students gain through the program — from designing, building, and testing payloads to collaborating and giving presentations on their experiments — help set students up for success at school and eventually at work," program manager Cara Hope said.
Nearly mile-high endeavor 
Since it began in 2008, the program expanded to include students from across the country. In 2009, ULA partnered with Ball Aerospace, allowing students to build and design payloads to launch on the ULA intern-built rockets.
HOW THE TELESCOPE BECAME OUR WINDOW INTO THE UNIVERSE
The payloads are judged by their design phase, testing phase and payload performance, and this year, the top three teams will earn a cash prize for their school or a nonprofit organization of their choosing.
This year's payloads, named Sine, Cosine and Tangent, included instruments to generate a 3D simulation of each launch phase and tests to determine which type of structure best remains intact against extreme forces.
The intern-built rockets stood at 19.6 feet and would carry five to six different payloads each. Each of the rockets was expected to deliver approximately 768 pounds of average thrust over a 6-second interval and reach altitudes of roughly 4,200 feet.
Be sure to download the FOX Weather app to track any storms in your area and receive potentially life-saving weather alerts issued by the National Weather Service. The free FOX Weather livestream is also available 24/7 on the website and app and on your favorite streaming platform. The FOX Weather Update podcast also provides weather information for the entire country.