ULA launches space surveillance mission for Space Force
Atlas V liftoff happened at 2 p.m. Friday
CAPE CANAVERAL, Fla. – United Launch Alliance launched twin Space Force satellites on Friday from Florida's coast, marking the company's first rocket launch of the year.
This week, the Atlas V rocket hardware was rolled out to Space Launch Complex-41 at Cape Canaveral Space Force Station. Liftoff happened on time at 2 p.m. Friday.
The Atlas V 511 rocket lifted off into a mostly cloudy sky above the Florida coast.
"Hot, straight and normal," ULA CEO Tory Bruno tweeted.
The launch came at a good time as a cold front is forecast to approach Friday, potentially bringing hazardous weather to South Florida later in the day. Still, launch weather officers said the front remained north of the Space Coast through the launch window.
According to the forecast from Launch Weather Officer Will Ulrich, there was an 80% chance of favorable weather for liftoff. The primary concern was cloud cover. 
DAMAGING WINDS, HAIL POSSIBLE ACROSS SOUTH FLORIDA ON FRIDAY
Launch watchers near Cape Canaveral had a pleasant afternoon with temperatures in the low 70s with cloud cover.
Earlier in the week, mission managers conducted a launch readiness review, and ULA has the go-ahead to continue with liftoff preparations. ULA teams rolled out the 196-foot-tall rocket to the launchpad on Thursday.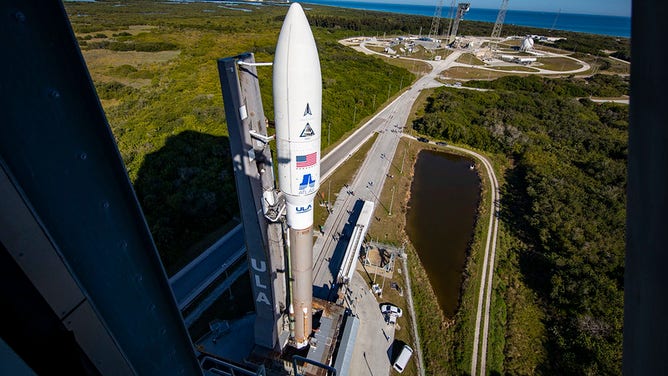 The U.S. Space Force 8 mission, or USSF-8, contains two twin spacecraft headed to geosynchronous orbit. According to ULA's blog post, the spacecraft built by Northrop Grumman can "rapidly detect, warn, characterize and attribute disturbances to space systems." 
The two spacecraft are part of the Geosynchronous Space Situational Awareness Program or GSSAP. These satellites are designed for viewing other objects in space, allowing for more accurate tracking of human-made spacecraft orbiting the planet. 
As the Atlas V launches and moves downrange, it will be moving over 7,145 mph. According to ULA's launch visibility map, the rocket launch could be seen up and down Florida's coast.