Damaging winds, hail possible across South Florida on Friday
Storm threats include damaging winds and hail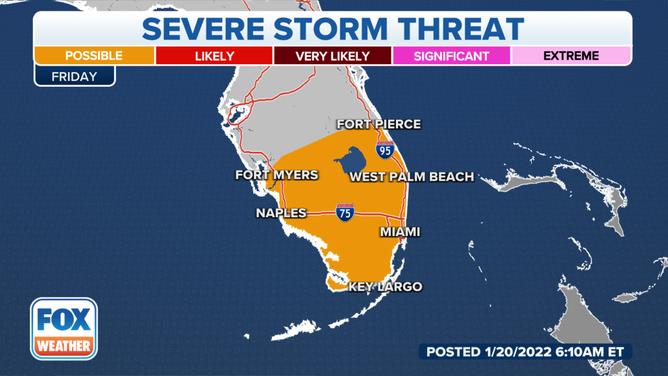 People living in South Florida should keep an eye on the sky Friday as severe storms could form, bringing the threat of damaging winds and hail.
NOAA's Storm Prediction Center says a cold front will be pushing through the region, bringing the threat of strong to severe storms to South Florida and the Florida Keys.
Areas that could see the strongest storms include Fort Myers on the Gulf coast and Fort Pierce on the Atlantic coast, south to West Palm Beach, Miami and Key Largo.
Naples, on the Gulf coast, is also under the threat of stronger storms on Friday.
Forecasters say there is some uncertainty as to overall storm coverage, but with the front moving through and sea breezes on both coasts, storms could pop up.
If storms do form, the SPC says they could be on the stronger side, and there's also the chance for a few supercell storms to form.
The main threats from the storms appear to be strong, damaging winds and some hail.