SpaceX launches Starlink satellites from Florida on 11th rocket booster flight
Falcon 9 rocket booster previously launched five other Starlink missions, two NASA astronauts and four other missions.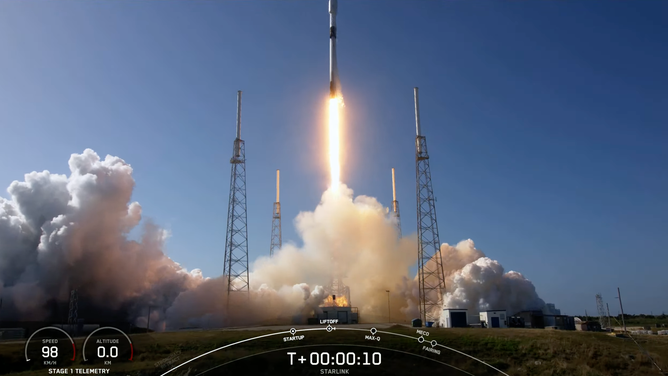 CAPE CANAVERAL, Fla. – After a geomagnetic storm caused most of the last batch of Starlink satellites to come crashing back to Earth, SpaceX launched yet another round of internet-beaming satellites from Florida Monday morning.
SpaceX is nearing 2,000 Starlink satellites in low-Earth orbit since it began launching the spacecraft more than three years ago. The constellation provides high-speed internet to SpaceX's growing customer base around the globe.
A Falcon 9 rocket had been scheduled to liftoff from Cape Canaveral Space Force Base Launchpad 40 Sunday, but because of weather conditions at sea for the droneship SpaceX uses to catch rocket boosters the liftoff was moved to Monday.
TASTE THE COSMOS: 'SPACE-FLAVORED' COKE PREPARES FOR TAKEOFF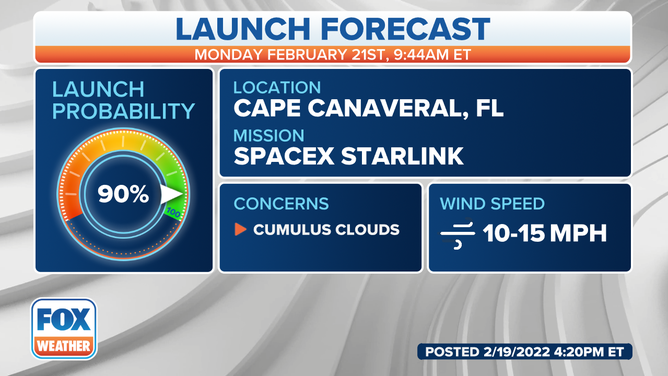 A Falcon 9 with 46 Starlink spacecraft launched Monday at 9:44 a.m. into a clear blue sky over the Florida Space Coast. 
About 8 minutes after liftoff, the Falcon 9 booster came back to Earth, landing on the A Shortfall of Gravitas droneship in the Atlantic Ocean. This marked the 11th launch and landing for this rocket booster. Previously, the first stage was used to launch NASA astronauts Bob Behnken and Doug Hurley during the Crew Dragon Demo-2, send cargo to the International Space Station, three other spacecraft launches and five Starlink missions.
The fairing halves that make up the rocket nose cone have each been launched four times.
In case you missed it, re-watch the launch and landing below.
ELON MUSK SAYS STARSHIP WILL MAKE IT TO ORBIT THIS YEAR BUT WILL IT LAUNCH FROM FLORIDA OR TEXAS?
The launch comes a week after SpaceX launched 49 satellites around the same time a solar storm hit. As a result, SpaceX said up to 40 of the satellites will or have already reentered the Earth's atmosphere.
Geomagnetic storms caused by solar flares cause Earth's atmosphere to warm and density to increase at the altitude where some satellites fly. 
After the geomagnetic storm hit, the Starlink team commanded the satellites into safe mode to minimize the drag and "take cover from the storm," but still, SpaceX lost 40 out of 49 satellites due to the increased drag.
BILLIONAIRE SPACE TRAVELER BUYS 3 MORE SPACEX FLIGHTS, INCLUDING FIRST STARSHIP CREWED LAUNCH
SpaceX CEO Elon Musk said the company now has more than 250,000 Starlink users worldwide. The $499 kits are available to pre-order on the Starlink website. However, new customers may be waiting a while.
A search for an address in Orlando comes up with this message: "Starlink is currently at capacity in your area, so your order may not be fulfilled until 2023 or later."
Late last year SpaceX filed an application with the Federal Communications Commission for its second-generation Starlink constellation known as Gen2 with up to 30,000 spacecraft. SpaceNews was the first to report NASA submitted a letter to the FCC with concerns about these plans because it would more than double the number of objects tracked in low-Earth orbit.
"An increase of this magnitude into these confined altitude bands inherently brings additional risk of debris-generating collision events based on the number of objects alone," the letter submitted by the National Telecommunications and Information Administration on behalf of NASA read.
Starlink satellites can auto-maneuver to avoid a collision with another spacecraft. Still, the space agency is also concerned about potential effects on other NASA science missions and launch and re-entry opportunities.
NASA suggests that SpaceX work with the space agency before each Starlink launch to troubleshoot any issues and make adjustments if needed.