Billionaire space traveler buys 3 more SpaceX flights, including first Starship crewed launch
Jared Isaacman is also the brains (and money) behind Inspiration 4, the first all-civilian spaceflight with SpaceX.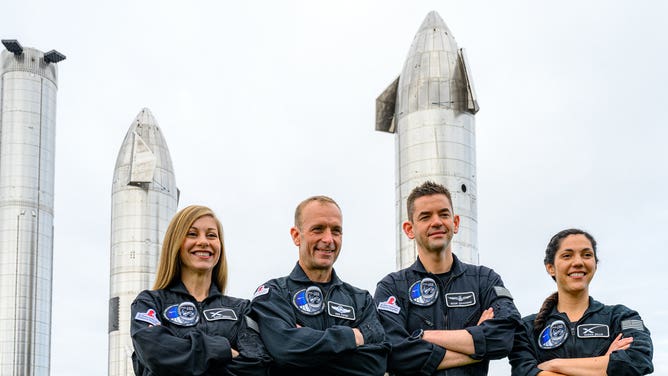 Coming off his first spaceflight with SpaceX last fall, marking the first all-civilian orbital mission, Shift4Payment CEO Jared Isaacman is back for more.
In September, Isaacman and three private citizens launched from Florida in SpaceX's Crew Dragon spacecraft on a three-day orbit off Earth. The endeavor was a first in human spaceflight made possible by the commercial space industry's achievements in the last decade. SpaceX became the first private company to launch astronauts in 2020, returning astronaut launches to American soil for the first time since 2011. 
Isaacman's next venture, the Polaris Program, is a series of three private spaceflights with SpaceX, including the first Starship launch with a crew on board. Each flight will attempt to achieve new milestones in human spaceflight.
ELON MUSK SAYS STARSHIP WILL MAKE IT TO ORBIT THIS YEAR
During the first spaceflight called Polaris Dawn, Isaacman and his three other crew members will attempt the first all-private spacewalk, known as an extravehicular activity or EVA.
"The Polaris Program is an important step in advancing human space exploration while helping to solve problems through the use of innovative technology here on Earth," Isaacman said in a news release.
Isaacman will serve as the mission commander. Scott "Kidd" Poteet, the mission director of Inspiration4 and a retired U.S. Air Force lieutenant colonel, will be a mission pilot. 
The other two crew are lead space operation engineers at SpaceX who will serve as mission specialists.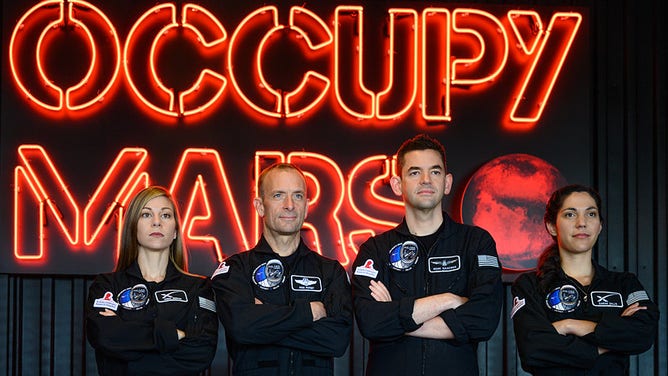 Sarah Gillis oversees Crew Dragon astronaut training. She worked directly with the Inspiration4 crew at SpaceX headquarters in California to prepare them for their spaceflight.
Anna Menon serves as SpaceX's mission director and crew communicator during human spaceflight operations. Before SpaceX, she was a biomedical flight controller at NASA for the International Space Station program. 
Menon is married to NASA astronaut candidate Dr. Anil Menon, SpaceX's medical director when the space agency selected him for the astronaut program. He is also a former flight surgeon for NASA's Johnson Space Center. The couple has a son and a daughter together. 
DRILLING ENGINEER, SPACEX DOCTOR AMONG NASA'S NEW ASTRONAUT CANDIDATES
According to SpaceX, the Polaris Dawn mission "will take advantage of Falcon 9 and Dragon's maximum performance, flying higher than any Dragon mission to date and endeavoring to reach the highest Earth orbit ever flown."
The crew will spend up to five days in orbit. 
It's unclear from the Polaris Program how many of the crew will be spacewalking during the Polaris Dawn mission. However, the Crew Dragon capsule does not have an airlock which will require all four crew members to wear pressurized spacesuits during the EVA. 
The cost of each mission and how much Isaacman is paying SpaceX overall for Polaris or Inspiration4 is also unclear. Isaacman has previously said Inspiration4 was less than $200 million. NASA pays SpaceX about $55 million per astronaut to deliver them to and from the International Space Station.
The crew will also test SpaceX's space-based internet Starlink during their mission which could be used for human spaceflights to the moon, Mars and beyond, according to a news release.
"Alongside these important objectives, we will be supporting scientific research to advance both human health interests on Earth and our understanding of human health during future long-duration spaceflights," Isaacman said.
Documented in a Netflix documentary series, the Inspiration4 mission raised more than $240 million for St. Jude's Children's Research Hospital. Polaris Dawn will also raise funds and awareness for St. Jude.
Mission managers target the end of 2022 for the Polaris Dawn launch from Kennedy Space Center in Florida. A timeline for the second and third Polaris Program missions was not provided.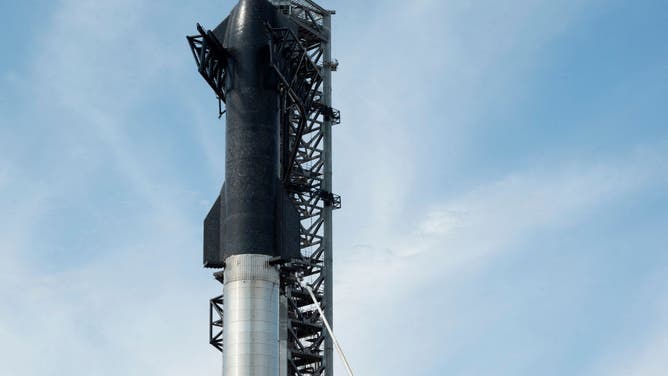 The final flight under Polaris would be the first human spaceflight of SpaceX's newest vehicle, Starship.
SpaceX is developing Starship and the Super Heavy booster in Boca Chica, Texas. NASA chose the reusable launch vehicle to return humans to the moon by 2025. 
The next major step for Starship is reaching orbit, but if that happens with a launch from Texas or Florida depends on environmental and commercial space regulations.
SpaceX is currently waiting on the FAA to issue its final Programmatic Environmental Assessment for the Starship project in Boca Chica, which would allow SpaceX to move forward with orbital test flights.
On Monday, the FAA said in a statement that the decision is not likely to come before March 28. Previously, the agency was targeting the end of February, also delayed from last year.
Last week, SpaceX CEO Elon Musk provided an update on Starship, saying he believes the reusable spaceship will reach orbit sometime this year.