Drilling engineer, SpaceX doctor among NASA's new astronaut candidates
NASA picked ten candidates from more than 12,000 applications.
HOUSTON – NASA leaders announced the next crop of astronaut candidates Monday selected to be the next space explorers as America plans to return to the moon and look onward to Mars.
Amid a rolling Texas thunderstorm Monday afternoon, the ten fresh faces were called to the stage at Ellington Field in Houston by Norm Knight, director of NASA's Flight Operations Directorate.
The 2021 astronaut candidates are four women and six men with diverse and impressive backgrounds, including the children of immigrants, a drilling engineer, a SpaceX medical director, a former firefighter and the first woman to lead an all-female F-22 fighter jet formation in combat. 
NASA astronauts embody the American character, NASA Administrator Bill Nelson said before he was momentarily interrupted by a siren warning of lighting near the airfield. 
"You've been selected not only to push the envelope of humanity's potential," Nelson said. You've been tasked to carry out the hopes of a nation, and that hope is found in the twinkling eyes of a child when they dream of soaring upwards."
Head of the NASA Astronaut Office Reid Wiseman, an astronaut himself, applauded the candidates' families for supporting them and spoke about what lays ahead for these potential space explorers.
"We are in the golden age right now of human spaceflight. We have private missions going out into low-Earth orbit. We have the International Space Station conducting research, trying to better life here on Earth," Wiseman said. "We have the Artemis program going to the Moon and then on to Mars."
Wiseman asked each of the candidates a question allowing them to introduce themselves. 
Jessica Wittner, 38, of California, said she knew she wanted to become an astronaut as a little girl.
"I was that little girl in school who would play with rockets at the park by the house and loved science class," she said. I love to learn why and how things work the way that they worked."
A former mechanic, Wittner is a U.S. Navy lieutenant commander, naval aviator and test pilot with a Master's degree in aerospace engineering from the U.S. Naval Postgraduate School. 
Deniz Burnham, 36, said she was inspired by her mom, who wanted to be a military officer, but it wasn't allowed in Turkey. Burnham's mother would later join the U.S. Air Force. Burnham is a U.S. Navy lieutenant and still serves in the Navy reserves.
"She taught me how to dream big, and as long as you stay the course, you can achieve anything," Burnham said. "That's what inspired me not to give up on my own childhood dream of becoming an astronaut."
Burnham of Alaska has mechanical and chemical engineering degrees. As a drilling engineer, she has overseen energy drilling projects in Canada, Alaska and Texas.
Luke Delaney, 42, is a retired U.S. Marine Corps major who grew up in DeBary, Florida, just up the coast from NASA's Kennedy Space Center. 
A naval aviator, he has a master's degree in aerospace engineering from the Naval Postgraduate School. Most recently, he's worked as a research pilot at NASA's Langley Research Center in Virginia. 
He said he's been working on airborne science missions that will help improve aviation safety, space technology and more. 
"Ultimately, that data being gathered and it's going to inform decisions on climate change, the environment and a better understanding of the planet," Delaney said. "So going from that Earth science mission, coming over to the space mission with this team, just an incredible experience."
When he was selected, Dr. Anil Menon, 45, was working as SpaceX's medical director. A U.S. Air Force lieutenant colonel, Menon is also a former flight surgeon for NASA's Johnson Space Center. He switched to commercial space with SpaceX and helped with the company's first human spaceflights last year.
"I'm really excited to practice medicine in space, share it with those communities and those people," Menon said. "But if I was looking at a career in medicine right now, I would be so excited I would jump at it and I'd seriously consider space medicine because the opportunities are just limitless."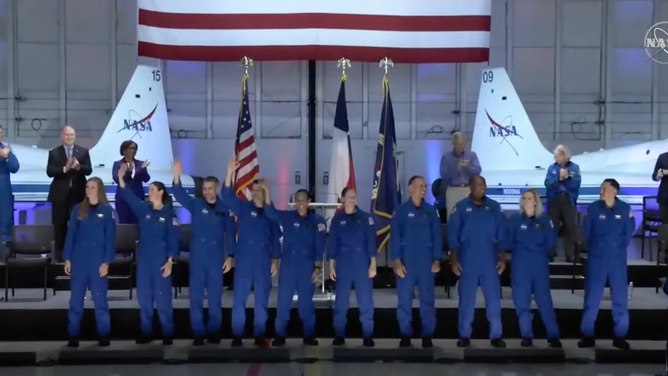 Chris Williams, 38, is a medical physicist and Harvard graduate who recently worked in the Radiation Oncology Department at the Brigham and Women's Hospital and Dana-Farber Cancer Institute in Boston. 
His research focused on better ways to target radiation therapy to treat cancer.

"While it's a little bit bittersweet to leave the incredible team that I worked with at the hospital, I'm just honored and incredibly excited to join the NASA team and these wonderful people to push human spaceflight forward," Williams of Maryland said.
Christina Burch, 35, a bioengineer and a track cyclist on the U.S. National Team, offered some advice to future candidates.
"Find something that you're really interested in, really curious about, passionate about and explore that deeply," Burch of Arizona said. "I think if you approach every day trying to do the little things well, they will add up to something really big."
Burch, from Arizona, taught bioengineering at the University of California, Riverside and scientific writing at the California Institute of technology.
Jack Hathaway, 39, is a naval aviator and U.S. Navy commander from Connecticut. He has more than 2,500 flight hours across 30 different aircraft, including 500 aircraft carrier landings. He's flown on 39 combat missions and has degrees in physics and history from the U.S. Naval War College and Cranfield University. 
Andre Douglas, 35, is a mechanical engineer with a master's degree in naval architecture, marine engineering and electrical and computer engineering.
The Virginia native shared what he believes it means to be an astronaut.
"A NASA astronaut is not afraid of challenges or solving complex problems. They're explorers that are ready to unlock the secrets of our universe for the betterment of humankind. But most importantly, they are team players that collaborate with contractors, people, organizations and international partners to further the benefit of space exploration."
Douglas served in the U.S. Coast Guard and worked at the Johns Hopkins University Applied Physics Lab, working on maritime robotics, planetary defense and space exploration missions for NASA.
Nichole Ayers, 32, is a U.S. Air Force major from Colorado. An experienced combat aviator with more than 200 combat hours, Ayers is one of the few current female F-22 fighter jet pilots. She also led the first-ever all-woman aircraft formation into combat.

Her college volleyball teammates attended the announcements, and their loud cheers could be heard from inside the Ellington Field hangar. 
Marcos Berríos, 37, is a U.S. Air Force major from Puerto Rico and combat helicopter pilot. He said he is most excited for future missions but pays close attention to the Ingenuity helicopter on Mars.
"I think it would be great if NASA could scale up the Ingenuity helicopter that's currently flying on Mars to maybe, you know, fit two people," he said with a grin. "I know Deniz, the other helicopter pilot here, and I would love to take it for a spin for science."
 
Two United Arab Emirates astronauts will also train with the new astronaut class and attended the announcement. 
NASA Johnson Space Center Director Vanessa Wyche said the small group was chosen out of more than 12,000 applicants. These candidates bring the number of candidates selected by NASA up to 360, dating back to the first candidates who became known as the Mercury 7 in 1959.
The candidates will now move to Houston will they will undergo two years of training that includes flying T-38 jets and learning the technical know-how to work in space.