Geomagnetic storm causes destruction of 40 new Starlink satellites
Despite a successful launch, most will crash into Earth's atmosphere.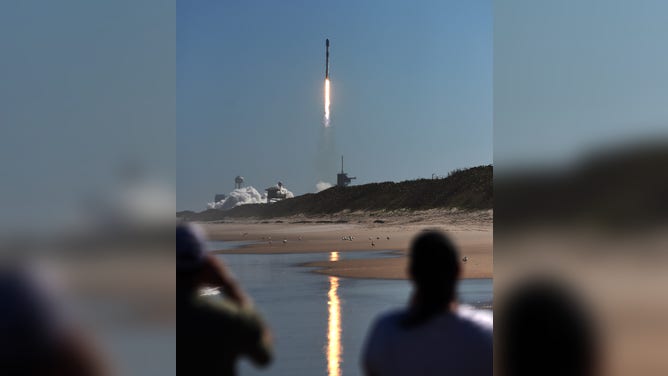 A geomagnetic storm sealed the fate of 40 out of 49 Starlink satellites launched Thursday, according to SpaceX. 
The Falcon 9 rocket successfully launched and deployed the satellites into a low Earth orbit about 130 miles above the planet. However, Friday's geomagnetic storm kept the units from traveling to higher orbits, around 340 miles up, where they would operate.
3,2,1 … SPACEX SUCCESSFULLY LAUNCHES AND LANDS 3 ROCKETS THIS WEEK 
"These storms cause the atmosphere to warm and the atmospheric density at our low deployment altitudes to increase," said SpaceX in a statement. The result is similar to the difference between walking in air and walking in water.
"The escalation speed and severity of the storm caused atmospheric drag to increase up to 50% higher than previous launches," the statement continued.
SpaceX said that up to 40 satellites have or will reenter the Earth's denser atmosphere. The company designed the crafts to disintegrate upon reentry, and they should not pose a risk to humans or other satellites.
"While the low deployment altitude requires more capable satellites last a considerable cost to us, its the right thing to do to maintain a sustainable space environment," said SpaceX.
The company owned by Elon Musk has been deploying the Starlink satellites for the past several years. The eventual constellation of 42,000 will provide broadband internet across the globe, even in remote areas.
AFTER 'SPACE LASER' UPGRADE SPACEX CONTINUES LAUNCHING STARLINK INTERNET CONSTELLATION