3,2,1 ... SpaceX successfully launches and lands 3 rockets this week
After the first Falcon 9 launch Monday, SpaceX completed two additional missions all before the weekend.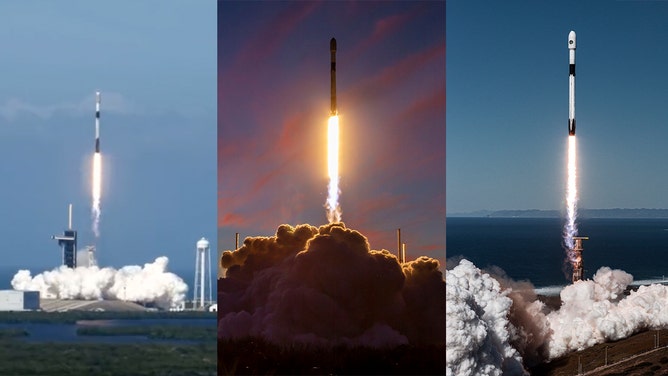 SpaceX capped off a busy week with doubleheader launches in two states in just over 24 hours successfully completing three missions this week.
On Monday, SpaceX launched the Italian Space Agency's COSMO-SkyMed satellite from Space Launch Complex 40.
Then on Wednesday, SpaceX launched a secret payload for the National Reconnaissance Office called NROL-87. A Falcon 9 lifted off from Space Launch Complex 4 East at Vandenberg Space Force Base in California at 12:27 p.m. PT.
About ten minutes after launch, the brand new Falcon 9's booster landed back on base at Landing Zone 4. This marked the fifth launch and landing for SpaceX since Jan. 1. The booster will be re-flown on another mission for the NRO.
SPACEX ROCKET EXPECTED TO CRASH INTO THE MOON IN A FEW WEEKS, EXPERTS SAY
Just over 24 hours later, on the opposite coast, SpaceX launched 49 Starlink internet satellites from Launch Complex 39A at Kennedy Space Center.
The Falcon 9 blasted off at 1:13 p.m. ET Thursday. 
Forecasters with the Space Force 45th Weather Squadron predict an 80% chance of a favorable launch window. While most of the U.S. is facing a major winter storm, the weather on Florida's Space Coast was enough to make its northern neighbors jealous.
Thursday was breezy with just a few clouds in the mostly clear blue sky when the Falcon 9 left the launchpad.
JUPITER HAS STRIKING SIMILARITIES WITH EARTH'S OCEANS, OCEANOGRAPHERS FIND
Half of the rocket body has previously launched five times. The rocket booster supported two astronaut spaceflights to the International Space Station, a cargo run to the ISS, a Sirius XM satellite and NASA's Imaging X-ray Polarimetry Explorer observatory. The two halves of the rocket nose cone are also used. One fairing launched five Starlink missions, sending hundreds of satellites to low-Earth orbit. The other side has also launched two Starlink missions and the Transporter-1 launch.
Post-launch, the Falcon 9 booster landed on SpaceX's droneship, A Shortfall of Gravitas, in the Atlantic Ocean. The fairing halves will be recovered by another SpaceX ship called "Doug."
This week's final liftoff marks the sixth launch and landing for Elon Musk's company so far this year.
However, the launch cadence won't slow down anytime soon for the Space Coast. 
Private company Astra is targeting Saturday for its first launch from Cape Canaveral Space Force Base. The venture class rocket will carry a NASA payload with several CubeSats to orbit.