Delays set up SpaceX for potential triple launch week
Elon Musk's company planning three launches this week from coast-to-coast.
CAPE CANAVERAL, Fla. – Two launch delays over the weekend due to weather and a wayward cruise ship will push SpaceX to potentially conduct three missions in a week with rockets standing by in Florida and California. 
A Falcon 9 rocket was poised to lift off from Cape Canaveral Space Force Base Thursday with the Agenzia Spaziale Italiana's COSMO-SkyMed satellite, but SpaceX opted to delay the launch into the weekend because of poor weather. Additional attempts Friday and Saturday were delayed again because of the weather, and then on Sunday, a cruise ship in the launch hazard zone caused the delay, according to SpaceX.
The Falcon 9 launches just miles away from Port Canaveral, home to numerous passenger cruise lines. 
A U.S. Coast Guard confirmed it is investigating the incident involving the Royal Caribbean cruise ship Harmony of the Seas.
"The Coast Guard is actively investigating Sunday's cruise ship incursion and postponement of the SpaceX launch in Port Canaveral," the Coast Guard PADET Jacksonville office said in a statement. "Our primary concern is the safety of mariners at sea and we will continue to work with our federal, state and local port partners to ensure safe and navigable waterways."
Port Canaveral CEO Capt. John Murray said the Canaveral Port Authority fully supports the space industry. It's a frequent sight for Falcon 9 booster and spacecraft to come through the port on SpaceX ships as they return from launch.
"This, unfortunately, was an isolated incident that happened outside of our control," Murray said in a statement. "The Coast Guard is conducting a full investigation and we look forward to continuing to work with them and our space partners to ensure the continued success of this important enterprise."
Elon Musk's company is also attempting to launch another round of Starlink internet satellites this week from Florida, as well as a classified payload for the National Reconnaissance Office from California.
With the recent delays, here's how things shake out this week for the company's busy launch schedule.
First up, SpaceX launched the COSMO-SkyMed satellite from Space Launch Complex 40 at 6:11 p.m. on Monday. Watch that launch replay in the video player at the top of this story.
After a weekend of windy and unfavorable launch conditions, weather officers with the Space Force 45th Weather Squadron forecasted a beautiful day for liftoff. 
Monday will be dry with winds at the time of liftoff between 5 and 10 mph with minimal cloud cover.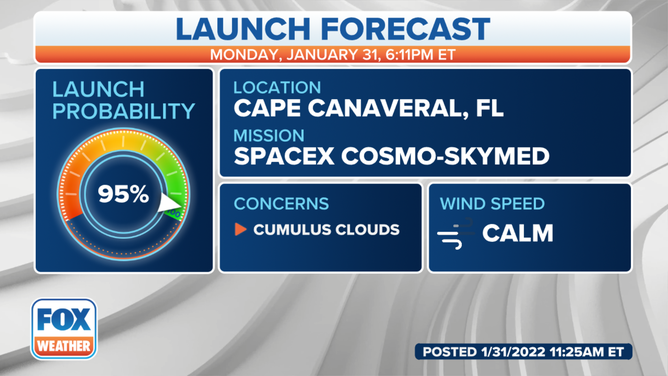 The COSMO-SkyMed constellation is owned and operated by Agenzia Spaziale Italiana or ASI, the Italian space agency. This launch will mark the second spacecraft part of the upgraded spacecraft. Italy has launched five previous COSMO missions, including the most recent in December 2020.
"The launch of the second satellite of the new generation will allow Italy to have an even more advanced and unique system for Earth Observation in the world," ASI said in a news release about the upcoming launch.
The Falcon 9 rocket supporting the Italian spacecraft mission has previously launched twice. According to SpaceX, the rocket nose cone halves, or fairings, have each launched three missions. Post-launch, SpaceX plans to land the booster at Landing Zone 1 back at Cape Canaveral Space Force Station.
SpaceX said in a tweet over the weekend it is also targeting Monday to launch the next batch of Starlink satellites from Kennedy Space Center Launch Complex 39A. 
As of Monday morning, the company has not confirmed a new launch date for the Starlink 4-7 mission, but there are additional launch opportunities on Tuesday with an 80% favorable forecast, according to the 45th Weather Squadron.
Heading out west, SpaceX is preparing to launch the NROL-87 spacecraft from Vandenberg Space Force Base in California. The mission is a national security launch for the National Reconnaissance Office. 
The NROL-87 launch is scheduled for Wednesday at 12:18 p.m. PT.
SpaceX last launched three missions in a week in December, capping off 2021 with a cargo supply run to the International Space Station and two back-to-back satellite launches. Last year, the company sent 31 missions to space, and SpaceX plans to exceed that number this year.