Christmas delivery: SpaceX rocket launches on cargo run to space station
Christmas dinner, bioprinter and supplies arriving to ISS by Dragon Saturday morning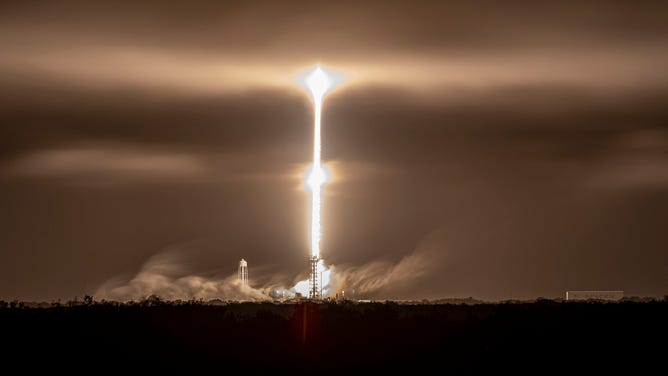 KENNEDY SPACE CENTER, Fla.-- Arriving by Dragon instead of a sleigh, a slew of new science, holiday treats and a few gifts are headed to the International Space Station after SpaceX made a final cargo run with supplies this year to the orbiting laboratory.
Launching in the knick of time before severe weather rolled into Florida, a SpaceX Falcon 9 lifted off at 5:06 a.m. from NASA's Kennedy Space Center with a Cargo Dragon spacecraft carrying 6,500 pounds of goods for the space station.
Timing and weather forecasting were critically important for this launch as a low-pressure system moving over the Florida peninsula began bringing heavy rain and thunderstorms Tuesday morning. Launching the ISS requires an instantaneous window, and the weather needs to cooperate to make that happen.
Packed away inside the SpaceX Cargo Dragon spacecraft were hardware, experiments and a present or two for the astronauts living and working on the space station. The mission, CRS-24, was SpaceX's 24th as part of NASA's cargo resupply services program.
The cargo includes a study related to cancer treatment delivery and a small printer that could potentially print tissue onto wounds and speed up healing. Laundry detergent maker Tide is sending up a fully degradable detergent to help astronauts wear their clothes longer in space. Currently, astronauts have no way to wash their laundry in orbit.
Also in the spacecraft were some holiday goods for the astronauts. 
"Every year, we do our best to send up some, some presents to the crew. I won't get in front of Santa Claus and tell you what's going to be sent up, but we are going to have some gifts for the crew," NASA ISS program manager Joel Montalbano said Monday.
According to Montalbano, the crew will have a special Christmas dinner, including turkey, green beans, smoked fish and fruitcake.
Tuesday's launch marked the 31st and final for SpaceX in 2021, after a banner year of launching people, payloads and planetary science missions for the commercial space company. Last year, Elon Musk's company launched 26 rockets. 
Ahead of CRS-24, SpaceX had two back-to-back satellite launches over the weekend. 
According to Sarah Walker, director of Dragon mission management at SpaceX, more than 28,000 pounds of cargo made it to space and back this year via Dragon.
About 9 minutes after launch, the Falcon 9 booster landed on a drone ship in the Atlantic Ocean. Walker said this was the 100th booster landing for the company.
The booster landing also occurred on the 6th anniversary of SpaceX's first booster landing. On Dec. 21, 2015, that milestone marked the beginning of a new business model for launch providers. It's now a rarity for SpaceX not to fly on flight-proven hardware. The CRS-24 booster was brand new but will fly again.
"Reusability is key to lowering the cost of spaceflight, which enables more investments in critical scientific research. And so it's great to see this trend as we go into the future," Walker told reporters Monday.
Dragon will dock at the ISS early Saturday morning.
Meanwhile, NASA is preparing for the James Webb Space Telescope's anticipated launch scheduled for Christmas morning from French Guiana. The new space observatory will follow the impressive Hubble Space Telescope, making discoveries about the first galaxies.