SpaceX prepares to make final supply run to space station of 2021
6,500 pounds of cargo ready for liftoff but weather could delay launch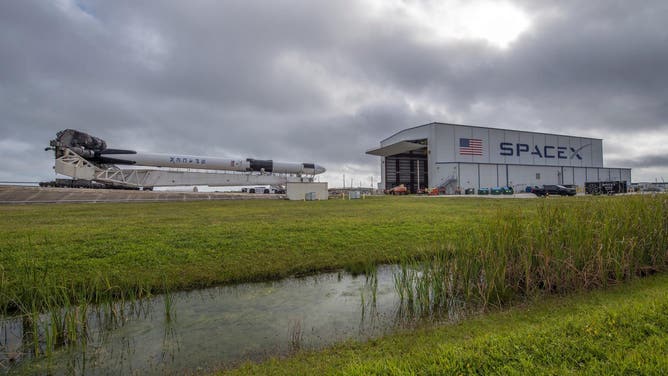 KENNEDY SPACE CENTER, Fla. – After back-to-back launches over the weekend, SpaceX will turn its focus on making the final cargo run to the International Space Station before the New Year.
A Falcon 9 rocket was rolled out to launchpad 39A at NASA's Kennedy Space Center on Sunday ahead of the planned liftoff Tuesday at 5:06 a.m. ET. A SpaceX Cargo Dragon spacecraft will deliver 6,500 of supplies, experiments and maybe a present or two for the astronauts living and working on the space station. 
The cargo includes a study related to cancer treatment delivery and a small printer that could potentially print tissue onto wounds and speed up healing. Laundry detergent maker Tide is sending up a fully degradable detergent to help astronauts wear their clothes longer in space.
The mission, CRS-24, is SpaceX's 24th as part of NASA's cargo resupply services program.
However, before those goods can make it to the orbiting laboratory, the rocket needs to get off the ground, and Florida's weather is presenting a tricky launch forecast for SpaceX.
A low-pressure system bringing rain, possible flash flooding and potentially severe weather to Florida will arrive overnight into Tuesday.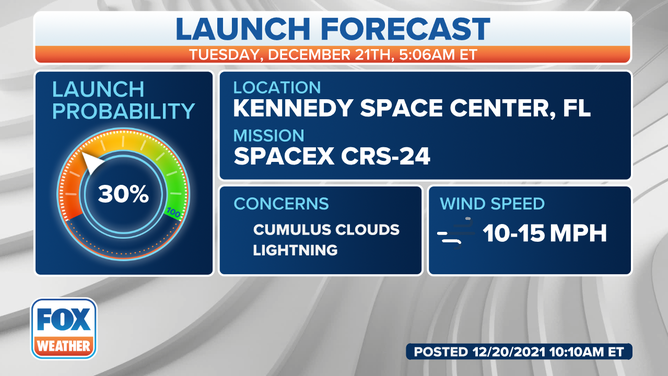 "Unfortunately, weather is not tracking to be the greatest for our launch attempt early tomorrow morning," 45th Weather Squadron Launch Weather Officer Arlena Moses said Monday. "For those of us here on the Space Coast this morning, we woke up to a little cooler, cloudy conditions. We did have a front go through last evening, but that's not the last we're going to see of that particular frontal boundary."
The low-pressure system in the Gulf of Mexico is going to track across the state of Florida over the next 24 hours. "Unfortunately, right as we were planning our launch opportunity late tonight into early tomorrow morning," Moses said.
According to the 45th Weather Squadron, conditions are "less favorable" with possible showers, cloud cover and lightning. 
The Space Force weather officers give Tuesday's launch a 30% of favorable liftoff conditions.
SpaceX also plans to land its rocket booster on a drone ship in the Atlantic Ocean. The risk for a booster landing is moderate.
By late Tuesday, the front should move out into the Atlantic Ocean. The backup launch window early Wednesday improves to a 60% chance of "go" weather, according to the 45th Weather Squadron.
Over the weekend, SpaceX launched the 52 Starlink internet satellites from California early Saturday morning and then hours later launched a Turkish communication satellite from Florida Saturday night. The 
Tuesday's cargo resupply mission will top off a busy year for Elon Musk's company. In addition to launching supplies, satellites and spacecraft, SpaceX completed three Crew Dragon human spaceflight missions this year, including the first all-civilian mission into low-Earth orbit.