James Webb Space Telescope launch delayed again until Christmas due to bad weather
James Webb to launch on Christmas morning at 7:20 a.m. ET
NASA is waiting at least one more day to get the James Webb Space Telescope off the ground.
The telescope was scheduled to launch Friday, but Tuesday, the agency announced another launch delay – this time due to weather conditions at Europe's Spaceport in French Guiana. They're now hoping to launch early Christmas morning, during a window that spans 7:20 to 7:52 a.m. EST. 
The Webb telescope remains inside the Final Assembly Building at the spaceport in French Guiana, awaiting liftoff to its new home 1 million miles from Earth.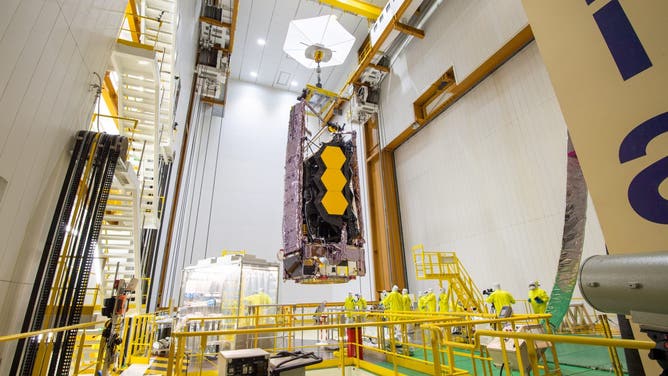 After another weather briefing on Wednesday, NASA, the European Space Agency and Arianespace decided to move forward with the Christmas morning launch time, according to an update from NASA.
The Ariane 5 rocket will roll out to the launchpad on Thursday.
The $11 billion observatory has faced years of delays. It was a Herculean effort to assemble and test Webb with its 18-gold plated mirrors and a sun shield about the size of a tennis court.
The launch was previously planned for Dec. 22, and then again for Dec. 24 before Tuesday's announced delay.
When the James Webb Space Telescope does launch, it will peer deeper into the cosmos to unlock the secrets of the first galaxies.