See the bolt of lightning on Jupiter that caused an eerie green glow
Spacecraft Juno has been orbiting Jupiter for years sending back images. NASA shares the images online. Take a look at what one person discover on an image.
The JunoCam caught the eerie, green glow of lightning above Jupiter, our solar system's largest planet. The view was captured in December 2020, but a citizen scientist processed the image to coax out the glow recently.
The JunoCam is the "citizen science" camera aboard the Juno spacecraft, according to NASA.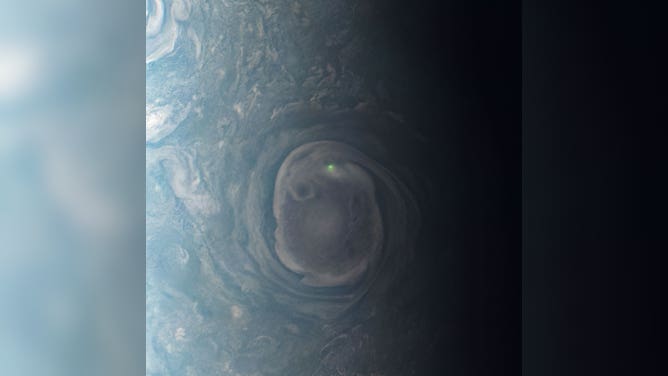 "As the spacecraft orbits Jupiter, JunoCam snaps pictures of the planet from different angles and radial distances, targeting features identified in part through the collaborative efforts of the amateur astronomer community," NASA's Juno website states. "JunoCam's imagery is sent back to Earth and posted to the Mission Juno website, where the general public may download them for subsequent image processing."
JUPITER'S FORECAST: SWIRLING STORMS AS BIG AS EARTH THAT LAST FOR YEARS
The same scientist, Kevin Gill, also created the images for this animation of Jupiter lightning. 
These lightning images are just some of the hundreds sent back to the Mission Juno website. The images range from detailed scientific imagery and analysis astronomers use for research to art.
JAMES WEBB SPACE TELESCOPE CAPTURES JUPITER'S SWIRLING WEATHER, COLORFUL AURORAS AND RINGS
Jovian lightning: Lightning from giant, gaseous planets
While lightning forms the same way on Earth as on Jupiter, winds rubbing ice crystals and water droplets create an electrical charge that builds up until discharged in a bolt. But most similarities end there. NASA scientists call Jupiter's light show "shallow lightning."
"An unexpected form of electrical discharge, shallow lightning originates from clouds containing an ammonia-water solution, whereas lightning on Earth originates from water clouds," states a NASA news release.
STORMS ON JUPITER GO DEEP BELOW ITS TURBULENT CLOUD TOPS, NEW STUDIES SHOW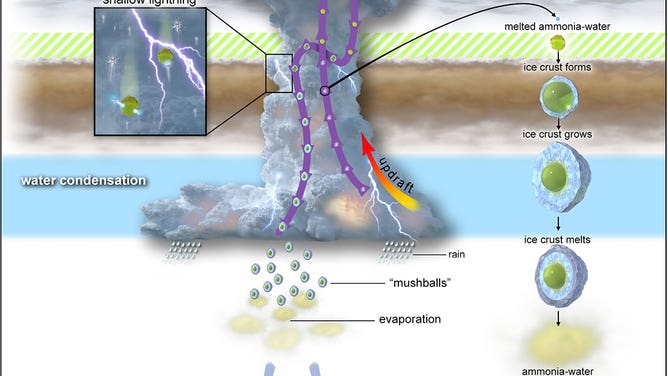 Jupiter, 1,000 times the size of Earth, has a core surrounded by liquid hydrogen and an atmosphere of helium and hydrogen gas, according to NASA. It is the fifth planet from the Sun, millions of miles further from the solar system's heat and energy source.
While the Sun heats Earth's poles and equator differently, as well as ocean versus land differently, its nature needs to equalize the temperature differences that result in storms – mixing equatorial heat with the cold poles. Most lightning occurs closer to our equator.  Jupiter doesn't have those solar temperature differentials. 
Jupiter's heat comes from within, producing updrafts that can occur anywhere, even at the poles.
DEBUNKING 7 MYTHS ABOUT LIGHTNING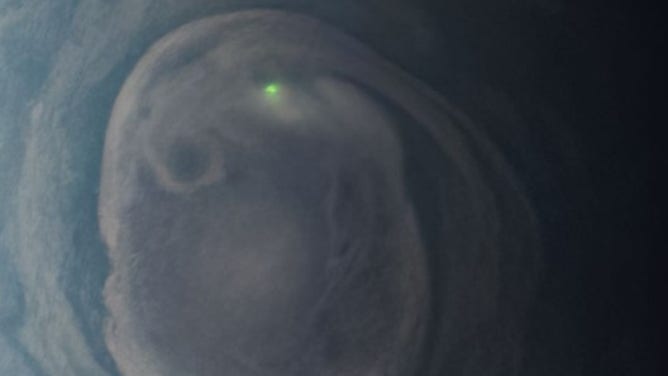 "Juno's close flybys of the cloud tops allowed us to see something surprising – smaller, shallower flashes – originating at much higher altitudes in Jupiter's atmosphere than previously assumed possible," said Heidi Becker, Juno's Radiation Monitoring Investigation lead at NASA's Jet Propulsion Laboratory in a statement.
NASA says, look for more lightning soon. Over the next few months, Juno will pass low over Jupiter's night side. Juno orbits the planet every 53 days.