James Webb Space Telescope captures Jupiter's swirling weather, colorful auroras and rings
Normally faint, Jupiter's rings are glowing in these new James Webb Space Telescope images.
The James Webb Space Telescope continues to amaze with detailed images of galaxies and far-away worlds, but the latest image release is much closer to home.
NASA, the European Space Agency and Canadian Space Agency released images on Monday of Jupiter taken July 27 using the telescope's Near-Infrared Camera (NIRCam) instrument. Jupiter's Great Red Spot, its auroras and swirling weather can be seen in the high-resolution images processed by citizen scientist Judy Schmidt. 
Powerful Webb was even able to capture Jupiter's rings. If that's a surprise to you that the gas giant has rings, it's true. Saturn isn't the only planet in our solar system with rings. According to NASA, Jupiter's rings are a million times fainter than the planet.
FIRST COLOR IMAGES FROM NASA'S JAMES WEBB SPACE TELESCOPE TO REVEAL BRILLIANT NEBULA, GALAXY CLUSTERS
The camera has three infrared filters that capture light invisible to the human eye. These filters were able to help map the aurora lights at the northern and southern poles of Jupiter and capture some light reflecting from the planet's clouds. 
The image at the top of the story is a composite of several images using different infrared filters layered to capture the clouds and hazes of Jupiter.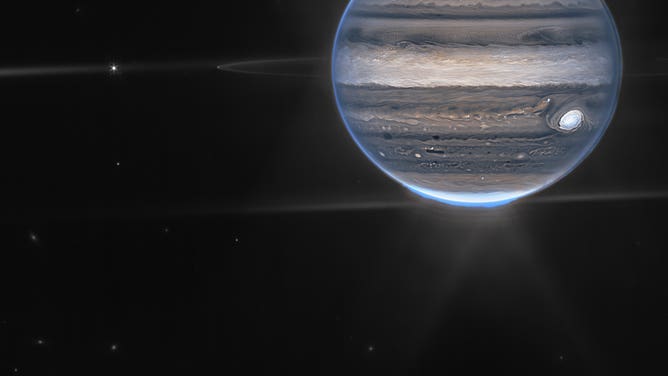 According to Webb scientist for solar system observations Heidi Hammel, the brightness in the images, including the Great Red Spot, is a sign of ongoing weather.
"The numerous bright white 'spots' and 'streaks' are likely very high-altitude cloud tops of condensed convective storms," Hammel said in a release.
Two of Jupiter's moons, Amalthea and Adrastea, can be seen in the images to the left of the planet's body. This is just a tiny sampling because Jupiter has 79 moons. 
'NAILED IT': JAMES WEBB SPACE TELESCOPE'S FIRST IMAGE IS SOMETHING TO CELEBRATE 
Previous images released by NASA included images of Jupiter and its moons Europe, Thebe and Metis.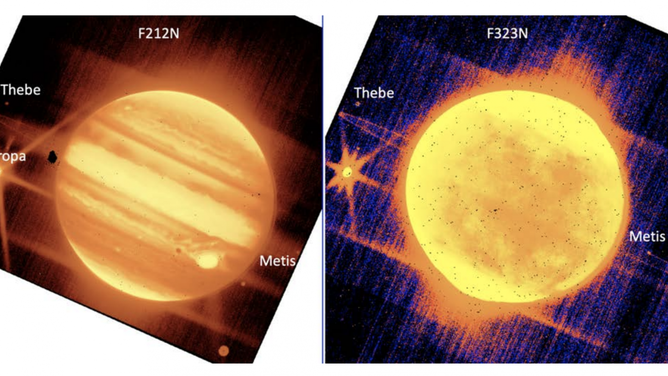 The STScI team processes Webb images that get released to the public. Still, JWST data is also publicly available, allowing citizen scientists to dive in and make beautiful images like the ones of Jupiter.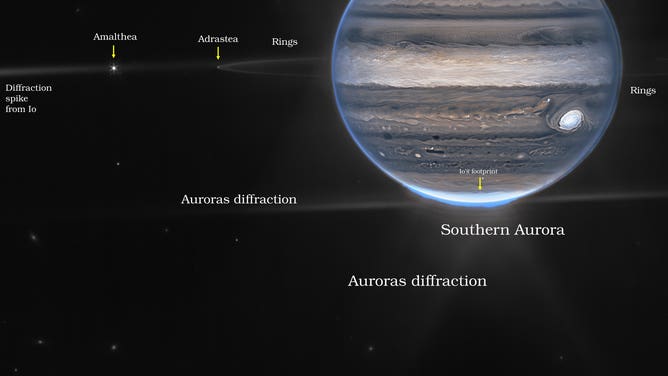 Schmidt, of California, produced these Jupiter images in collaboration with Ricardo Hueso, in Spain.
After launching on Christmas morning, the telescope's 6.5-meter mirror opened, and its tennis-court-size sunshield unfolded in space. The telescope is now stationed about 1 million miles from Earth and, in July, began scientific observations decades in the making.