See image taken on Mars, showing samples collected by NASA's Perseverance
The rover collected rock and atmospheric samples in 10 tubes and left them on the Red Planet for a future mission to recover. This "sample depot" is the first collection of samples on another planet, according to NASA.
A panorama released on Tuesday captures the Red Planet's landscape strewn with 10 titanium tubes of rock and atmosphere samples left behind by NASA's Perseverance.
According to NASA, the panorama was created by stitching together 368 images that were shot by the rover and then sent to Earth.
What Perseverance captured in the photo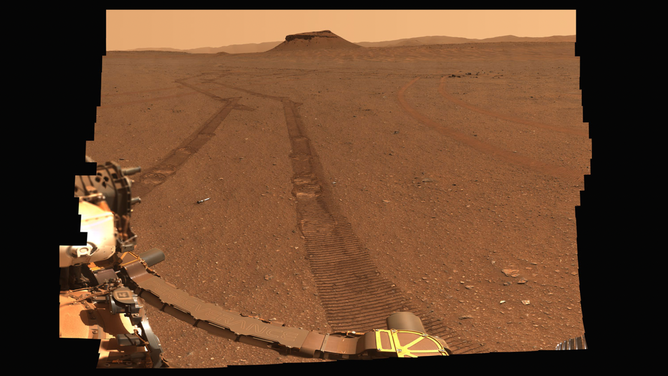 The images were taken with the Mastcam-Z camera on the top of the rover's mast on Jan. 31, 2023. NASA said the color in the final image has been adjusted to show the surface of Mars as it may look to the human eye.
The panorama shows a reddish brown landscape inside Jezero Crater, with a few lightly hilly features in the background. In the foreground, the land is flat, covered in tiny rocks and marked with Perseverance's tracks.
Also in the image is a "sample depot," or a collection of tubes containing samples taken by Perseverance.
What the samples contain
The samples were collected in 10 titanium tubes. Eight of those tubes were filled with rock and regolith, also known as broken rock and dust. One tube is an atmospheric sample, and one is a "witness" tube, which contains materials that capture molecular and particulate contaminants.
NASA'S ROVER BRINGS NEW MEANING TO DUST STORMS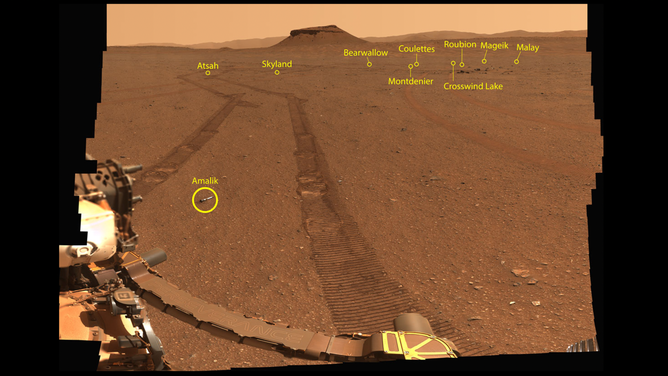 This sample depot is the first collection of samples on another planet, according to NASA.
The tubes are also secondary or backup samples collected by Perseverance. The primary sample tubes are inside the rover, which would pass them over to a Sample Retrieval Lander that's slated to start making its way to Mars in 2028.
SAMPLES FROM PERSEVERANCE'S MISSION ON MARS WON'T REACH EARTH UNTIL AT LEAST 2033
Should anything happen to Perseverance in the meantime and prevent it from handing off the primary samples to the lander, the photographed secondary samples would be retrieved instead.
Why the samples are important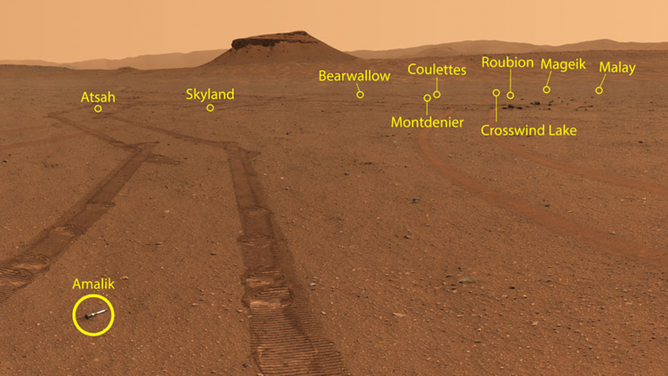 These samples could help scientists determine whether life existed on Mars, specifically in Jezero Crater.
According to NASA, river channels poured over the walls of Jezero more than 3.5 billion years ago, forming a lake. This wet environment may have been home to microbial life, and if that is the case, evidence of their existence may be found in the rock and soil of the crater's now-dry lakebed and shoreline.