Witnessing dust devils: NASA's rover brings new meaning to Martian dust storms
Perseverance rover uses its suite of instruments to better see, hear and understand Mars dust and dust devils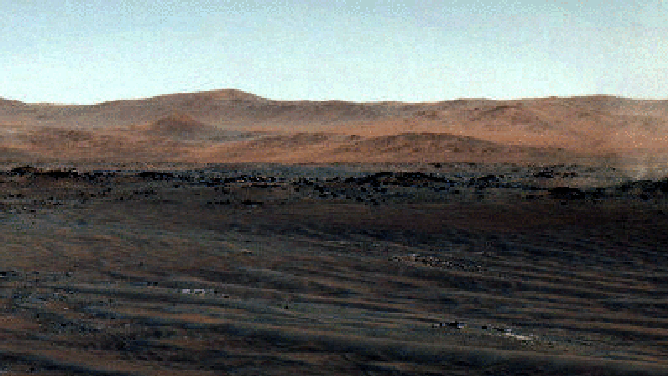 A daily forecast might look something like this for the first humans on Mars: Extremely dry with a 25% chance of dust devils.
Just like we know there will be an increase in tornadoes during severe weather season in the U.S., the same can be said about Mars but for dust devils.
"We kind of know when regional dust storms might occur and where they will occur, what the storm tracks are. But we can't predict when a regional storm will occur exactly. And we can't predict when it will become global or just fizzle out," said research scientists Claire Newman with Aeolis Research, a company that studies planetary atmospheres.
HOW TO WATCH FOX WEATHER ON TV
Newman takes weather prediction models developed for Earth and converts them to work for other planets like Mars. 
"That means that we end up trying to predict things like dust storms on Mars and methane storms on (Saturn's moon) Titan," she said.
Newman is the lead author of a new study published in Science Advances that used observations by NASA's Perseverance rover in the Jezero Crater that will help better understand the Martian atmosphere, which will help support future robotic and, eventually, human missions there. 
Massive dust-lifting event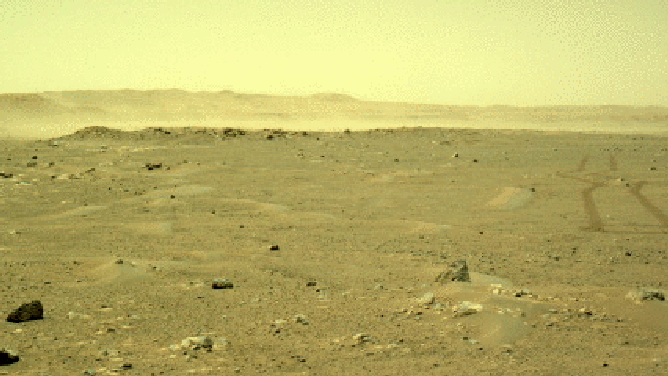 Scientists know that massive dust storms and dust devils move dirt across Mars. However, Newman and her research team witnessed a different kind of dust event on a large scale.
Perseverance recorded a 1.5-mile square mile dust-lifting event using all the tools the rover has: its eyes, ears and sensors.
NASA PICKS WHO'LL MAKE NEW SPACESUITS FOR THE NEXT MOONWALKERS
"This is really the first time we've definitively measured a big gust-driven lifting event and seen that it was like ten times bigger than the largest dust devil that we've imaged," Newman said. 
Newman said the team hopes to use Perservance to measure the wind speed needed to create one of these large-scale dust lifting events. Percy's MEDA instrument has already been able to do this with dust devils. 
Perseverance observes dust devils with its cameras and the Mars Environmental Dynamics Analyzer (MEDA) instrument suite, which measures the sunlight reflected on the Mars surface.
"We've measured several dust devils passing us where we've measured an instant change in the brightness that means dust was lifted locally and that lets us completely connect the wind and the pressure and the humidity and everything that we measure to dust being lifted," Newman said. 
Images are taken every second, allowing researchers to know exactly when the dust lifting happened. 
Before this massive event occurred, Percy was also taking wind measurements with its microphone. The rover has two microphones, a first for a Mars mission. 
"It was just pure coincidence that we happened to be taking an image, and we had MEDA running, and we also had the Supercam microphone just beforehand," Newman said. "We were able to measure these wind gusts and see their effect with multiple different instruments."
Comparing dust devils to gust-driven dust lifting will help atmospheric scientists better predict dust lifting in the future, which means more accurate Mars forecasts.
"If you're trying to understand how Mars looks today and the atmosphere as well, you really need to understand the dust," Newman said.
Dust storms on Mars are much larger than those on Earth – even sometimes becoming global events, explains Newman. This is partly because Mars' atmosphere is 100 times less dense than Earth's, and sunlight does not heat the atmosphere like on Earth, it reflects back. 
THE BUSINESS OF SPACE DIRT: ARTIFICIAL LUNAR, MARTIAN AND ASTEROID SOIL IS IN DEMAND
"But when you have dust in the atmosphere, it is absorbing and scattering the sunlight, and that gives us potential really big feedback," Newman said. "If you get a little bit of dust lifting, you get a change in the temperatures and the winds and then that can trigger more dust lifting."
Without oceans or bodies of water to soak up the dust, these become global or regional dust storms.
Dust devils all around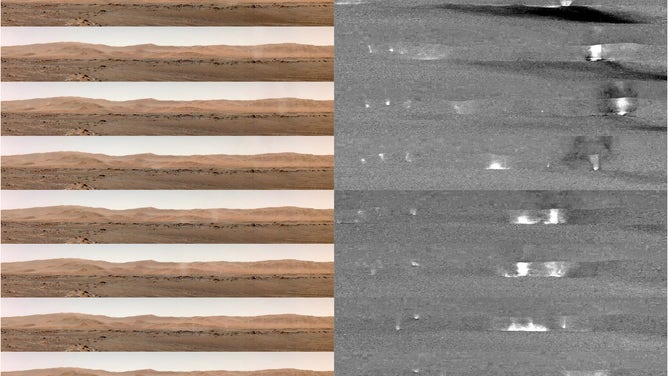 Newman explains dust devils are dusty vortices created by a rapid pressure drop and a wind change. 
Not all vortices on Mars pick up dust, but Newman estimates about a quarter of them are "significantly dusty." Using Perseverance's sensors, researchers can measure vortices as they pass the rover. 
FATE OF SEISMIC AND WEATHER MONITORING ON MARS DEPENDS ON DUST DEVIL
Newman and her team found Percy was at the right time and place in Jezero Crater to record massive amounts of dust devils. During 216 Sols or Martian days, she estimated that about one dust devil per hour appeared during peak activity in the afternoon.
NASA's Insight lander at Elysium Planitia on Mars, about 2,145 miles away, is also recording dust devils but has never photographed one nowhere like Percy. This is a bit of a mystery, Newman explains because scientists estimate the rate of vortices at Elysium Planitia is only slighter less than Jezero Crater, where the rover is located.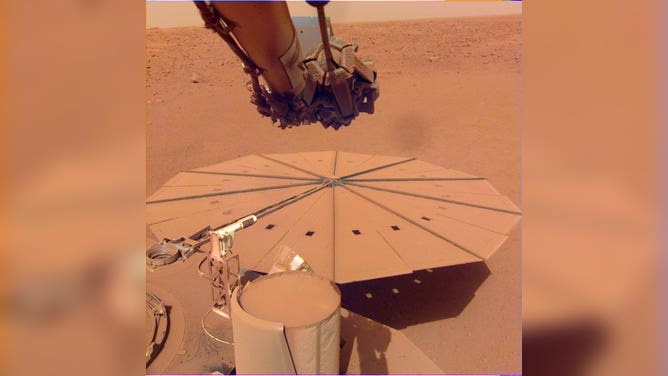 "The winds associated with them are very similar, and yet we have never imaged a dust devil at Insight," Newman said.
According to NASA, Insight is expected to end operations later this summer as it's slowly running out of power. A vortex or other wind event would help Insight if one comes by and knocks off some Martian dust, allowing more light to reach its solar panels. 
CLICK HERE TO GET THE FOX WEATHER UPDATE PODCAST
Meanwhile, Perseverance continues to capture dust devils all the time.
"We see dust devils in images where we're not even looking for them. They keep photobombing other images," Newman said.
If atmospheric researchers can understand why that happens, it will help provide better models to predict where dust gets lifted on Mars.