Russia plans to pull out of International Space Station after 2024, new Roscosmos director says
NASA hopes to extend the ISS to 2030, the current space station agreement ends in 2024
Russia's new space program director says Roscosmos plans to pull its resources from the International Space Station, where it has collaborated with NASA for more than two decades.
Russia's previous top official at Roscosmos, Dmitry Rogozin, repeatedly made similar claims since Russia's invasion of Ukraine, first in late February and then again in April. 
However, earlier this month, Rogozin was removed from Roscosmos, and the space agency now has a new director, Yury Borisov.
HOW TO WATCH FOX WEATHER ON TV
According to Russian state media and the Associated Press, Borisov recently met with Russian President Vladimir Putin about leaving the ISS.
"The decision to leave the station after 2024 has been made," Borisov said, adding, "I think that by that time, we will start forming a Russian orbiting station."
What makes this statement different from often inflammatory remarks from Rogozin is that Russia departing its role within the ISS sometime after 2024 would meet its current obligations to the program. Under the current international agreement with the ISS partners, Roscosmos will continue to participate in the ISS through 2024. 
NASA and its partners have been attempting to extend the life of the ISS until 2030. 
"NASA is committed to the safe operation of the International Space Station through 2030, and is coordinating with our partners," NASA Administrator Bill Nelson said in a statement. "NASA has not been made aware of decisions from any of the partners, though we are continuing to build future capabilities to assure our major presence in low-Earth orbit."
Retired NASA Astronaut Scott Kelly was among those on Tuesday calling Russia's bluff on the potential exit.
"I think the Russians will try to stay as long as they can afford it," Kelly tweeted. "Gives Putin needed credibility domestically and internationally. 'After 2024,' is more vague, open-ended bluster IMHO."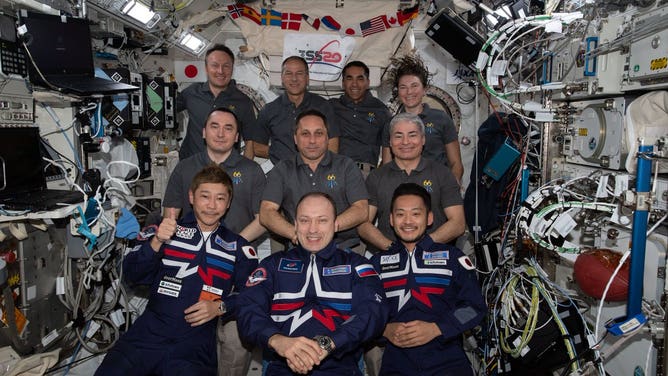 "Remember that Russia's best game is chess," Retired CSA astronaut Chris Hadfield tweeted.
The International Space Station is jointly run by NASA, Roscosmos, the European Space Agency and Canadian Space Agency. When NASA and Russia first began assembling the ISS in orbit, and the lights turned on, a Russian cosmonaut and American astronaut Bob Cabana entered the hatch together as a symbol of international collaboration.
For 22 years, astronauts have lived and worked continuously on the space station. In 2011 when the space shuttle program ended, Russia became NASA's sole ride to the station for its astronauts. Now with SpaceX and soon Boeing launching astronauts from Florida, the U.S. no longer relies on Russia to shuttle its astronauts to and from the orbiting outpost. A Russian cosmonaut is scheduled to embark on a SpaceX Dragon as part of NASA's Commercial Program later this year. 
RUSSIA HAS LOST ITS LEVERAGE OVER NASA AND IN THE SPACE BUSINESS, EXPERTS SAY
If Russia drops out before 2030, that's where things get complicated. The ISS was jointly built and includes a Russian section and another managed by NASA and its partners. It was not constructed to be divided in space. 
Since the end of the shuttle program, the ISS has depended on Russian spacecraft to lift the space station and move it in debris avoidance maneuvers. 
However, the Northrop Grumman cargo spaceship Cygnus could provide an alternative option to boost the ISS. A Cygnus docked at the ISS conducted the first U.S. reboost test while in orbit, demonstrating its ability to raise the space station's orbit.
There are also multiple U.S. companies developing private space stations. 
In 2024, Axiom Space will dock its first module to the ISS before becoming an independent station when the ISS retires.
NASA has not publicly commented on the latest claims but did previously say its relationship with the Russian space program was unchanged since the Ukraine invasion.