Head of Russia's space agency threatens to end space station cooperation
The first piece of the International Space Station was launched in 1998.
The head of Russia's space agency announced on Twitter on Saturday that the program could end space cooperation with the U.S. and others over sanctions for the Russia-Ukraine conflict.
Dmitry Rogozin, the head of Russian space agency Roscosmos, has used social media several times since the invasion to threaten ending collaboration with NASA, the European Space Agency and other allies.
Rogozin's most recent tweets included photos that he said were of letters that he received from the leaders of space programs that vowed to continue cooperating with Russia, to the extent that sanctions would allow.
HOW TO WATCH FOX WEATHER ON TV
Rogozin's statements are in Russian but, when translated, read in part: "I believe that the restoration of normal relations between partners in the International Space Station and other joint projects is possible only with the complete and unconditional lifting of illegal sanctions."
Rogozin believes that Russia's role is fundamentally important to the continued operation of the space station, and without their cooperation, the "ISS will die by its own death."
NASA has not publicly commented on the latest claims by Rogozin but did previously say its relationship with the Russian space program was unchanged since the Ukraine invasion.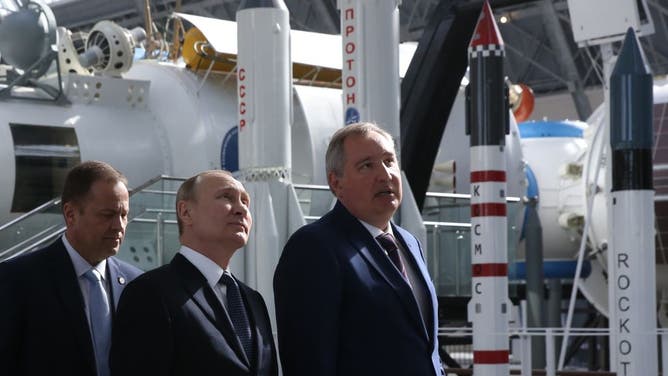 Before Rogozin's recent comments, NASA astronaut Mark Vande Hei returned from the International Space Station aboard a Russian spacecraft that landed in Kazakhstan on Wednesday.
RUSSIA HAS LOST ITS LEVERAGE OVER NASA AND IN THE SPACE BUSINESS, EXPERTS SAY
The U.S. and Russia have collaborated on space exploration for decades, and NASA says that Roscosmos' contributions are essential to the continued operation of the ISS.
Moscow is home to only one of two mission control centers for the international collaboration and provides all the space station's propulsion for attitude control, debris avoidance and other maneuvers.