Russia has lost its leverage over NASA and in the space business, experts say
The most delicate ongoing space policy issue is the International Space Station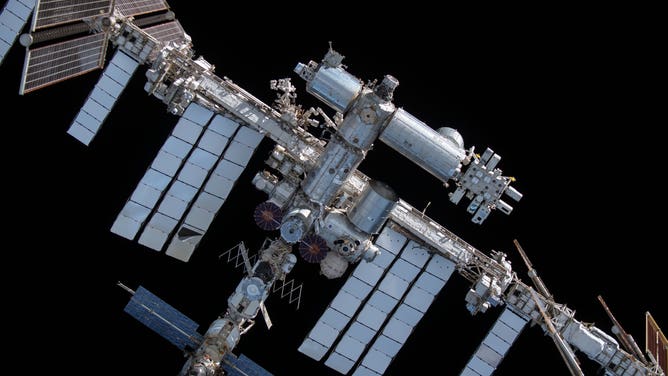 Russia continues to degrade its role in the space industry, alienating itself from international customers it has long supplied space resources to because President Vladimir Putin refused to back down from the attack on Ukraine.
Since Russia began its invasion last week, the head of Russia's space agency Roscosmos Dmitry Rogozin refused to launch a UK-satellite company's payloads and stopped supplying Russian-built rocket engines to U.S. customers and threatened to cut ties with its International Space Station partners, including NASA.
The most delicate ongoing space policy issue is the International Space Station.
For over 20 years, NASA and Russia worked together to build and maintain the orbiting laboratory 200 miles above Earth. The first modules were American and Russian. The first two astronauts to enter the space station when the lights were turned on were an American and Russian cosmonaut together, an intentional choice by STS-88 mission Commander Robert Cabana.
WHEN NASA INTENTIONALLY CRASHED A ROCKET INTO THE MOON
When the space shuttle program ended, the U.S. lost its ride to space for American astronauts. It began purchasing seats on the Russian Soyuz spacecraft for more than $80 million for nine years until SpaceX began launching astronauts under NASA's Commercial Crew Program.
Since Elon Musk's company began launching Americans from Florida in May 2020, NASA had purchased fewer seats from Russia and was negotiating for a cosmonaut to launch on SpaceX's Crew Dragon when the Ukraine invasion began.
Rogozin has threatened to pull out of the ISS altogether and ended on-orbit science activities between cosmonauts and their international astronaut counterparts.
University of Central Florida space policy expert Roger Handberg said Russia has lost its upper hand.
"They're not getting money because a good part of their space program had been selling seats on Soyuz missions to the United States," Handberg said. "The Russians have lost their leverage, as you say, over the United States because they provided the access. Now we have independent access."
In April, NASA Astronauts Mark Vande Hei is set to undock from the space station with two cosmonauts and return to Earth on a Russian spacecraft landing in Kazakhstan. He may be the last American to fly on a Russian vehicle if the relationship deteriorates.
Secondly, the U.S., Europe and Japan are working to extend the life of the ISS until 2030, but Russia has only committed to 2024, and those negotiations were also underway.
If Russia drops out by 2030, that's where things get complicated.
"Does that mean we have to disassemble and take their modules off? That's the kind of complicated question. We're not there yet," Handberg said.
Since the end of the shuttle program, the ISS has depended on Russian spacecraft to lift the space station and move it in debris avoidance maneuvers. 
However, the Northrop Grumman cargo spaceship Cygnus might be capable of taking on that job. A recently docked Cygnus at the ISS will conduct the first U.S. reboost test while in orbit, potentially providing an alternative option.
If Russia chooses to take immediate action and sever ties with its International Space Station partners, it's unclear how that would work. The ISS was not designed to be divided.
"Many things are intertwined. So are we no longer allowed to use the Russian modules on this space station? Or vice versa, we don't allow them to use our modules," Handberg said. 
"In the confined circumstances they're in, that gets pretty bizarre."
Handberg believes Russia is locked into the ISS until 2024, but there is always uncertainty with Putin.
Russian launch customers cutting ties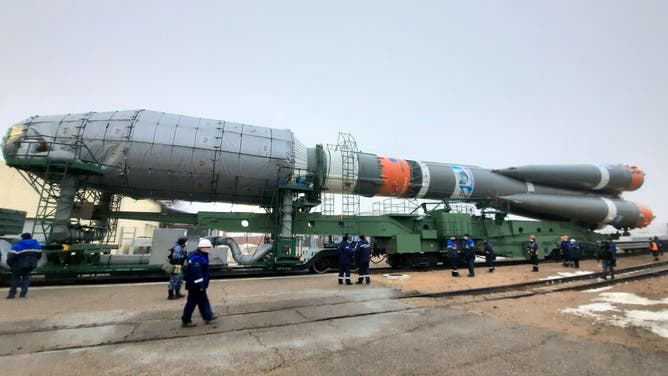 Russia was scheduled to launch a batch of internet satellites this week for OneWeb. However, after the Soyuz rocket was rolled to the launchpad in Baikonur Cosmodrome in Kazakhstan, Roscosmos said the launch would not happen unless OneWeb met its demands, essentially holding the spacecraft hostage.
"Roscosmos demands guarantees OneWeb satellites not to be used for military purposes," the Russian space agency said. "Because of Britain's hostile stance against Russia, another condition for the March 5 launch is that the British government withdraws from OneWeb."
The standoff situation was in response to sanctions imposed by the UK against Russia after the Ukraine invasion. 
The UK-based company is building a satellite constellation to provide space-based internet, similar to SpaceX's Starlink service. OneWeb has a satellite manufacturing factory in Merritt Island, Florida, outside the gates of Kennedy Space Center and is partially funded by the UK government.
WORLD'S LARGEST AIRPLANE DESTROYED DURING ATTACK ON AIRPORT NEAR KYIV
Don Platt, Florida Institute of Technology associate professor of space systems and the director of the Spaceport Education Center, said the demands were "nonstarters."
"[OneWeb] can't just go out and ask one of their main investors to no longer be involved with them because of a launch provider's demands and contracts have already been signed and put in place for this launch that was supposed to happen this week," Platt told FOX 35 Orlando.
OneWeb later released a statement saying the board had voted to suspend all launches from the Baikonur. The company is now searching for a new launch provider for its payloads. Meanwhile, Russia rolled the rocket back into the hangar on Friday.
No more RD-180 engines? ULA says it's no problem
Earlier in the week, Rogozin said Russia would no longer sell its RD-180 rocket engines to the U.S. or help with maintaining the machines saying Americans could fly on "broomsticks."
United Launch Alliance uses the engines for its Atlas V. However, the company has been waiting on Blue Origin to finish the BE-4 engines ULA needs to fly its new rocket, the Vulcan Centaur.
"They're kind of hung up on is on Bezos, Blue Origin's inability to deliver a completely tested out engine," Handberg said. "[ULA is] ready to go, and they're committed to this engine that Bezos can't seem to get there."

In response to questions about if the announcement would impact ULA's workhorse rocket, the Atlas V, ULA CEO Tory Bruno said the company had already received all the RD-180 engines it had ordered.
According to Bruno, ULA has "a couple dozen" RD-180 engines in its supply.
"I accelerated the delivery of the last RD180s. We have all that are required for the Atlas fly-out in hand, stored at the Rocket Factory in Decatur, Alabama."
Northrop Grumman may be impacted more by this supply issue as it uses Russian-made engines for its Antares rocket, and the boosters are built in Ukraine.
Northrop primarily uses Antares to launch its Cygnus spacecraft on supply runs to the International Space Station for NASA. 
Northrop Grumman did not respond to requests for comment on the situation.
The inflammatory demands by Russia in response to sanctions by the U.S. and its allies are expected to continue.
Handberg said what happens next in international space policy depends on Russia's next move.