Pregnant sea lion crashed golf tourney, reluctantly returned to sea
Expecting mom was lyin' around on the 16th green, miles from the ocean.
CARLSBAD, Calif. – A very-pregnant sea lion halted a charity golf tournament Thursday. Golfers did not play through at the upscale Omni La Costa Resort and Spa in San Diego County when they spotted the 200-plus pound, six-foot-long animal on the 16th green.
The resort immediately called SeaWorld San Diego which sent a rescue team. The resort is three miles off the coast but the rescue team told FOX 5-San Diego that the mom-to-be probably arrived via the lagoon and "walked" about a mile to the course.
WHY DID THE SEA LION CROSS THE ROAD? ANOTHER SEAWORLD RESCUE
The lead rescuer felt the distance was too far to 'shoo' the sea lion back to sea, so she brought in a truck. But, the animal headed in the opposite direction. The SeaWorld team gave golfers and grounds crew a quick lesson on safe rescue and handed out shields. The humans surrounded the sea lion and corralled her into the truck.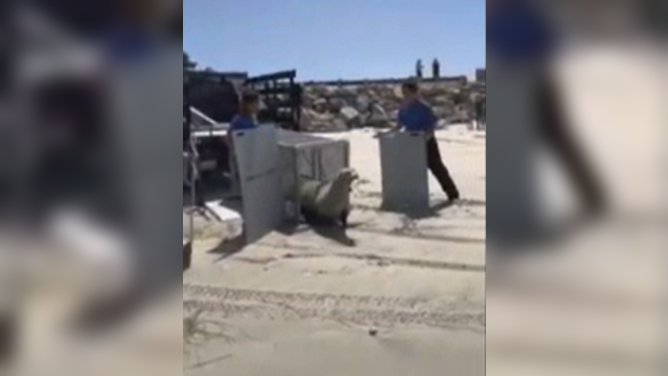 The SeaWorld spokesperson told FOX 5 that it is rare for sea lions to make it that far inland and away from the shore. She said that the sea lion could have been feeding on something in the lagoon.
HUNT SNAKES, WIN CASH: FLORIDA PYTHON CHALLENGE WORKS TOWARD EVERGLADES RESTORATION
The team released the animal at nearby Carlsbad State Beach where she swam into the surf among cheering onlookers.  Vets feel it won't be long until she is back to the beach to give birth.
CLICK HERE TO GET THE FOX WEATHER UPDATE PODCAST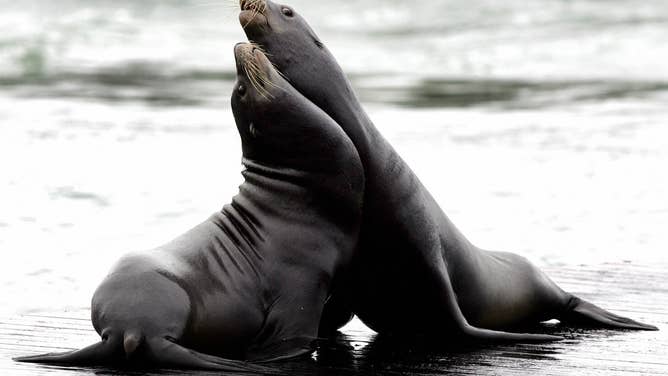 WORLD'S RAREST SEA TURTLE LAYS EGGS IN UNUSUAL PLACE ON TEXAS BEACH
Mothers give birth on land, nurse the baby for a few days then set out miles into the ocean to fish before returning days later, according to the SeaWorld website. Most California Sea Lions give birth to one pup in June. Nursing continues for six to twelve months.
ORCAS PUT ON A STUNNING SHOW WHILE SWIMMING IN PUGET SOUND
Feeding sea lions is illegal. NOAA Fisheries warns that feeding sea lions can make them used to people to the point that the animal follows humans. Fed sea lions can even become aggressive and bite. NOAA advises humans to stay at lease 150 feet from the mammals.  While California sea lions are not endangered, they are protected by the Marine Mammal Protection Act. 
SeaWorld reported that the mother looked healthy.