Orcas put on a stunning show while swimming in Puget Sound
A photographer was treated to a dazzling display of nature while out watching orcas frolic in the waters near Tacoma, Washington over the weekend.
TACOMA, Wash. -- A photographer was treated to a dazzling display of nature while out watching orcas frolic in the waters of Puget Sound over the weekend.
Photographer Jami Cantrell was first watching a pair of orcas swim between Fox Island and McNeil Island in the South Sound area as they headed southeast through Carr Inlet.
She headed to the Fox Island fishing pier to see if she could spy a closer look.

"I always go to the fishing pier in hopes that one day I'll catch them under the pier, swimming just beneath my feet," Cantrell said. "I had been talking to people who were there with me about it before the orcas got there. It's been one of my biggest dreams, ever since I was a wee lassie."
HOW TO WATCH FOX WEATHER ON TV
She said she stood there for over an hour -- and even braved a passing heavy rain shower with no jacket -- in the hopes of the catching a glimpse.
"Well, the wait paid off because not only did they go under the pier, but they put on a shooooww all around us!!!" she said. "I have never seen an orca breach that close to me. Furthermore, I have never seen them swim so close to me before. As they went under the pier, I put my camera down and just lived in the moment."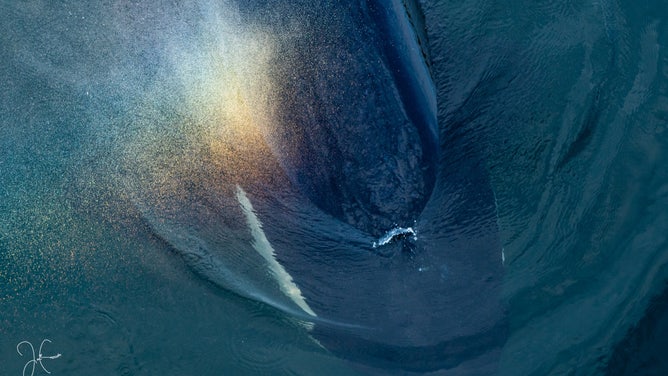 The orcas swam off, but they were not done yet, making a swim toward the Fox Island Bridge.
CLICK HERE TO GET THE FOX WEATHER UPDATE PODCAST
"I have been trying to see them from this bridge since I lived on the island like 6 years ago!" she said. "This location was one of my bucket list places to just see them from, camera or not."
She said the orcas swam around the bridge for 15 minutes, likely hunting for prey she surmised.
"They kept popping up right in front of us and it was obvious they were just as intrigued with us as we were them," she said.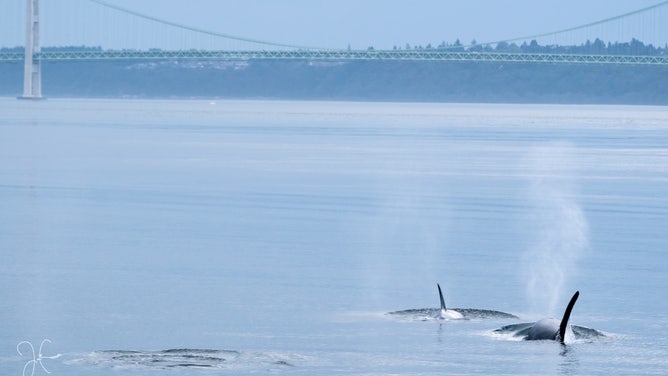 She had a brief moment of panic when she realized she had snapped so many photos she had run out of disk space on her camera card.
"I frantically started deleting pictures, but coincidentally soon after I ran out of space, they left," she said. "They swam off into the sunset, and I left with my heart full."
HOW TO DOWNLOAD THE FOX WEATHER APP
And memories that will last a lifetime.
"Spending time with this orca family was hands down the best experience of my life," she said. "My heart was pounding and adrenaline raced through my body like lightning. I've never felt such an overwhelming sense of joy before and it's not a feeling I will soon forget."