World's rarest sea turtle lays eggs in unusual place on Texas beach
Nest was found on beach inside a bay, which experts say 'has never happened in modern times'
MAGNOLIA BEACH, Texas – The smallest and rarest sea turtle in the world laid eggs in an unusual place on a Texas beach, and conservationists helped ensure the hatchlings survived.
According to the Texas Sea Grant, the nest of about 45 Kemp's ridley sea turtle eggs was discovered on Magnolia Beach last week by workers picking up trash in the area.
Experts said that while a sea turtle nest being found on a beach isn't out of the ordinary, the location of this one was.
HOW TO WATCH FOX WEATHER ON YOUR TV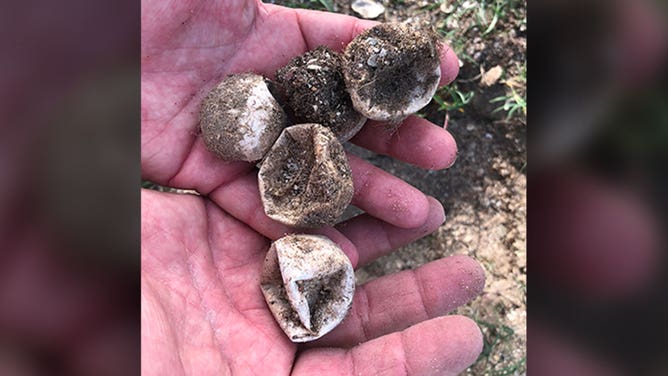 "This has never happened in modern times," said Dr. Pamela Plotkin, director of Texas Sea Grant and sea turtle biologist in a statement released by Texas A&M University. "Sea turtles typically nest on barrier island beaches in Texas and so seeing a turtle nest on a beach inside any bay is rare. There are many miles of unpopulated bay shoreline along Texas' coast, so it is possible that sea turtle nesting on these shores is more frequent and undetected."
SEA TURTLE NORMALLY FOUND ALONG US COAST WASHES ASHORE IN UK
The nest was also located about 10 feet away from a busy road, so conservationists stepped in to protect the critically endangered animals. They stood guard while the hatchlings made their treacherous journey from sand to sea.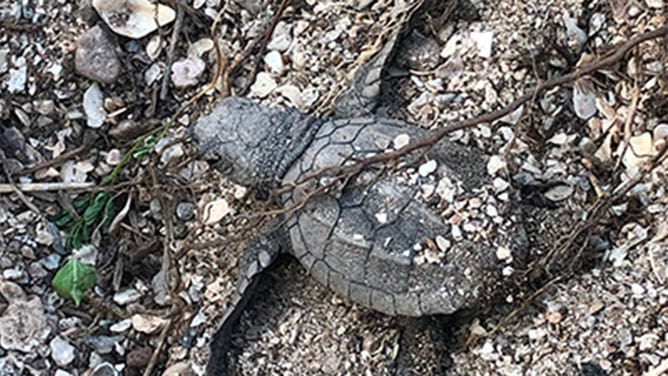 According to the National Oceanic and Atmospheric Administration's Fisheries division, Kemp's ridley turtles were once abundant in the Gulf of Mexico. The population hit record lows in 1985, but intensive conservation efforts have allowed a slow increase in their numbers.
The Kemp's ridley sea turtle is also the state sea turtle of Texas. 
GET THE LATEST EPISODE OF THE FOX WEATHER UPDATE PODCAST
Be sure to download the FOX Weather app to track any storms in your area and receive potentially life-saving weather alerts issued by the National Weather Service. The free FOX Weather livestream is also available 24/7 on the website and app and on your favorite streaming platform. The FOX Weather Update podcast also provides weather information for the entire country.