Move over, grandma! Animals are retiring in the Sunshine State, too
An animal is considered to be "geriatric" when it reaches about 80% of its expected lifespan
MELBOURNE, Fla. - A Florida zoo prides itself on its history of providing responsible, professional and passionate care for animals, so it's no surprise that it's also providing a safe, comfortable environment for its older animals as they enter their twilight years.
Every animal species at the Brevard Zoo live in a custom habitat, and the facility's animal care team takes into consideration the needs of the different animals when it comes to deciding on the size, structure, water access and shade of those living quarters.
HOW TO WATCH FOX WEATHER ON TV
But animal needs begin to change as the years go by and they get older. So the zoo has created "retirement homes" for some of the older residents that have been designed with their specific needs in mind.
"Taking care of animals is a lifelong commitment, no matter the species," the Brevard Zoo says. "Here at the zoo, we strive to provide the best possible care for the entirety of all our animals' lives, including those who have surpassed their median life expectancies."
An animal is considered to be "geriatric" when it reaches about 80% of its expected lifespan, according to the Brevard Zoo website. 
And as part of its preventative approach to animal care, the older animals receive routine quality of life assessments, including specialized diets, medications and enrichments, and adjustments to their habitat.
So, let's introduce you to some of the animals living their best lives in custom habitats to help them enjoy retirement as much as possible.
PERFECT PUPCATION: TOP 10 PET-FRIENDLY ROAD TRIP DESTINATIONS REVEALED

Flounder the flying fox is the only member of her species and the only bat to live at the zoo. She's been a resident since 2001.
The zoo says at 29-years-old, she has far exceeded her species' median life expectancy.
She lives in a behind-the-scenes area of the zoo because of her advanced age and nocturnal lifestyle.
Her habitat has been equipped with special climbing structures to encourage her to remain active, stuffed animals to keep her comfortable and different hideouts where she can sleep during the day.
And under her night house is a climbing structure so she can climb down with ease when she's ready to start exploring her habitat.
THESE 5 PESTS PESTER YOUR PETS MORE DURING WARM WEATHER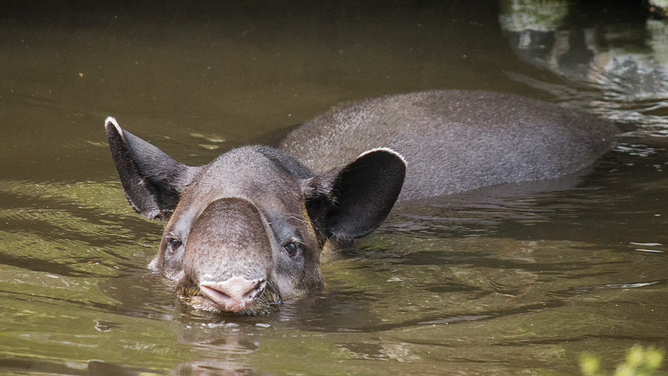 Josie is a 28-year-old Baird's tapir has been living at the zoo since 1994 and lives in the deer yard with access to the open water across from the bald eagle habitat.
Her species isn't found in Florida, as it's native to Mexico, Central America and northwestern South America. But the zoo says it's a perfect space for an older Baird's tapir, like Josie.
She also has access to different areas and many spots where she can cool off in some water.
Josie has been on a vacation within the facility, however. She's taking some time to visit another Baird's tapir, Mia and her son. The hope is that they may all soon be able to share a space so Josie can explore both habitats whenever she decides.
DRAMATIC VIDEO SHOWS DEPUTY SAVING DOG FROM BURNING VEHICLE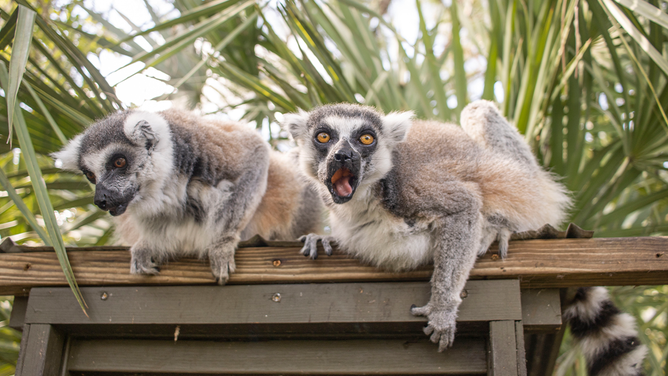 There are two islands within the zoo that house lemurs, including one known as "Little Madagascar."
On that island live two ring-tailed lemurs, 28-year-old Kamots and 15-year-old Matilda.
And although they aren't a breeding pair, they really love to be in each other's company and can often be seen hanging out next to each other.
Their habitat has been adapted to include things that will suit their needs, like lower-hanging vines and lowered night houses that they can enter and exit with ease.
The zoo says these are just three examples of retirement homes for their beloved animals.
Others include Pepper the cheetah, Pete and Sapphire, which are siamangs, and Makina and Fancy, the Visayan warty pigs.