Perfect pupcation: Top 10 pet-friendly road trip destinations revealed
Aside from pet amenities, the local climate was also considered
If you are looking to hit the open roads this summer with your cuddly companion, finding the ter-rufff-ic spot might be hard.
To celebrate National Pet Day on Monday, BestPlaces, an online resource for finding the best place to live, and Motel 6 have done some leg work for you.  They chose 10 of the best cities by analyzing the availability of local dog parks, greenspaces, hiking and walking trails, pet stores, veterinarians and dog-friendly dining options.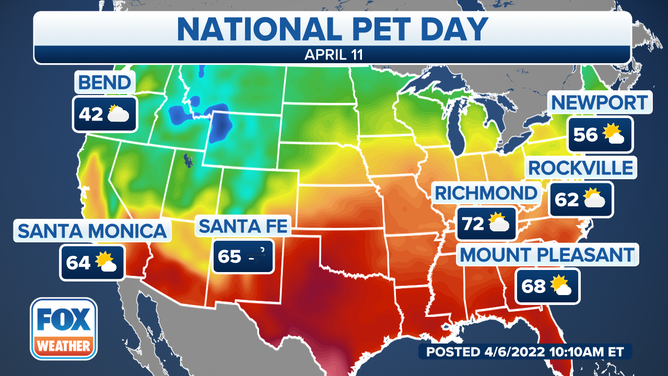 "Local climate was also considered, because it's a challenge to go exploring when the temperature is over a hundred or there are drifts of snow," BestPlaces president Bert Sperling said. 
HOW DO HEAT AND HUMIDITY AFFECT OUR DOGS?
They also determined the ideal place to stop for some rest, adventure or exploration.
"Each of these places are interesting enough that you may even want to make these your ultimate destination for sightseeing and relaxing," Sperling said.
#10. Charlottesville, Virginia 
Coming in No. 10 on the list is Charlottesville, Virginia, located 30 minutes from the northern end of the Blue Ridge Parkway, which stretches to the south along the Blue Ridge Mountains.  
Temperatures on National Pet Day at the home of the University of Virginia and Thomas Jefferson's famed estate, Monticello, will be sunny with a high near 70 degrees.
#9. Asheville, North Carolina
According to BestPlaces, Asheville, North Carolina, loves its dogs and has everything you'll need on your road trip – which is why the town's hip and laid-back, yet cosmopolitan vibe, comes in at No. 9.
Mostly sunny skies with a high near 73 degrees is expected Monday which will satisfy your pup on the hundreds of spots to walk or hike through the woods along the Blue Ridge Parkway. 
#8. Bend, Oregon
Located in the drier high desert region of Oregon, east of the soggy Willamette Valley, the outdoor recreation hotspot of Bend, Oregon, has a strong dog-friendly culture, BestPlaces reports. There are ample opportunities for your dog to be part of your adventures like mountain biking, kayaking, hiking, skiing and climbing.  
BEYOND BIODEGRADABLE POOP BAGS: EASY WAYS TO BE ECO-FRIENDLY PET PARENTS
However, you might look to take a play date inside Monday because there is a chance of snow under partly sunny skies with a high near 45 degrees.
#7. Richmond, Kentucky
Don't let the 20% chance of showers Monday stop you from exploring Richmond, Kentucky.  A high near 72 degrees will greet you on your road trip through the South.
This best place for your pet hits at No. 7 and located near St. Louis and just south of Lexington, is ideal when the weather up north turns cold and icy.
#6. Gloucester, Massachusetts
Near the middle of the pack is the fishing town of Gloucester, Massachusetts located about an hour north of Boston. The No. 6 stop is steeped in New England history and scored the highest in BestPlaces' list for the number of nearby hiking and walking resources, and there are plenty of pet amenities available.
Sunny skies, a high near 54 degrees and northwest winds at 10 to 16 mph are in the forecast Monday.
#5. Newport, Rhode Island
Fido will surely enjoy the brisk sea air and pleasant summer climate in Newport, Rhode Island, which has been a popular tourist destination along the Atlantic seaboard. You'll find plenty of dog parks, greenspaces and parks to stretch your legs, BestPlaces reports.
SPRING'S HIDDEN DANGERS THAT COULD BE DEADLY TO YOUR PETS
Sunny skies, a high near 56 degrees is expected on National Pet Day. 
#4. Mount Pleasant, South Carolina
Just north of Charleston, South Carolina, is the city of Mount Pleasant comes in at No. 4 on the list. Nestled along Highway 17 along the Atlantic coast, this city's mild winter climate is a warm and welcoming change to the chilly Northeast winter.  Monday will be sunny, with a high near 73 degrees.
#3. Santa Fe, New Mexico
Like BestPlaces' other top picks, Santa Fe, New Mexico, has plenty of per-friendly amenities like pet stores, vets and a dog-friendly policy which allows them in outdoor dining venues.  The city's "dramatic high-desert setting has its own special beauty that you won't forget," BestPlaces reports.
Mostly sunny, with a high near 65 degrees, on Monday will be ideal for a lunch date with your dog.
#2. Rockville, Maryland
If you are looking to explore the Washington DC area with your pet, Rockville, Maryland has everything your they from dog parks, greenspaces, nearby state and national parks and local veterinarians. 
'THESE HUSKIES HAVE BIG HEARTS': HOW OUR BOND WITH DOGS INSPIRED THE IDITAROD
Mostly sunny, with a high near 62 degrees, will make for a ter-rufff-ic beginning to the workweek.
#1. Santa Monica, California
And drumroll, please …
When you and your pet are on the road, BestPlaces said there is no better place to hang out than Santa Monica, California. Located on the Pacific Ocean, the city offers hundreds of hiking and walking trails in near-perfect climate.
You might think about sharing a meal with your fur-buddy by dining at any one of their popular open-air patios. While some there is patchy fog expected Monday, otherwise enjoy the sun and high near 64 degrees Monday.
Did your state not make the list?
 Here's the rest of the best places in every state to travel with your pet:

Wasilla, Alaska
Daphne, Alabama
Bentonville, Arkansas
Tempe, Arizona
Fort Collins, Colorado
Stamford, Connecticut
Newark, Delaware
Tallahassee, Florida
Marietta, Georgia
Kailua, Hawaii
Council Bluffs, Iowa
Twin Falls, Idaho
Naperville, Illinois
Fishers, Indiana
Leavenworth, Kansas
Lafayette, Louisiana
Scarborough, Maine
Ann Arbor, Michigan
Edina, Minnesota
Branson, Missouri
Biloxi, Mississippi
Helena, Montana
Mandan, North Dakota
North Platte, Nebraska
Derry, New Hampshire
Princeton, New Jersey
Boulder City, Nevada
Cooperstown, New York
Lima, Ohio
Edmond, Oklahoma
State College, Pennsylvania
Rapid City, South Dakota
Chattanooga, Tennessee
Frisco, Texas
Ogden, Utah
South Burlington, Vermont
Seattle , Washington
Madison, Wisconsin
Morgantown, West Virginia
Cheyenne, Wyoming