Long term 'isn't looking good' for Lake Mead and Lake Powell, America's largest reservoirs
Despite historic snows and record rains in California and average snowfall in the Rockies so far this winter, the Colorado River reservoirs remain at critically low levels and under emergency waterflow management.
LOS ANGELES - The Southwest's Lake Powell and Lake Mead, designed to water the West during drought, are still at critical levels despite a "good" snow season, water managers told FOX Weather. They add the government is demanding further cuts from the states in the Colorado River Basin as current usage is not sustainable.
While California's reservoirs may have received a water supply bonanza of snowfall this winter, Lakes Powell and Mead have little to celebrate about. The multiple atmospheric river storms that dumped twice the amount of winter snow in some areas of the Sierra Nevada Mountains have only resulted in near average snowpack for the Rockies, which supply water to the Colorado River. And it is not enough, water managers say.
HOW TO WATCH FOX WEATHER ON TV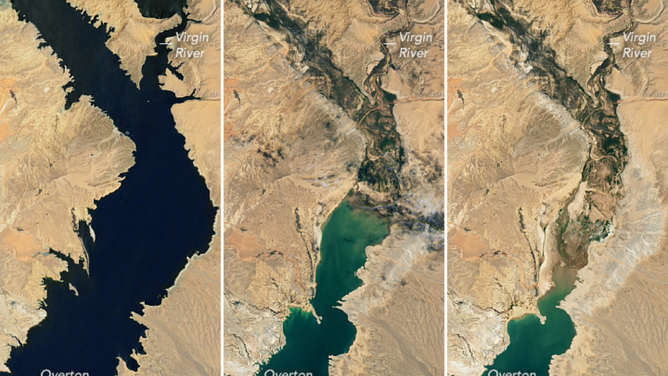 Long term trend 'isn't looking good'
"So the prognosis is this is a good year we're having so far. But it's just a small bump, small increase," Bill Hasencamp, Manager of Colorado River Resources for the Metropolitan Water District of Southern California told FOX Weather. "But overall, the long term trend, isn't looking good for these two big reservoirs."
Shocking video and pictures last summer revealed once sunken boats are now hazards blocking channels as water levels dropped. Police discovered several bodies previously underwater. Water intakes that supply 90% of Las Vegas' water were above the lake surface.

ROBBING LAKE MEAD OF WATER: THE EMERGENCY PLAN AIMED AT KEEPING WATER FLOWING TO THE WEST
Hasencamp says that is not going to change anytime soon. 
"The reservoirs were full in the year 2000. These are the two biggest reservoirs in the United States filled to the brim just 23 years ago," he said. "And they've been dropping steady for the last two decades. And last summer, they both hit their lowest levels ever."
Research found that the past 23 years has been the driest period in the West in over a millennium. Changing weather patterns, climate change, resulted in the megadrought which Hasencamp feels is far from over.
ONGOING 22-YEAR DROUGHT IN WESTERN US IS DRIEST PERIOD IN OVER 1,200 YEARS, STUDY FINDS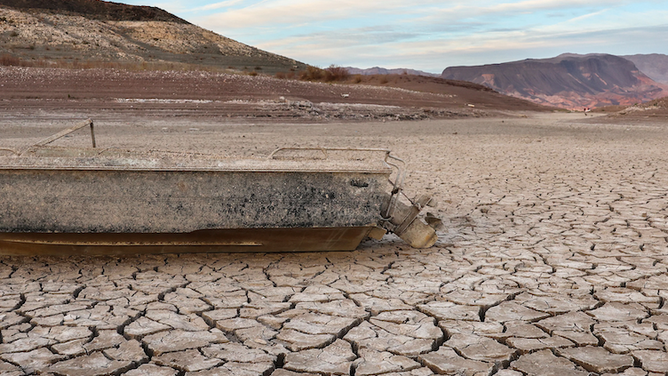 "What we've seen is what's aggravating this, increased temperatures in the Southwest," he said. "We're still getting snow that falls in the Rocky Mountains, but the snow is not making it to the reservoirs like it used to because of warm temperatures, higher evaporation and more losses along the way."
Powell and Mead water supply 'essential to life in the West today'
Over 40 million people depend on the Colorado River Basin for drinking water across seven states, tribal lands and parts of Mexico. The Colorado River irrigates 25% of the nation's food, according to the U.S. Bureau of Reclamation (BOR). Hydroelectric power plants deliver electricity to 5.8 million customers. And Lake Powell, the West's safety net during drought, is only 23% full.
"[Lake Powell] serves as a 'bank account' of water that is drawn on in times of drought," states the BOR website. "This stored water has made it possible to successfully weather extended dry periods by sustaining the needs of cities, industries, and agriculture throughout the West." 
WHAT CALIFORNIA'S EXCESSIVE SNOW MEANS FOR SPRING AND THE MEGADROUGHT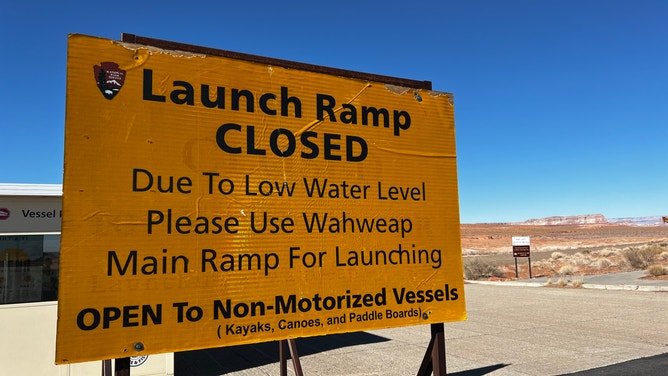 The country's largest reservoir, Lake Mead is only 30% full. The entire Colorado River Storage Project, started in 1956, isn't meeting all its water obligations. 
"Lake Mead and Lake Powell were built for significant storage on the Colorado River," Patti Aaron, retired BOR Public Information Officer told FOX Weather last year. "They were actually designed to supply water for four years. And we're in the 23rd year of drought, and we've been able to manage the water, to be able to keep delivering, for all of this time. And they are low, but they have done what they were designed to do."
More water cuts needed
The BOR isn't waiting for nature to solve the water shortfall on the Colorado. The government set a Jan. 31 deadline for the seven states to reach a consensus on how to stop the reservoirs' levels from dropping. That came and went.
"It's tough when you have to figure out how to live with less water," Hasencamp said. "We've been doing a good job up to this point, figuring out ways to stretch our existing supplies."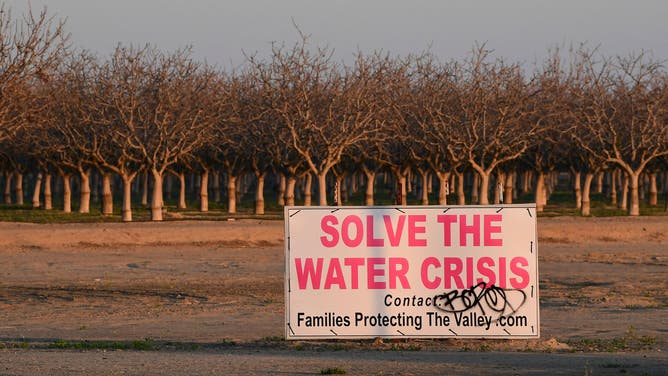 Water use tug of war continues with six states submitting one plan and California submitting another.
"We have a history of successfully protecting these reservoirs, but the last few years have been so dry, has put pressure, and we haven't quite reached a consensus," said Hasencamp. "The hope is still there that by this summer we have a deadline for a new record of decision from the federal government. Hopefully, we will come together and figure out collectively how to manage the system." 
He said communities are struggling to further cut water use or find new sources. Las Vegas banned additional outdoor landscaping. Southern California is recycling wastewater and desalinating ocean water. 
The Sierra's impressive snowfall this year will help California in the short term. But Hasencamp said the Sierras are subject to extremes and the help is temporary.
"We just had the three driest years in a row up until this very wet year, and we had a wet year preceding this drought," he said. "And so in years like this, when there is a lot of water on the Sierras, we do back-off all of our deliveries from the Colorado River and actually add water to Lake Mead."
Water managers will continue to debate how to stabilize Colorado River reservoir levels without shortchanging their respective states.