Scientists successfully control lightning with lasers
Researchers used a pulsing laser to attract lightning and deliver the energy to a lightning rod that dispels it. They feel this is the first step in setting up protection systems for airports and space launch sites.
It may sound like science fiction, but a group of scientists was actually able to control lightning and guide it safely to the ground. The 'how' sounds even more sci-fi – with a laser.
This is the first successful trial to harness lightning in 20 years of experiments, research physicists Aurelien Houard and Jean-Pierre Wolf said. The two and other colleagues released their findings this week.
"Most of the people probably thought it would never work. So that's why we were surprised to see such a nice result," said Houard from his home in Paris. "The lightning was there, and the laser was there... the fact that we can see a clear interaction, the clear guiding arms of the laser about 50 meters is so big a first result to go in the development of the real protection."
NEARLY 200 MILLION LIGHTNING STRIKES HIT US IN 2022. HOW MANY HIT YOUR STATE?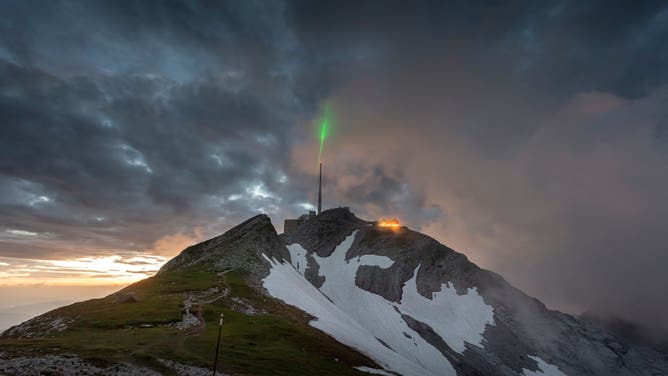 How to attract a bolt of lightning
The researchers brought their laser to a 135-yard tall communications tower on Santis Mountain high above Switzerland in the summer of 2021. The tower was fitted with a traditional lightning rod or Franklin rod that is usually hit 100 times yearly. 
Then they fired the powerful laser over the rod. The laser's ionizing energy pulse creates a heated air channel, or laser filament, that conducts electricity.
Lightning searches out the most direct and quickest route to discharge. The temporary air channel essentially extended the reach of the protecting lightning rod by at least 32 yards. Look at pictures showing lightning branching before it hits the air channel. 

Then the bolt took the path of least resistance into the rod, which channels the electricity harmlessly into the ground to disperse.
HOTEL LEARNS ABOUT LIGHTNING THE HARD WAY
NOAA states that an average lightning flash is about 300 million volts. Lightning protection becomes essential when you consider the electricity in your home is only 120 volts and has enough power to stop a heart.
"We thought, 'Let's start with a smaller lightning rod, but then prolong it with a laser,'" said Wolf. "Then you protect a large zone around it, and you could then protect airports or, electrical power plants or nuclear power plants or a launching pad for rockets and so on."
NASA'S MEGA MOON ROCKET SURVIVED THE MOST POWERFUL LIGHTNING STRIKE EVER RECORDED AT SPACE CENTER
How can this technology keep you safe?
He explained that the area or zone protected by a lightning rod corresponds to its height. A 50-yard tall lightning rod will protect the entire area within a 50-foot radius.
"So it means that if you want to protect a big thing like an airport or big infrastructure or an electricity power plant, for instance, which are very often (in need of lightning protection), then you would need the kilometer-long lightning rod," said Wolf. "A metallic stick one kilometer long and straight in the air is not so easy to do."
Protecting planes upon landing at an airport would be impossible with tall lightning rods along the landing paths. 
WATCH: ONE OF WORLD'S LARGEST AIRPLANES STRUCK BY LIGHTNING AFTER TAKE-OFF
"In your reality, you need to protect it (the plane) in much higher altitude because when it comes the last ten meters, it's too late," said Wolf recanting the moments he was in a plane that was struck by lightning.
He said the entire plane lost power for a few moments leaving the pilots unable to steer. Positioning a plane to land with no power could be deadly. Planes need lightning protection from at least a few hundred-meter distance.
Why success now after 20 years?
New laser technology at the end of the last century allowed researchers to achieve control of nature. The new class of lasers pulse with very high intensity. 
At its peak power, one short pulse delivers roughly the power of all nuclear power plants on Earth in a picosecond or .000000000001 of a second. The power consumption of a laser that didn't pulse to create the air channel is not feasible for lightning protection.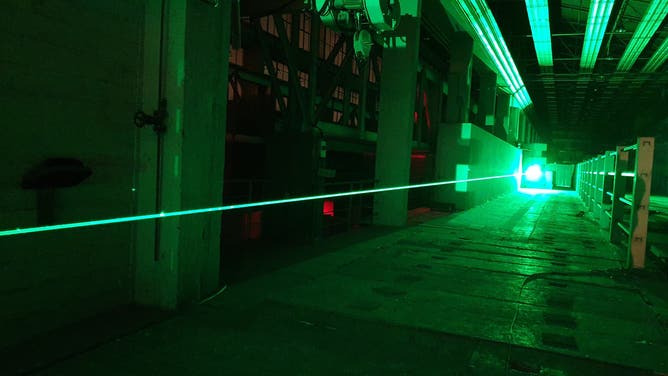 The next bolt experiment
That brings the scientists to the next phase of research: Optimization.
"Maybe the whole laser system can be much smaller or less costly," suggested Wolf. 
"You could not keep this high intensity all the time. It's not possible because you would have power consumption which is crazy," said Wolf. "(The laser) needs to be much more efficient, so we don't need such a monster like a ten-dome laser system, ten meters long."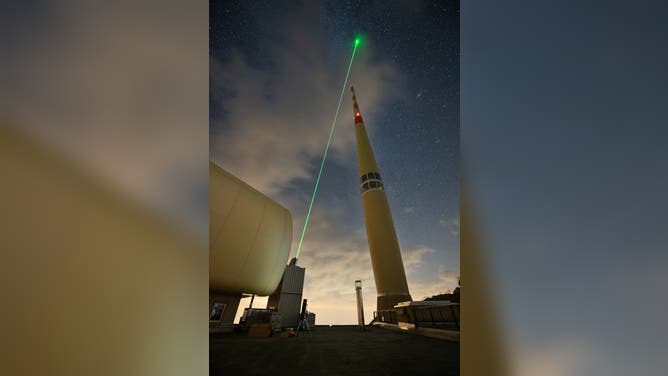 They hope to develop a stronger lightning laser to increase the length of the plasma channel of electrical-conductive air. Houard feels a different color laser would increase the reach.
They also hope to test out the laser in a flatter space where researchers don't have to compete with mountain tops or buildings for lightning strikes.
HOW TO WATCH FOX WEATHER ON TV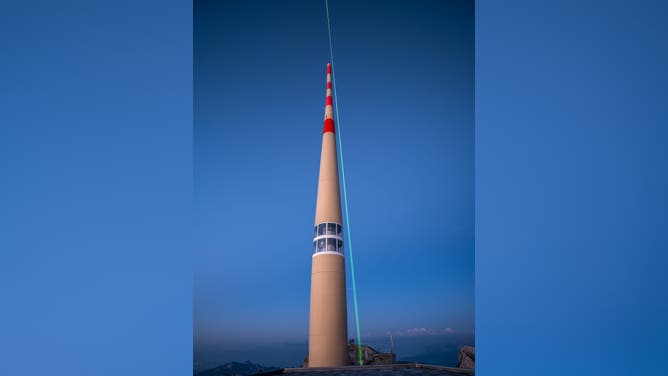 7 FACTS ABOUT 2022 LIGHTNING STUDY IN US
Lightning research strikes home 
Wolf is all too familiar with the power of lightning. While at a meeting about lighting control in Germany for research, his wife in Geneva called to say lightning struck their home. The strike knocked out windows, toppled the chimney and fried electronics which left the house smelling like smoke.
"I asked the insurance company later, they told me that no one has been hit by lightning in this region for years. So I was very privileged," chuckled Wolf. "But maybe it's the revenge. The revenge that we try to control lightning."
Research shows that during any second of any day, 40 to 120 flashes of lightning hit the earth, the scientists said.
Editor's Note: This story has been updated to further clarify the peak power of the laser pulse's energy.