Last full moon of meteorological winter to light up the night
The Old Farmer's Almanac says the moon's nickname comes from February typically being the snowiest month
If skies are clear on Wednesday evening, the "Snow Moon" is set to be a sky gazer's delight.
The second full moon of 2022 is set to peak in illumination around 11:59 A.M. EST, meaning the best chance to see the celestial body will be during evening hours.
The Old Farmer's Almanac says the moon's nickname comes from February typically being the snowiest month in North America.
7 TIPS ON HOW TO SHOOT THE MOON WITH A CAMERA
Visibility on Wednesday evening could be restricted for many areas of the country, courtesy of a major storm system moving through the nation's heartland.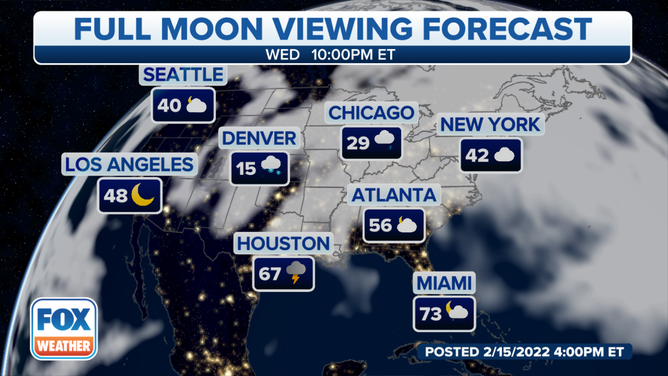 The only regions where cloud cover is not expected to be an issue is in the Deep South and west of the Rockies.
If you don't get a good view of the moon on Wednesday, NASA says the natural satellite should be bright enough to appear full through Thursday evening.
FROM SUBMARINES TO SPACE: NASA ASTRONAUT SETS HER SIGHTS ON THE MOON
For those that are able to see the moon in all its glory, it'll be near the star Regulus.
The bright star makes up part of the constellation Leo, which is typically visible to sky gazers around the spring equinox.
If you don't get a good view of the last full moon of meteorological winter, the first moon of spring will light up the night sky on March 18.