From submarines to space: NASA astronaut sets her sights on the moon
NASA Astronaut Kayla Barron launches Oct. 31 with SpaceX to the International Space Station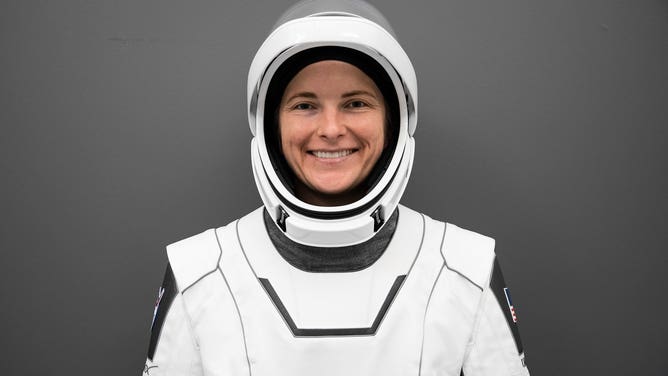 NASA Astronaut Kayla Barron didn't always have her eyes on the stars, but instead, her early career focused on the depths of the ocean as a submarine warfare officer.
Barron will launch to space on Oct. 31 as part of the Crew-3 mission, along with NASA astronauts Raja Chari and Tom Marshburn and European Space Agency astronaut Matthias Maurer. The four astronauts will spend about six months on the International Space Station. It will be the first spaceflight for Barron and Chari, the Crew-3 commander. 
A native of Washington state, Barron attended the U.S. Naval Academy and later was a member of the first class of women commissioned into the submarine community.
"I grew up knowing that I wanted to serve, knowing that I wanted to join the military from a pretty young age, about the age of 12, first started being interested," she said.
While earning her master's degree in Nuclear Engineering from the University of Cambridge, she focused her research on modeling fueling concepts for the next generation.
Barron served three deployments on the U.S.S. Maine in the Pacific. She describes that time as the most "developmental and fulfilling period of her life." At 25, she was in a leadership role as a division officer, a major responsibility she said helped her decide to pursue spaceflight.
She didn't consider becoming an astronaut until realizing how her experience on a submarine could be beneficial in space. 
"It wasn't until I had that experience and left the submarine and made the connection for the first time and how similar submarine is to operating in space," Barron said. "It was that connection that gave me the confidence to even imagine myself applying, even imagine putting myself out there to take that step and say, like, 'Take me if you're interested,' I really would love to serve in this context as well."
At 27, Barron applied to become a NASA astronaut, and after being selected as a 2017 candidate and completing two years of training, she is preparing for her first spaceflight.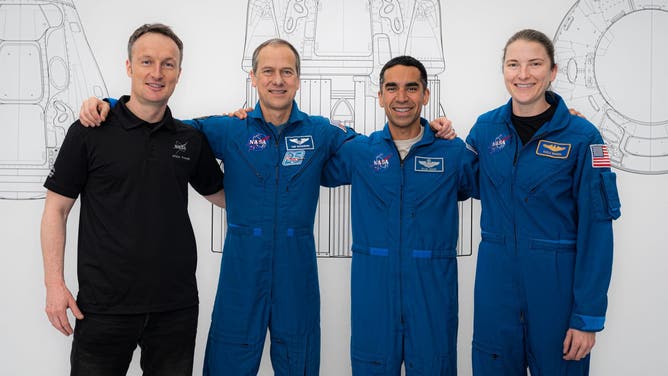 Beyond low-Earth orbit, Barron is also among the small pool of NASA astronauts selected to participate in the Artemis program. In the next few years, NASA plans to return humans to the moon, but this time to build a lasting presence on the lunar surface to perform research and prepare for Mars.
NASA announced last week it's targeting mid-February for the first launch of the Artemis rocket, known as the Space Launch System. That mission, known as Artemis-1, will send NASA's Orion spacecraft around the moon and back. There won't be any astronauts on board the test flight, but Barron and her fellow ISS residents might be able to see the launch from space. 
"Artemis one is set to launch during our time on the space station, so we're really hoping we're on an orbit to catch some of that launch, but we're really starting to think about Artemis and how to prepare for it," Barron said during a recent media event.
She said she's looking forward to looking at our planet from a particular vantage point. Many astronauts describe experiencing what is known as the "overview effect" looking at Earth from space. 
"I'm looking forward to looking out the window back on the Earth and just having that experience of that really unique perspective," Barron said. "I've heard from astronauts who have flown before that it really changes the way you see the Earth and the role of human beings in understanding and protecting our beautiful planet."
The first human mission to the moon is tentatively scheduled for 2024, and Barron could be among the first to walk on the moon in nearly 50 years. She plans to use her experience on the ISS and learn from veteran astronauts like Marshburn to prepare for the lunar missions ahead.
"We're really thinking about this as the best way to train for those future exploration missions to learn from the fantastic experience we have from operating the space station continuously for 20 years, learn from veteran fliers like Tom, and then also start thinking about how the technology we're using on the space station can be applied on the moon and eventually on a trip to Mars," she said.
Barron uses her experience as a submarine pioneer and now as an astronaut to encourage others to dream big. 
"I think it's really easy, especially when you're from an underrepresented group, to talk yourself out of those challenges of putting yourself out there, having that feeling of imposter syndrome like I don't really belong here," Barron said. 
Since 2013, all NASA astronaut classes have been half women and men, but female space explorers still make up about 10% of all people who have been to space, according to the Supercluster astronaut database.
Barron believes if you share your dreams, they can become a reality. 
"Being brave enough to share those dreams with the people around me, with mentors who have been able to develop and support me along the way, is how I got to where I am today."
SpaceX will launch the Crew Dragon spacecraft Endurance on Sunday at 2:21 a.m. from Kennedy Space Center in Florida.