Exploring the unknown: Drone completes mapping of previously uncharted ocean floors off Alaska, California
A drone just finished the first-ever mapping of the seabed and coast around Alaska's Aleutian Island. The mission supplies details, previously a mystery for multiple reasons.
Researchers have recently explored uncharted territory off the coast of Alaska and California thanks to technology helping to map the ocean floor. 
Saildrone Surveyor, an uncrewed surface vehicle, spent 52 days scanning 10,000 square miles of the Aleutian Islands alone. 
The 72-foot-long drone set sail out of San Francisco Bay in July 2022 and just returned. The craft collected data through sonar to map the ocean floor more than 4 miles deep. It is powered by sail, solar and diesel. A "lab in a can," nicknamed by the developer the Monterey Bay Aquarium Research Institute, collected environmental DNA samples. 
More technology also collected sound, ocean and weather data. Surveyor is the world's largest and most advanced uncrewed surface vessel, according to NOAA. It is piloted remotely and can collect data 24 hours a day, seven days a week.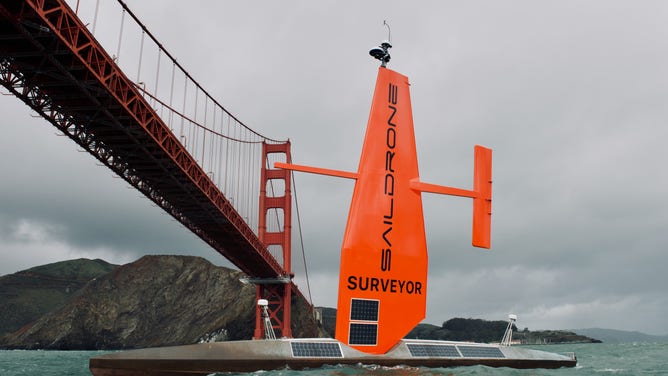 Why explore the unexplored?
The mission was part of a multi-agency public-private partnership funded by NOAA and the Bureau of Ocean Energy Management. The U.S. set goals to map, explore and characterize the country's Exclusive Economic Zone, which runs from the shore to 200 feet offshore. NOAA is also mandated to identify Essential Fish Habitat. 
"Every resource that's in there, whether it's mineral-rich resources, offshore energy, wind, all those things, all those resources belong to the US," said Brian Connon, Saildrone VP of Ocean Mapping.
"To start doing that, you have to map it. So you have to know what's down there because that map then gives you an indication of those other things: is that the right habitat for our fish stocks, are there coral reefs there, oil and gas indications where you've got seeps of methane or things on the bottom," he continued. "All those things you can derive from the type of work that was done." 
AFTER A US ATTACK SUB HIT AN UNDERWATER MOUNTAIN, WE LOOK AT WHAT'S HAPPENING ON THE OCEAN FLOOR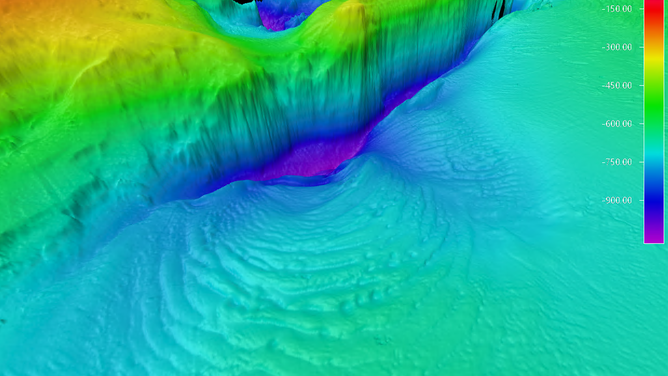 The U.S. Geological Survey will also use the data to study volcanic activity, Connon said. And NOAA's Deep Sea Coral researchers will analyze the maps.
Drone technology makes exploring the seabed possible
Drone technology makes mapping economical, safer and quicker than ships with crews.
"Typically, historically, we would have done this type of work using ships, ships that cost us anywhere from $35,000 to $75,000 a day to operate," explained Connon.
"Using traditional ship-based approach to map the oceans completely across the globe will probably take us centuries," he continued. "Using today's technology, technologies like the Saildrone Surveyor may allow us, if used in mass and fleets, to do this in decades rather than centuries," he continued.
DRONE VIDEO SHOWS 50-FOOT WAVES AND DESTRUCTIVE WINDS IN THE HEART OF FIONA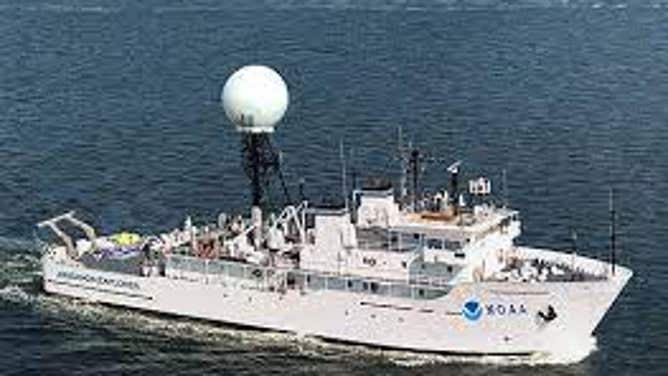 SAILDRONE'S JOURNEY INTO CATEGORY 4 HURRICANE UNCOVERS CLUE INTO RAPIDLY INTENSIFYING STORMS
He also stressed that this survey put no humans at risk. The vessel worked through 40 mph winds and 16-foot swells – conditions that would have proved too challenging for most crewed survey ships, Saildrone said in a statement. Persistent fog, strong currents and violent storms are the norms for Alaska.
Surveyor did have to take one weather detour to escape the path of former Typhoon Merbok in September. The storm churned up 90 mph winds and 50-foot seas, and storm surge put coastal towns under feet of water.
FORMER TYPHOON MERBOK BLASTS WESTERN ALASKA WITH HISTORIC STORM SURGE, WIND AND HIGH SEAS 
"This project is an excellent example of how federal agencies and partners from industry, academia, and research institutions can coordinate resources and leverage state-of-the-art technology to explore a remote area together," said Jeremy Weirich, director of NOAA Ocean Exploration. 
"We have an opportunity to target this scientifically and strategically important part of the U.S. once, under one expedition, to acquire data that meet the needs of multiple agencies," he continued. "I can't think of a better way to maximize federal dollars to accelerate ocean mapping, exploration, and characterization for the benefit of the nation as a whole."
SEE HOW DRONES ARE BEING USED TO PROTECT CRITICAL FISH HABITATS OFF ALASKA

What will agencies do with the data?
Manned research boats will head out to areas of interest and continue the research.
"What'll happen now is this summer the (NOAA's) Okeanos Explorer will go up to the Aleutians and based on some of our mapping, they're able to better localize where they're going to put their remotely operated vehicle over the side and go down and investigate features," Connon said.
The Aleutian Islands' coasts are just one of the areas that Saildrone is surveying.
"We've explored the surface of the moon. We've explored the surface of Mars better than we've done the ocean. And so really, the goal of the surveyor is to go out and help achieve kind of the global goal of mapping our oceans," said Brian Connon, Saildrone VP of Ocean Mapping. "Only 20% of the world's oceans have been mapped, and the surveyor and her sonars are going to really change the equation."