Evacuees return home, Pet pig rescued from Tunnel Fire: Arizona progress
Firefighters offer hope amidst tragedy of Tunnel Fire. Residents were allowed home, the highway reopened and a crew rescued a pet pig that escaped in the chaos.
FLAGSTAFF, Ariz. – Officials allowed evacuated residents to return home and reopened US-89 despite reports that the Tunnel Fire is only 3% is contained. The Coconino Sheriff's Office downgraded the evacuation orders to "set" which means, be "ready" and "set" to "go"/re-evacuate as the fire rages on.
 "The landscape is very dynamic immediately after a fire and travel within the fire area can be hazardous," the authorities' daily fire update said. "… fire weakened trees …may fall without warning, loss of ground vegetation can loosen rolling debris… As interior islands of vegetation burn and large logs and stumps smolder, smoke will be present."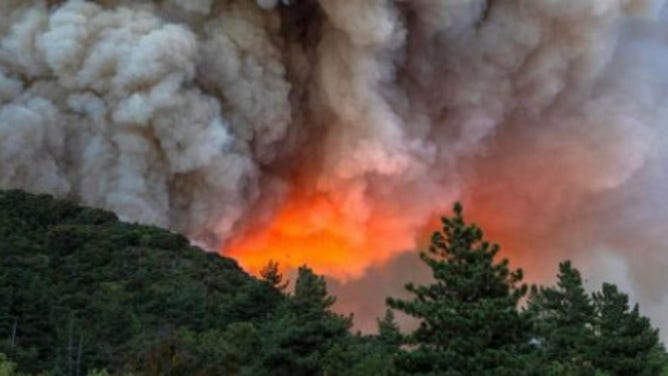 Crews continue to rescue animals that went missing in the chaos of the fire and evacuations. One Coconino County fire crew rescued a domesticated pig from the barren, scorched land.
"She drank two bottles of water and some food before we were able to secure her," wrote crew member Erik Jackson on Facebook. "She was extremely dehydrated but once we got her on the truck I was able to calm her down and she relaxed for the remainder of the ride… Hopefully she finds her family."
The Coconino County Sheriff's Office said that an estimated 109 properties were impacted by the fire, including 30 residences that were burned and 24 properties with outbuildings destroyed. Containment is now up to 3%, and the cause of the fire is still under investigation.
The wildfire 14 miles northeast of Flagstaff, Arizona has been burning since last Sunday and so far blackened 21,164 acres. 
Firefighters are making progress building containment lines around the blaze. "Temperature, wind and humidity levels are near local thresholds for significant fire growth and fire behavior," officials wrote in the morning briefing. 
The National Weather Service did not issue a Fire Weather Advisory due to cooler temperatures and lighter winds. The high on Sunday reached 57 with winds blowing 5-15 mph while occasionally gusting to 30 mph and relative humidity levels in the teens. The area even got a trace of rain on Friday.
Temperatures will slowly rise into the workweek along with increasing winds.
On Thursday, Arizona Gov. Doug Ducey declared a State of Emergency for Coconino County "to assist impacted communities with the resources needed to respond to and recover from the fire's destruction."
STATE OF EMERGENCY DECLARED FOR ARIZONA WILDFIRE AS BLAZE CONTINUES TO SPREAD
Right now 366 firefighters with bulldozers, helicopters and an air-attack plane are helping to fight the wildfire. 
HOW THE LAY OF THE LAND AFFECTS WILDFIRE BEHAVIOR
"The past few days has just been kind of a nightmare. All of these people are losing their homes, and it's very sad to see," said Sean McEntire over the weekend, a homeowner whose house was in the evacuation zone but chose to stay with his family. We just pray every day that it doesn't come to us." 
So far, McEntire's prayers have been answered.