State of Emergency declared for Arizona wildfire as blaze continues to spread
Weather conditions are forecast to deteriorate Thursday and Friday despite evacuated residents' hopes
FLAGSTAFF, Ariz. – The Tunnel Fire, 14 miles northeast of Flagstaff, Arizona has already burned more than 20,100 acres of Thursday, prompting officials to declare a state of emergency.
The wildfire continues to grow rapidly due to strong winds and dry conditions.
The Coconino County Sheriff's Office estimated that 25 structures were destroyed so far and several more are threatened.
More than 200 firefighters are battling to keep the blaze from swallowing nearby subdivisions northeast of the current fire.
Thursday, Arizona Gov. Doug Ducey declared a State of Emergency for Coconino County "to assist impacted communities with the resources needed to respond to and recover from the fire's destruction."
Crews encountered a new challenge Wednesday as natural gas leaks from foundations slowed down suppression efforts. Wind also hampered firefighting from the air for the second day. Gusts over 30 mph again grounded aircraft.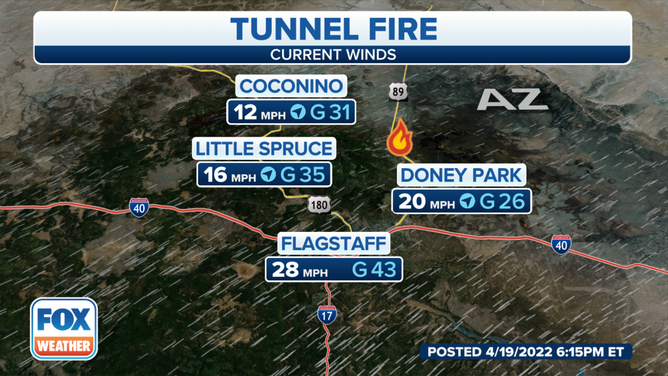 Fire official said tree roots have become a hazard. Underground roots can combust and send small rocks flying, reported FOX 10 Phoenix.
Officials forecast winds to gust up to 50 mph for most of Northern Arizona on Friday. The gusts will not only prevent air tankers from dropping water and retardant but also continue to blow the timbers into nearby neighborhoods and dry brush.
HOW TO WATCH FOX WEATHER ON TV
The fire has been burning since Sunday and is still 0% contained. A fire investigation team is working to determine what sparked the initial flames.
According to officials with the Coconino National Forest, the Tunnel Fire is named after the tunnel landmark within the forest on Waterline Road. 
FOX 10 Phoenix reports that Coconino County has also declared an emergency because of the fire. At least 766 homes and 1,000 animals have been evacuated from the area. 
Coconino County Sheriff Jim Driscoll said the sheriff's office received a call saying a man had been trapped in his home, but firefighters could not get to him. They still don't know if the unidentified man survived, according to FOX 10.
More than 260 firemen are on the scene with more expected to arrive on Thursday.
Several roads have also been closed in the area along with the evacuations.
According to Coconino County, the following roads are closed:
Forest Road 544
US 89 in both directions north of Flagstaff between mileposts 423 and 445
People are also asked to avoid the northern part of U.S. Highway 89 from Elden Springs Road to the forest boundary
Areas that have been advised to evacuate include:
Residents north of Lenox Road, including Wupatki Trails and south of Forest Service Road 545
Campbell North to 547 Road, west of 89
North of Campbell on the east side of 89, up to and including Sunset Crater
A map of the evacuation areas can be found here.
The risk of wildfires has been critical in the region over the past several days, with strong winds and dry conditions allowing fires to grow rapidly and spread quickly.
The NWS in Salt Lake City warns smoke from the Tunnel Fire could make its way into the Lake Powell area on Thursday.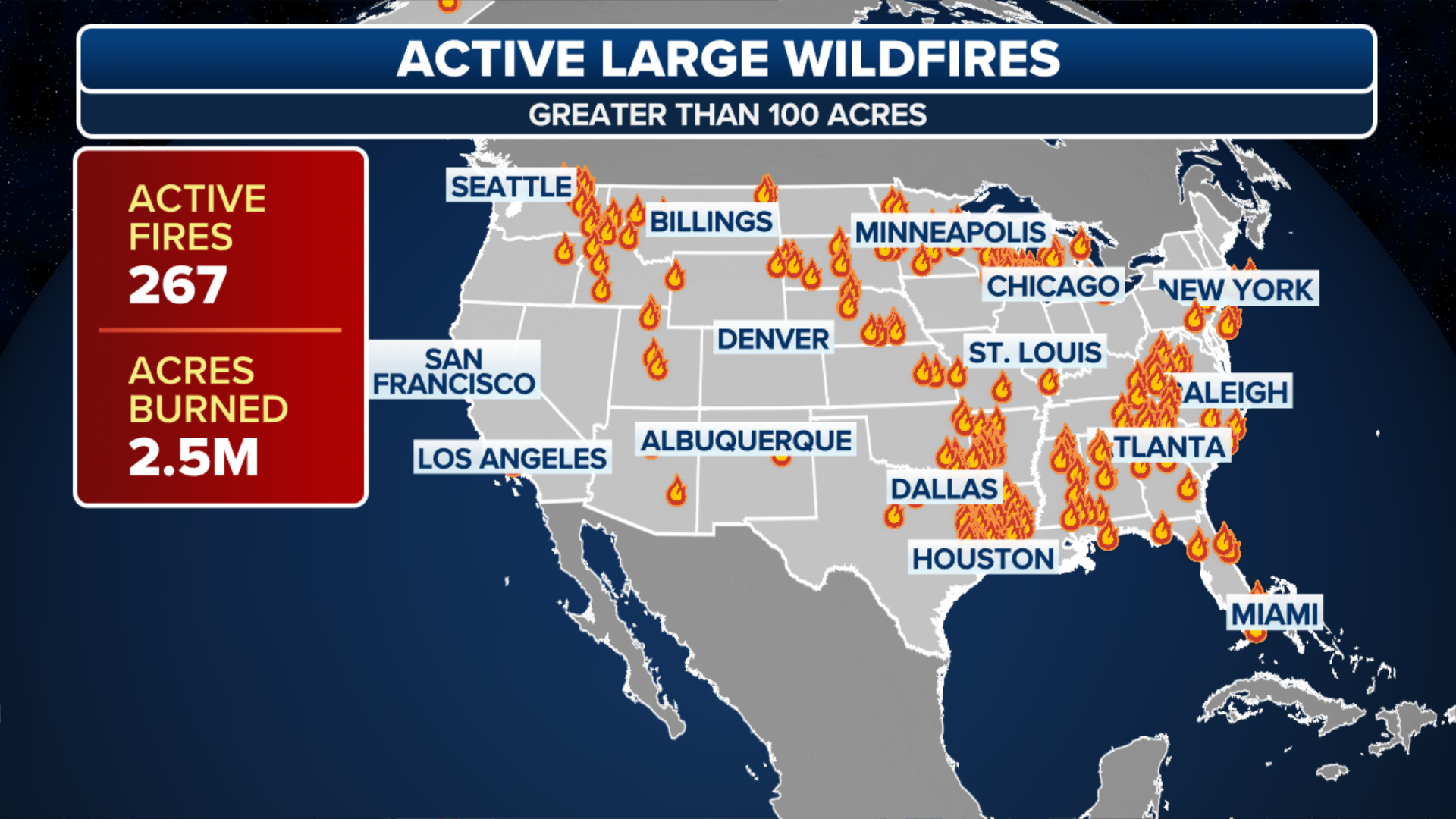 At least 16 large wildfires are burning across the Southwest and Plains burning about 30,000 acres.
The Crooks Fire near Prescott, Arizona already burned 1,600 acres. Some surrounding neighborhoods remain evacuated. Officials are searching for the cause of the fire. Wind has been a major factor spreading this Northern Arizona fire as well.