Drone video shows iceberg the size of London breaking off Antarctica
The new iceberg formed when a large crack known as Chasm-1 grew across the Brunt Ice Shelf. Scientists at the British Antarctic Survey first detected cracks in the ice a decade ago and say, "It's not climate change."
ANTARCTICA – Large, naturally occurring cracks grew across Antarctica's Brunt Ice Shelf, breaking off the new iceberg on Sunday.  
Facing the South Atlantic Ocean, the floating Brunt Ice Shelf is 150 meters thick and, at irregular intervals, calves off icebergs.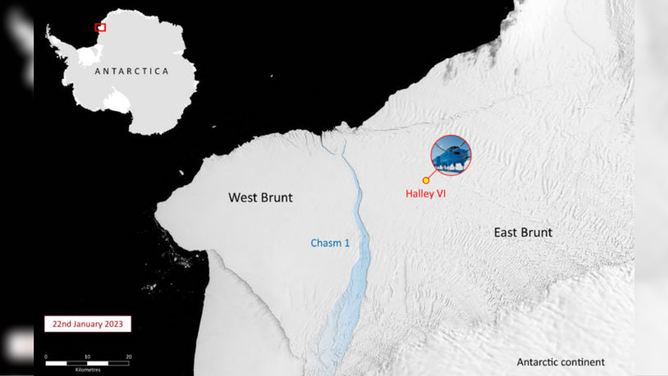 The iceberg created on Sunday formed when a crack known as Chasm-1 extended across the ice shelf far enough for the iceberg to break off, according to scientists with the British Antarctic Survey.
7 FACTS ABOUT ANTARCTICA WEATHER
BAS released footage of Chasm-1 as it grew long enough to cause the ice shelf to cleave. 
According to BAS, the resulting iceberg is the size of Greater London.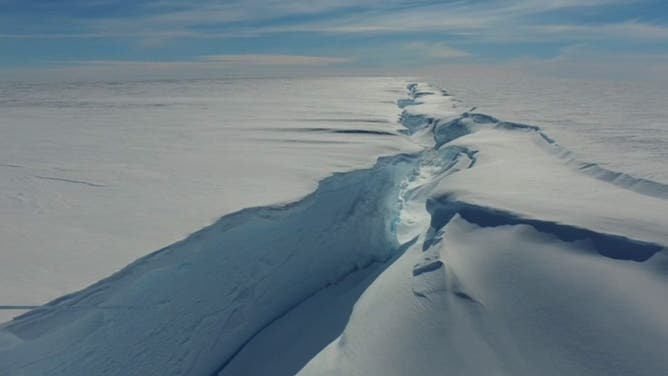 BAS scientists detected Chasm-1 a decade ago and have tracked it ever since. As the crack began to widen, they moved UK's Halley VI Research Station about 16 miles away in 2016. 
RESEARCHERS STUDYING OLDEST ICE ON EARTH BECOME FIRST ANTARCTIC FIELD CAMP TO USE STARLINK INTERNET
"This calving event has been expected and is part of the natural behaviour of the Brunt Ice Shelf," said Dominic Hodgson, a glaciologist with BAS. "It is not linked to climate change."
"Our science and operational teams continue to monitor the ice shelf in real-time to ensure it is safe, and to maintain the delivery of the science we undertake at Halley," he added.