Blue Origin pushes next human spaceflight to Saturday due to winds
Launch now set for Saturday at 8:45 a.m. CT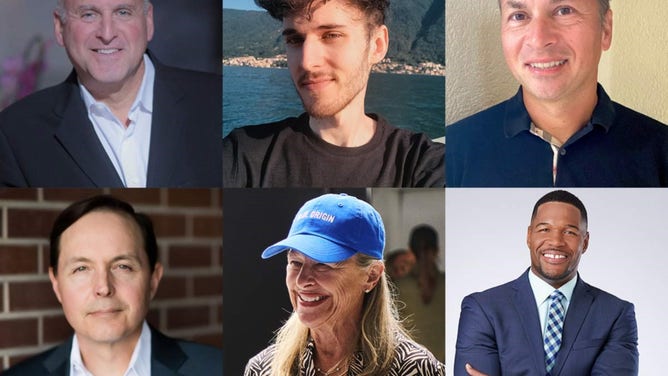 Blue Origin announced it would delay its human spaceflight launch with six people to Saturday due to weather around the West Texas launch site.
Liftoff of the New Shepard rocket to the edge of space with six passengers on board was scheduled for Thursday morning, but the team made the call to delay until Saturday after forecasted winds for Thursday morning.
The New Shepard's 19th mission, known NS-19, is now scheduled to liftoff at 8:45 a.m. CT Saturday.
According to FOX Weather forecasts, it's still too early to tell if the winds will be an issue again on Saturday. Currently, models indicate wind speeds in Van Horn will be around 5 to 10 mph.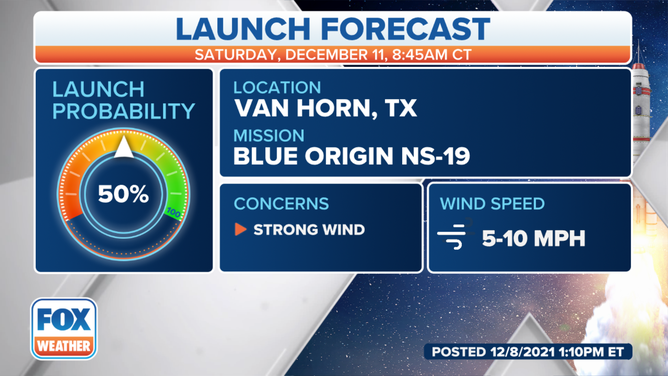 When it happens, six people will be inside the New Shepard capsule, strapped in and ready for a 10-minute journey to the edge of space and back. Among the crew is Laura Chuchley Shepard, the daughter of late astronaut Alan Shepard.
The New Shepard launch vehicle is named for the historic astronaut who became the first American in space in 1961.
MORE COVERAGE: Alan Shepard's daughter ready to blast off with Blue Origin carrying on his legacy
The other five passengers include journalist and Super Bowl Champion Michael Strahan; father and child, Lane and Cameron Bass; engineer and investor Evan Dick; and Voyager Space CEO Dylan Taylor.
Churchley and Strahan are guests of Blue Origin, whereas the other passengers have purchased tickets from Jeff Bezos' company for an undisclosed amount. 
NS-19 marks Blue Origin's third human spaceflight with paying customers. During an October launch, actor William Shatner was a guest on board New Shepard.
He described spaceflight as the most profound experience of his life. "I hope I never recover from this feeling," Shatner said after landing.
The fully automated flight will carry the passengers to 66 miles above Earth, where they will experience the weightlessness of space for a few minutes. The capsule will land in Texas with the help of a parachute system.